Gran Turismo 2
Download Gran Turismo 2 and experience the thrill of high-speed racing with this iconic racing simulator! Customize and race over 600 cars on a variety of tracks, and prove you've got what it takes to be a true driving champion. Rev your engines and play now!
The original Gran Turismo is still one of the biggest-selling PlayStation games of all time. Gearheads everywhere are completely obsessed with this thing--it may even be responsible for selling lots of PlayStations. There's no telling what the opportunity of driving race-ready NSXs or Dodge Vipers will do to the mind of the average 20-something, red-blooded guy.
Well, girlfriends and wives everywhere be warned...the sequel is nearly upon us, and this time there's a LOT more to get excited about. 500 cars, lots of new race options and all manner of grooviness. We won't go into it here...just check out the list over there on the left for all the reasons why the new game is better than the first one.
In development since the original was released last year, GT2 is the vision of Kazunori Yamauchi, the head of Polyphony Digital and a self-confessed gearhead. "As a child I dreamed of being a race car driver," he confesses. "It's more unlikely in japan even than in the U.S. or Europe. I always wanted to work with cars." Well, he certainly got to do that.
The team spent some considerable time with driving schools around the world including the Skip Barber school at Laguna Seca where much of the development work for sounds, textures and general game 'feel' was researched. (See next page.)
The new game is much more of a global undertaking than the original, and is a very positive step forward toward Yamauchi's ultimate vision. "My goal is that every user can drive the car that they drive, the car they want to own and admire." With so many vehicles in this version, it certainly seems likely that there's something for everyone. This coupled with the numerous racing options that vary from road tracks, to 'real' raceways, to dirt tracks for rallying and drag strips, would seem to indicate that there's going to be a lot of replay value in GT2.
While part of the charm of the original game was simply being able to drive brutish vehicles very fast, the objective-driven parts were limited to the 16 elements of the driving test section. Thanks to the help of a number of driving schools, the new game features a much broader structure in this area and now incorporates 60 different tests which help push your progress through the game. The structure is no longer a strict certificate-based thing...the new game adapts what it opens up for you based on your abilities as a driver. The ultimate goal of this is to help the game simulate what it's really like to drive in certain conditions. "I want the cars in the game to feel exactly like driving that particular car on the road," Vamauchi tells us. By working through the tests, you're never going to end up trying something that you're not ready for. Trying to get a Viper through the corkscrew at Laguna Seca takes some skill after all!
Whether this will prove to be a cool way of working through the game is yet to be seen. However, you don't have long to wait as now, after a number of delays, Gran Turismo 2 has a definite release date of early December.
Download Gran Turismo 2
System requirements:
PC compatible
Operating systems: Windows 10/Windows 8/Windows 7/2000/Vista/WinXP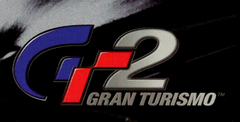 System requirements:
PC compatible
Operating systems: Windows 10/Windows 8/Windows 7/2000/Vista/WinXP
Game Reviews
It's 3:50 a.m. on a very cold December morning and five our editors are sitting in Dean's cube playing Gran Turismo 2. They've been playing it for days...but this particular session started around 9:30 p.m.-ish when Dean decided he was going to purchase a car like the one he drives in 'real life' (a Honda CRX) and see what he could do with it. As the CRX is taken through the first batch of races, the joypad is passed around the group as each event is raced and the money accumulates. Between races frantic debates are held as to which upgrade should be bought next...Suspension? Maybe we should try to reduce the weight? What kind of new wheels should we get? By 2 a.m. the tiny little '91 sports hatch is a fearsome brute kicking some 205hp. Not only does it look different, and behave differently...even its engine sound has altered somewhat due to the mods we've applied. That's how damn fine this game is. Not only does it have 594 cars on offer. Not only does it have different racing mode oozing out of every pore. Not only does it have enough depth to keep you playing forever... but it also has such attention to detail that everything you do in the game has a tangible and apparent effect on the overall experience. It's a game that will bring guys together. Just like we came together in Dean's cube. The only reason we stopped playing, just after 4 a.m. was because we all had to go home, get a few hours sleep and then come back to work to finish our deadline. If a tiny matter like getting the magazine finished hadn't have interrupted us...we'd have been playing for longer. This is a game that will be bought this Christmas and enjoyed all year. You'll be able to play this thing until GT2000 comes out...and you still probably won't have opened everything up. If you're a fan of cars and driving--this is just about the most perfect game you could imagine. Buy it.
People say:
10
I pondered what I was going to say in this review for a long time. Originally I was toying with the idea of just saying 'wow' and leaving the rest of the space blank. I'd also toyed with posing the question "can we give a game an 11?" You see, GT2 is that good. Every time you play it and try something new, it amazes you even more with its intricate attention to detail and the fact that it's so accessible. It's by far the 'deepest' racing game you could ever imagine--and this depth is matched admirably by a superb feel, an amazing graphics engine and incredible sound. The license tests alone offer more gameplay than a lot of the crappy racing games we've seen this month. And they really teach you how to drive a car at high speeds with authority. Once you've played this, you'll really notice the limitations of other racers. The rally mode is probably better than any PS rally game around--the feeling of reckless speed that it conveys is truly unsurpassed. Throw in the uphill racing, the acres of car information, the special events, the grand prix mode--and then the fact that there's a 'pick up and play' arcade disc thrown into the package too, and you've got a bona-fide 'must buy' game. It's just...it's...aww. jeez. Look, just go and buy it and see for yourself. Believe me, you won't be disappointed.
10
Gran Turismo 2 delivers everything I wanted from the sequel to the best racing game ever. This thing doesn't skimp. You get a ridiculous amount of cars. The rally mode beats anything you'll find in games devoted to just that style of racing. Even if you're not crazy about the license tests, you can pop in the arcade disc and go nuts. Heck, you'll still get a lot out of the game if you only earn the A and B licenses. Buy GT2 and you'll still be playing it in a year.
10
It shouldn't come as a surprise to anyone that GT 2 is awesome. Even if it had problems (which it doesn't) it'd still be head and shoulders above the rest. Basically they kept the same game engine and added a ton more cars (close to 600 total) and modes. I'm especially psyched about the Rally and other offroad events. It adds yet another dimension to a game already packed to the hilt. No other racing game can touch it. I can't wait for the PS2 version.
10
Polyphony Digital never cease to amaze me. After churning out Gran Turismo (my favorite game of all time), they released Omega Boost, one of my favorites of 1999. GT2 is perfection all over again and I don't know how to thank them enough. Unfortunately, GT2 has a couple bugs that slipped out the door, but the realism and sheer joy of driving (and modding) your own car remains unsurpassed. I shudder at the thought of GT2000 in March.
Gran Turismo's genre-redefining rookie year catapulted it into the ranks of PlayStation bestsellers and spawned a pack of clones and knock-offs. As the developers of Gran Turismo 2 prepare for a summer release, the only real question is whether the competition will be able to keep up.
Winner's Circle
Last year. Gran Turismo redlined the PlayStations engines, expanding the limits of what a console racing game could do. That means Gran Turismo 2 s prospects of becoming a best-selling hit are excellent on its name value alone. So the key question is whether Polyphony Digital, the developer, can once again raise the bar as high as they did with the original game. So far, details are too sketchy to make a call, but the early info sounds most promising.
Gran Turismo 2 will expand its showroom to offer a monumental 400 real-life cars from "top" American and European manufacturers. No names were announced at press time, but there are rumors of Porsche and Ferrari licenses, so keep your fingers crossed. The action will go down on 20 courses--some of them off-road, a new development for the series. As in the first game, you'll be able to modify each car in hundreds of ways as you stock your garage by competing in a variety of cups.
Grand Tour
In addition to loading up Gran Turismo 2s features, Sony's promising that the visuals will deliver the same razzle-dazzle as the original. The 3D graphics will sports all-new environments and detailed car models. While the screens shown here are largely from instant replays, its dear the tracks and cars will look sharper than ever before.
As summer nears, we keep you posted on how the game's progressing. Barring an unexpected blowout. Gran Turismo 2 seems like its headed to the front of the PlayStation pack once again.
The sequel to one of last year's bestsellers is rewing up for a November debut--and it sounds like Sony might be raising the bar in console racing once again. Gran Turismo 2 will deliver its usual jam-packed garage, offering a lineup of about 70 cars that can be modified into about 400 different models. Manufacturers include Toyota, Subaru, Ford, Chevy, Shelby, Volkswagen (yes, the New Beetle's in), and many more. The focus is mainly on sports cars, but muscle cars, high-end racers, and even commuter clunkers will be ready to rumble.
The gameplay will be expanded with drag racing, the Pike's Peak climb, and rally action on the game's 20 tracks, some of which are off-road. Polyphony, the developer, reports that it's focused on making the handling and physics more realistic while also amping up the A.I. so that CPU cars race more competitively. The license-test system is also growing to 60 tests, but thankfully a help system will accompany it. Turismo 2 sounds like it'll be the hot ride this fall.
Overview
It has been roughly two years since the original Gran Turismo hit the streets and was crowned as the best PSX game ever in my book. Over these last two years, we have seen plenty of racing games billed as "the next Gran Turismo" and "Gran Turismo killer" come and go but nobody has even come close to the masterpiece that is GT -- until now. GT has final been supplanted as the best PSX game of all time by, you guess it, Gran Turismo 2. While the game is not perfect and it does have a few bugs, it is still the most addicting game of all time. Hell, I had to force myself to stop playing long enough to write this review, not to mention the number of nights that I found myself racing "just one more race" until 2:00 in the morning.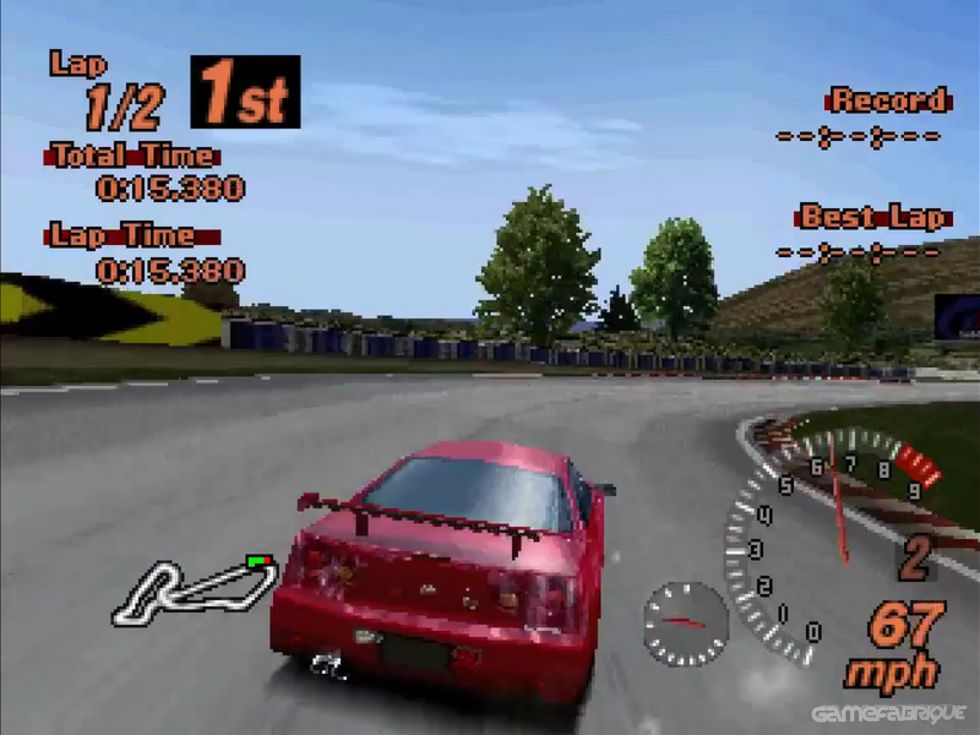 Everyone knows that the original GT was big and offered a huge number of licensed vehicles. So what does GT 2 do to one up the original? Why, bring on more options, more racing, more licensed vehicles, and more tracks, of course. To start with, there are now over 500 cars in the game. Think about that for a second. They have added in roughly 20 track combinations and a new rally racing mode. There are too many different racing events to list and total car customization is back and it all adds up to the best PSX game ever. I almost forgot to mention that this game is so big the developers had to make separate CDs for the arcade racing and the simulation.
Gameplay
One of the downsides to being in this industry is that it is difficult to keep playing a game for a long period. Usually once a review is written, there are six more games waiting in line. Because of this, I have not played the original GT in quite a long time. I remember how much fun it was but I had lost a lot of the little ins and outs of what made it so fun. When I popped in the GT 2 CD and started that first race, it all came back to me in a huge rush. All it really took was the sound of the timer counting down before the flag dropped and I was hooked again. Before I knew it, I was buying new cars and trying to build the most powerful beast around. The game is not without flaws though (which I will identify) but in no way will these flaws inhibit your ability to have a great time with this game.
Okay, where to start? I might as well begin with the licenses because that is where you start the game. Just like the original, you will have to earn a license to participate in races. There are five different licenses that you can earn, each of them allowing you to race in a different class of races. In the original, licenses were very difficult to obtain. I remember spending hours on just one section of one license and missing the cut by a fraction of a second. I think enough people complained about the difficulty (I know I did) because now the licenses are much easier to obtain. You still get ranked by your performance in the tests so if you want to fully complete the game you will need to score gold on every test which is damn near impossible (but doable, just like the old license system) but it is not required to continue on in the game. I think this was done to help out the more casual gamer and is a great idea. If you do manage to pull off the gold, you will be rewarded nicely with a shiny new car.
Now that you have your license, you will head off to buy a car. You start out with $10,000 and no car. The first thing you will find is that the number of car dealerships is huge. There is almost every car manufacturer you can think of and some that you have probably never heard of. One of the biggest challenges in the game is finding a car to buy for under $10k that is not a piece of crap. Your options are pretty limited so I ended up picking up a 1990 Mazda RX7. Not a bad first car.
Now that you have your license and your car, it is time to head out to the raceway. This is where you will find one of the biggest changes in this game over its predecessor. Almost all of the races are now restricted by horsepower. There are some free races that allow you to race any type of car but the majority of races have a maximum horsepower rating and if you are over that rating, you can't race. Since my RX7 had 212 HP right out of the parking lot, I was already unable to compete in a handful of races because I was overpowered. This system did a great job of keeping the races challenging. In the original GT, I would race my beefed up badass car on some of the easier races just to make a quick buck. You can no longer do this. This also adds a new dimension to car customization. I found that I was constantly tweaking my vehicles performance not only up but down as well. It was really fun trying to equip my car with the right accessories to get as close to the maximum HP without going over and it brought a totally new dimension to the game.
So now you are ready to race, right? How does it feel? Just like the original, which is the biggest compliment I can give. The attention to detail on the handling was not skimped in the slightest bit. Like I mentioned above, racing games have come and gone but none match the true feelings of this game and that is what really matters. Everything else in this review would be for naught if the gameplay was not solid. Trust me when I say the racing engine in this game is incredible and you will have a blast tweaking your car and feeling the changes during your race. I could go on for hours about it so rest assured the racing plays great.
As if all of this was not enough, they went and added a whole new rally-racing mode. The game would have been complete without it but it is a huge bonus. It plays better than most rally racing games and it is just a bonus in this game. Imagine playing a rally racing game using the GT 2 driving engine and there you have it. You can build yourself a kick-ass rally-racing machine just the same as a street racer.
There were a few things in the game that did annoy me some. First and foremost, I really did not like the depreciation system of the cars. When I first started playing, I wanted to try the rally racing so I had to earn enough money to buy a car that I thought would be a good rally car. I finally built up about 15k and bought a Subaru Impreza (a common rally type car). So I am out 15 grand. I go to the rally race and it tells me I need dirt tires so I build up another 13 grand and go buy dirt tires so the total I have spent on this car was about $28,000. I go race in the rally race and get killed. It became very obvious that this is not a good rally car so I decide to sell it. Guess how much it is worth? $2,850!!! What the hell? My 28 grand is now worth two grand. I understand depreciation but that is ridiculous. Also, in the original, when you equipped new items to your car, the value would go up. This did not seem to be the case here, so basically I was throwing away money.
There were also other little things that bothered me about the game. Things like some races showing that you need a certain license to race on one screen but a different thing on a second screen. There is also the well-publicized bug about the fact that you can't ever finish the game 100 percent. And then there is the interface. It is painful, slow, and difficult to maneuver. Finally, I know the replays are cool but after about the 150th race, I did not want to watch the stupid replay so don't make me. Sure you can hit a button to skip it but the fact that it makes you go into the replay is annoying.
Graphics
This is a Playstation game... This is a Playstation game... This is a Playstation game. Okay, I keep telling myself this because I have been playing Dreamcast lately (namely Sega Rally 2). The level of detail and clarity is not anything close to this but it is a different system. So, for a PSX game, the graphics look great. I can't wait until GT 2000 for PSX 2 arrives and we can see what this developer can do without any technical limitations. So, if you are looking for graphics that will blow away anything you have ever seen, you will be disappointed. If you are looking for graphics that are topnotch on the PSX, you will not be disappointed.
Bottom Line
Even with the minor flaws and annoyances, this game manages to supplant the original GT in almost every way. It is as addicting as ever and has taken all of the great aspects of the original and expanded on them. You will be playing this game for days, weeks, and months before you will even come close to finishing. I think you get the point. This game kicks ass so go buy it. I have to go... my 1998 Cobra needs a level three tune-up.
Other Games by Sony Computer Entertainment