Super Soccer Champ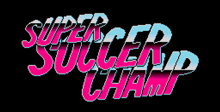 Click the "Install Game" button to initiate the free file download and get compact download launcher. Locate the executable file in your local folder and begin the launcher to install your desired game.
What happens when you combine soccer with fast break basketball? You get something close to Taito's Super Soccer Champ for the SNES. Super Soccer Champ combines all the great elements of World Cup Soccer with the freedom and maneuverability of up-tempo basketball. The graphics and control for Super Soccer Champ are top-notch and make it one of the easiest soccer games to play.
Kick off!
Super Soccer Champ isn't for the soccer purist. Since there are only six players per team, the same strategies do not hold true to traditional 11-man soccer. Since play is fast-paced and wide open, it's easy to guide your men and create scoring opportunities for individual players.
Super Soccer Champ has two basic playing modes: a Match against one of eight countries or a Shootout. If you win a Match, the next match immediately starts. Statistics will accumulate as long as you win. If you lose, you can begin a new match with the same teams, or you can choose to play with two new teams.
The Shootout is a one-on- one forward vs. goalie strategy match. Each opponent is given five shots on goal. The player with the most goals wins. In both modes, you can challenge the computer or a friend. You and a friend can also combine to challenge the computer.
ProTips:
Use finesse in shooting. Instead of using Y to make a hard shot on goal, try pushing B just before you enter the penalty box. The keeper will almost always come out of the goal and you can loft the ball over his head for a score.
If you find yourself surrounded by several defenders, try pushing Y repeatedly to juggle the ball out of trouble and head up field.
Ace in the Hole
Each of the eight teams comes with "Ace Strikers". When it's crunch-time for your team, these are the studs, the go-to guys. Each of them is capable of eight Super Shots. They range from a standard bicycle kick to a spinning tornado shot. Suffice it to say that Michael Jordan's got nothing on these guys. If you're going to score consistently, you've got to master the Super Shots. It's the difference between just being competitive and beating the world.
When you're in the penalty box, try and set up another player for a goal. A quick pass to another player in the penalty box will draw the keeper away and make it easier to score.
The computer likes to alternate sides when scoring in the Shootout. Once you've established a pattern, be prepared to block the shot. Nine times out of ten his last shot on goal will be straight at you, so don't move.
Sounds Tough
Thankfully the soundtrack for Super Soccer Champ, which can be heard in stereo, isn't that same repetitive electronic music box melody that seems to accompany most sports games. Super Soccer Champ has mostly background crowd noise. The sound effects are a bit exaggerated, but very entertaining -- sounding more like Saturday afternoon's Kung Fu Theater than Friday Night's Football.
Pigskin Football
Without the traditional 11 man team, Super Soccer Champ may not be for strict soccer enthusiasts. The six-man setup combines with the Super Shots to boot this game into a league of its own. If you're a ball-hog, or always wanted to be, get into the guts and glory of Super Soccer Champ.
Download Super Soccer Champ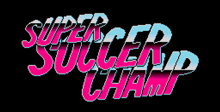 System requirements:
PC compatible
Operating systems: Windows 10/Windows 8/Windows 7/2000/Vista/WinXP
Pentium II (or equivalent) 266MHz (500MHz recommended), RAM: 64MB (128MB recommended), DirectX v8.0a or later must be installed
Game Reviews
Manufacturer: Taito
Machine: Super NES
Difficulty: Moderate
Available: 1992
Theme: Sports
What a Kick!
Listen-up soccer fans, the game that you have been waiting for is here at last! Super Soccer Champ for the S-NES is a 16-Bit soccer tour de force. Everything is here including the graphics, the sounds, the control and, most importantly, the fun!
Now, you can pick from different games that you want to play such as one player against the computer, two players against the computer or two players against each other. Then, you can even play various practice games alternating between playing goalie and offensive player.
Pick up Super Soccer Champ by Taito and remember, it's not whether you win or lose, it's how you play the game!!
Manufacturer: Taito
Machine: Super NES
Attention all Soccer Fans - Taito is producing Super Soccer Champ and it looks hot! Not only can you pick from eight teams, but there is an announcer that calls the plays as they happen! Two players can join in on this hot title! Look for Super Soccer Champ in a future issue of EGM!
Soccer has taken a 16-Bit charge! Super Soccer Champ brings top soccer action right into your home. There are sixteen available teams and ten devastating moves for each character! Try out the overhead kick, diving head block and volley kick to stop the ball, or take out your opponents with a punch, shoulder charge or jumping knee kick! If you would like a new theme to old soccer, then Super Soccer Champ is for you!
People say:
6
The execution in this cart is fairly straightforward, which made the game more fun to play overall. Passing and shooting is controlled properly, with a variety of shots at your disposal. The graphics are revolutionary in the same sense as other sports games, but they serve their purpose and deliver a nice simulation.
6
As a soccer simulation this cart is very good. Most of the moves are built in and this will appeal to the players who like this sport. The control is excellent and in a fast paced game like this that is very important. The graphics are OK but one would think that more features could have been built in to add a little excitement.
5
This cart offers a solid but uneventful game of soccer. The scrolling is OK, and the game play is decent. The characters could of been a little more detailed and the sounds are average. If you're looking for a good soccer game that gives you the basics and nothing more, you've found it. Another average sports title for SNES.
6
Super Soccer Champ isn't too bad! Surprisingly, it is rather solid and smooth universally, but it lacks the many game play options of a great soccer game. I want to see more head butts, diving saves, true stats and bicycle kicks, to name a few. What about fights? If you want good but non-eventful game play, this is it.
SNES/Super Nintendo/Super Famicom Screenshots