Tiny Toon Adventures: Buster Busts Loose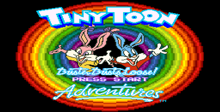 Click the "Install Game" button to initiate the file download and get compact download launcher. Locate the executable file in your local folder and begin the launcher to install your desired game.
a game by
Loricels
Genre:
Sports
Platform:
SNES
Editor Rating:

8

/

10

, based on

4

reviews,

5

reviews are shown
User Rating:

8.0

/

10

-

2

votes
Rate this game:
See also:
Tiny Toon Games
Buster Bunny has come all the way from Acme Looniversity to bring you his action game for your SNES. They may be Tiny Toons, but their game is livin' large in the fun department. Join Babs, Ham- ton, Montana Max, Buster, and the rest of the Toon bunch in an all-out, daredevil dash for excitement.
Tiny Troubles
Tiny Toon Adventures: Buster Busts Loose by Konami is a real cool cartoon game. Story line? Nah, not really... like a good cartoon, you never know what's gonna happen until it falls from the ceiling and flattens you. In this one-player, side-scrolling SNES game, you play through six totally unconnected stages of off-the-wall mayhem that take you from Acme Looniversity to the Old West, Acme Acres Stadium, and an outer space hunt, just to name a few. You get to play with and against all your favorite people... err... Toons, like Calamity Coyote, Dizzy Devil, and Plucky Duck.
ProTip: Always drop kick a few seconds before you reach your opponent. You'll probably land right on them if the're coming towards you.
You start out as Buster, hoppin' and boppin' along and drop kicking your opponents to make them give up stars. You collect the stars, and after a hundred, you get a 1-up. Your moves don't stop there. You can also run, jump, and Dash (a special burst of speed that gives, you the ability to climb walls) your way through the stages. You even get to play football and call your own Run and Pass plays. Combine any two moves and give yourself extra high drop kicks or extra long jumps.
Get as close to walls as possible before you Dash so you don't waste energy on flat ground.
The control of your character is not child's play, so watch it. You must use your Dashes wisely, since they run out. Also, it's necessary to follow warnings along your route (RUN, DASH, JUMP), so keep on your Toon toes!
You're going to need more to move you along than just your fancy moves. Along the way, you find items such as Carrot trophies (silver restores one heart, gold increases all hearts, crystal increases hearts by one), Gogo Dodo trophies (silver fills Dash gauge, gold makes you invincible for a while, crystal destroys all enemies on-screen), and Buster Bunny dolls (1-ups). These treasures are not unguarded though. Buster must fend off mischievous mice, deranged dogs, and viciously cute vultures.
By jumping up in the air and THEN starting your Dash, you can scale walls that are unreachable by other means. Try this at the end of the museum in the first stage, and you should find a goodie hideaway.
Unlike other too-cute titles for the SNES, this game has real diversity. You get five different bonus games after each level that add up to some pretty hilarious stuff. There's a Guess Your Weight round, Bingo, Hungry Boy Hamton, Racquet- ball, and a Find Your Friends game.
Go under the staircase in the first level by Dashing towards it and pressing Down. You should slide right under and collect some goodies.
To get rid of Dizzy at the end of Stage One, get underneath him and knock food from the conveyor belt into his mouth. Remember, he's hungry and it takes a LOT to feed him!
To get past the Train Stage, Dash the hill when you come to it, never letting up on the Dash button. You'll find Gogo Dodos in just the right spots to keep you going. Be sure to jump where it says "Jump".
Don't waste any time bustin' buzzards in this horse stage. Dash and leap until you clear it or the vultures will swarm you.
Rabbit Redux
This game's graphics will make you wish you lived in Toons Town. All characters are large sprites, but not huge. They're Tiny Toons for goodness sakes! The backgrounds are gorgeously colored, and the movement of everything (Buster, enemies, assorted other objects) is well done. To top it off, there are no glitches or slowdown, which you would expect in such a lush-looking game. The characters all look exactly like their television counterparts.
The sounds in this game are Looney, but in a good way. The music matches the sequences, going from Wild Western dance-hall music to spooky Mansion melodies. The familiar theme song is also represented in different formats here. The Toons will keep you entertained for hours on end, just like Mario and Sonic used to when you were little. Here's your chance to be little again.
When you catapult up in the Haunted House, always execute a drop kick. You never know what's waiting on the ledge for you.
Don't Let the Toon Taste Fool Ya
Tiny Toons may look like kid's play, but the challenge is harder than gettin' home early to watch the Toonsters. For those not so Toon proficient gamers, its adjustable challenges make gameplay just a tiny bit easier. The cutesy graphics hide a multi-level, multi-fun game that will keep you twitchin' those thumbs for hours. If you're not watching the TV show, then you definitely should be playing this game. Toon in, and keep that rabbit's foot handy!
Download Tiny Toon Adventures: Buster Busts Loose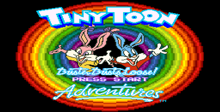 System requirements:
PC compatible
Operating systems: Windows 10/Windows 8/Windows 7/2000/Vista/WinXP
Pentium II (or equivalent) 266MHz (500MHz recommended), RAM: 64MB (128MB recommended), DirectX v8.0a or later must be installed
Game Reviews
Tiny Toon Adventures: Buster Busts Loose is a video game based on the animated TV series Tiny Toon Adventures. It was developed and released by Konami in 1993 for the Super Nintendo console.
This game features Buster Bunny in a side-scrolling adventure that takes place in many different areas.
Tiny Toon Adventures: Buster Busts Loose
We know what you're thinking so, bite your tongue! The SNES will NOT be a rehash of the Genesis game.
Buster Bunny's the star of this show, and he practically gets a whole television season's worth of airtime. Konami's plans for Tiny Toon Adventure: Buster Busts Loose to cover six stages. However, each stage will be independent of the other, and each stage will have its own storyline. There will be no overall storyline.
Little Tales
At the Looniversity, Buster's a small bunny on a crazy campus. There's more than a diploma at stake as he tries to outthink crafty obstacles on his way to face a surprise boss.
Then, Buster travels to the Wild West on a transcontinental train. Montana Max has nasty surprises in store for him here. In the Haunted House, Buster faces disappearing traps and mischievous ghosts. The Sports Stadium will call for him to compete in a quadratholon: basketball, soccer, football, and a monster truck race. In the Jungle, he's on an adventure for fortune and glory. Finally, he's lost in space and under laser gun fire by Duck Vader.
Additionally, the game will sport five subgames in between each stage starring other Tiny Toon characters. Go, Go BINGO pits Plucky Duck in a Bingo game versus the computer. In Guess the Weight, five Tiny Toonsters try to outweigh an opposing team on a seesaw scale. Hungry Boy Hampton stars who else but Hampton the pig in a maze race against time. Furr Ball the cat plays racketball in his subgame. In Babs Bunny Rescue Your Friends, you do just that as you search a maze for Tiny Toon pals.
Toon In Next Time
Will Buster Bunny steal the show? Find out in the next installment of Tiny Toon Adventures on your SNES!
Here they come! Those crazy characters of Saturday morning are about to invade your video game screens in 16-Bit Super NES fashion. Guide Buster Bunny through six looney levels from the ACME Looniversity to the Space Opera. You'll even get to play a game of football! This game is packed with bonus rounds that are so much fun, you'll find yourself playing just to get to the bonus games! Fans of the show will go absolutely looney over this game !
SNES/Super Nintendo/Super Famicom Screenshots