Triple Play 98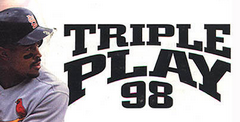 Click the "Install Game" button to initiate the file download and get compact download launcher. Locate the executable file in your local folder and begin the launcher to install your desired game.
a game by
Electronic Arts
Genre:
Sports
Platforms:

Playstation,

PSX

Editor Rating:

6

/

10

, based on

3

reviews,

5

reviews are shown
User Rating:

8.7

/

10

-

3

votes
Rate this game:
See also:
Triple Play Games
Although no gameplay screens were available at press time, EA rolled the tarp off Triple Play '98 for an early look at how last year's champ is faring in spring training. The best news is that EA's working on a new engine that it says will crank up the A.I. and focus more on baseball's strategy side. A graphical upgrade's in the works, too. in the form of polygonal players that showcase the real-life signature style of every player. Other hot new features include two-man play-by-play commentary; a Practice mode for batting, fielding, and pitching; sim or arcade play; ramped-up stats; and the two expansion teams. Only hands-on game time will tell the true talc, but Triple Play's looking even sharper this year.
Download Triple Play 98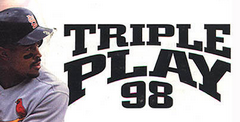 System requirements:
PC compatible
Operating systems: Windows 10/Windows 8/Windows 7/2000/Vista/WinXP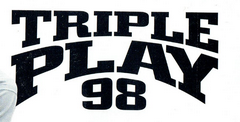 System requirements:
PC compatible
Operating systems: Windows 10/Windows 8/Windows 7/2000/Vista/WinXP
Game Reviews
Overview
This is supposed to be it. The one and only baseball game to hit the market this year. The cream of the crop. The game of all games. This baby was supposed to be so real it might actually cause you to start spitting on your living room floor and adjusting your delicates in public. Triple Play 98 is supposed to make every baseball game that's been released look like a single A farm team. At least that is what I thought.
Back for year number two, Triple Play looks to expand on the success of the original title by making some major improvements and adding cool new features. As with last year's game, the real big leaguers are here as well as the actual stadiums. EA Sports has thrown in two announcers that provide play-by-play and color commentary for the game. The AI was supposedly beefed up and the stats better honed. Throw in the expansion teams, drafts, and interleague play and out comes Triple Play 98. Is it better, or is this just a bunch of fluffy hype?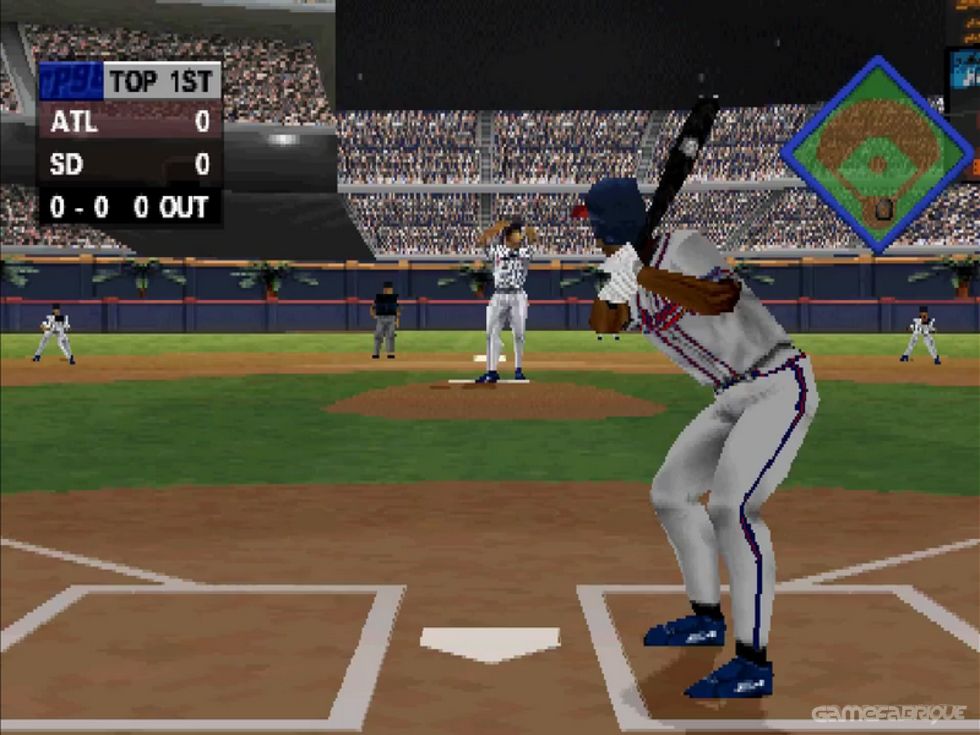 Gameplay
I don't feel like beating around the bush, so let's just get it out in the open right now. Triple Play 98 is one of the top baseball games released in what has been a fairly disappointing year for baseball titles. There are still a few titles around the corner that may help the class of 98, but up to this point I have not been impressed with this year's crop. Almost every game has some good and some bad aspects. If you took parts from every game and made a single game, you could have an excellent baseball game. Triple Play is no exception. It has its ups and downs, but on the whole it is probably the best out there right now.
Since I am a pretty positive fellow, let's start with the game's good points. Triple Play 98 is easy to learn when it comes to pitching and hitting. I really like easy interface in these areas. I know a game has easy controls when I can pick up a controller and start playing without ever having played before. No problem with TP 98. On the downside, the fielding and base running is a bit more tricky to learn. I don't know how many times my base runner was thrown out because I could not get him to go back to the base, or how many times I missed a ground ball because I accidentally dove over the top of it. These things somewhat worked themselves out with more playing time, but they were still difficult.
As I mentioned, TP 98 has two separate announcers that each handle different commentary. This is cool at first, but you will find that they tend to wear on you after a while. I will give them credit in that they are usually accurate when calling pitches, but not so accurate when calling the fielder the ball was hit to. Also, they tend to spit out useless information and claim that insignificant plays are just what the other team needs to get them going. The two announcers are a neat idea, but are plagued with the same problems as most announcers in any sports game.
My biggest complaint with TP 98 lies in the realism factor. I like baseball games that are as real as possible. I don't like games where one team gets 63 hits and scores 32 runs and the other team gets 78 hits and scores 41 runs. I want the game to play like a real baseball game. With that in mind, the first pitch I ever faced ended up in the bleachers 502 feet away by a player that had 6 home runs all of last year. So then I think that it was beginners luck... until the next player hit one 461 feet into left center. I think you see what I am getting at. It was too easy to score and hitting had too much of an advantage over pitching. I pitched Randy Johnson against the computer with the difficulty set to Rookie. I should have struck out at least 10 batters, but struck out 0. That's right, 0. It's not that I was pitching badly, but the computer would not swing unless it was a strike. It does make for some games packed with offensive action, but it's not realistic at all.
One thing I did not like about the first Triple Play was the way that your outfielders felt like they were running in knee deep sand when trying to get to fly balls. This has been corrected and the outfielders have a bit more of a lively feel to them. You can also jump at the wall to rob home runs which was a cool addition to the game.
TP98 has all of the standard game modes and options. You have exhibition games, All Star games, a Home Run Derby, and seasons. You can create, trade, and draft players to create yourself a team to play throughout a season. Just about every stat imaginable is available and saved when you are playing a season. I did find it a bit confusing making my way around through the different menus and selection screens. I kept having to use the on-line help to figure out what buttons to push to accomplish what I wanted to do. I guess that is why they have online help.
Graphics
The graphics are really what make this game stand out over the others. Never will you see such cool and accurate views of the various stadiums in the league. The game gives a little fly in as you start and the stadiums are indescribably awesome. I have been to enough ballparks to know that the developers spent a great deal of time making these stadiums as accurate as possible.
The in-game graphics are pretty good as well. All players are polygons that are fairly representative of the true-life models. Most of the batters' stances are accurate and everyone looks pretty good. The field during the game looks real, but the distances seemed a bit short. What I mean by this is that when the catcher threw the ball back to the pitcher, it feels like he barely threw it. The same goes for the outfielders throwing back into the infield.
Bottom Line
Triple Play 98 is a slightly better than the average playing baseball title in a year full of average baseball games. It has its annoyances, but nothing that could really be classified as problems. You will love seeing your home town stadiums brought to life on your Playstation. If you liked the first Triple Play, you should be satisfied with this one as well. If you didn't like the first Triple Play, you should definitely rent this before dropping the cash to buy it.
Don't expect EA Sports' Triple Play 98 to be nothing more than a slightly spruced-up version of last year's game. A major overhaul is under way, beginning with the game engine.
Three-dimensional polygonal players have taken the place of last year's flat looking, "sprite"-based players, giving the game an entirely new look. Polygonal players will now be rendered on-the-fly, a process which enables on-screen players to appear to move much more fluidly than standard motion-capture, animated players.
In addition, the artificial intelligence has been upgraded to consider new factors such as: "Team Intelligence," (manages a team as it would be managed in real life) and the batting styles of every player along with the pitching preferences of every pitcher.
Other new features this season include: Home Run Derby, Super Pro difficulty setting, Interleague play, Practice Mode and Intelligent Crowds (they leave early if the team is not doing well). The two expansion teams-the Devil Rays and the Diamond Backsare also included this season.
In an effort to make the game feel like a television broadcast, the in-game commentary duties will now be handled by two commentators instead of only one.
With all the new features and improvements going into this EA baseball game, Triple Play 98 could be the most complex baseball sim to slide onto a 32-Bit platform.
MANUFACTURER - EA SPORTS
THEME - Sports
NUMBER OF PLAYERS - 1 - 8
Triple Play '98 rocks the diamond with another round of exceptional baseball. Mesmerizing graphics and sounds combine with deep, addictive gameplay to position this outstanding game as the season's early front-runner.
All-Star Start
Triple '98's exhaustive features provide a complete baseball experience. Naturally you'll find all the pro players, stadiums, and teams with impressively current rosters that even include hot rookies like Wilton Guerrero. A solid set of modes lets you play everything from a season to a multi-game series, and you can also trade, create players, and run a draft with the '98 expansion teams. Tuned for novices and pros alike, the gameplay's rewarding and fun, and really brings to life the intensity of the pitcher-batter confrontation.
On defense, detailed, responsive controls enable you to execute almost any strategy. Pitchers are endowed with their real-life arsenal, while fielders can speed burst, dive, jump, and even climb the wall. On-the-fly strategy lets you tune your fielders' positioning, but on the down side, player switching can be too finicky.
Offensively, batters blast away with a thorough selection of swings and bunts that are effective and easy to use. The directional pad lets you pull the ball and go for fly balls or grounders. Disappointingly, though, one of the original game's coolest features--adjusting the batter's stance--was axed. As for base running, the controls are more complicated than they need to be, but the ability to play as a base runner while the CPU bats is a nice touch.
Grand Slam Scenery
Graphically, Triple '98 erupts with some of gaming's sharpest baseball visuals. The excellent polygonal players sport authentic details like names, numbers, uniforms, stances, and faces--you'll recognize Nomo and McGwire in a heartbeat. But best of all, they move cleanly and quickly with jaw-dropping realism, whether they're hopping over sliding runners to turn a double play or jackknifing away from inside pitches.
The sounds deliver the same dazzle with fantastic two-man commentary that's remarkably detailed and accurate. The onfield effects, especially the crack of the bat, keep you in the game.
This Is Hard Ball
Although intriguing prospects like Major League Baseball '97 won't step up until late summer, Triple Play '98 already boots the current crop of competing games back to the minors. If you're looking to buy a baseball game, it's the only field in town.
ProTips:
When batting, pay attention to the pitcher's patterns and style so you can learn to anticipate the next pitch and prepare for it.
If you have a man on third and less than two outs, send a sacrifice fly into right field so the runner can tag up and score.
If you don't mix up the speed and placement of your pitches, you'll get lit every time. It's also crucial to use aftertouch to keep the ball moving as it crosses the plate.
Last year's Triple Play clinched the video game World Series hands-down--hut the competition didn't put up much of a fight. Will Triple Play '98 have what it takes to survive the season and retain the top spot? Opening Day's just around the corner....
Graphics & Sounds
Visually. TP '98's on its way to a topnotch outing. The frame rate has been cleaned up nicely since the original's sluggish showing, and the new 3D polygonal style definitely catches the eye. Nice touches include authentic uniforms with names and numbers, real-life signature movements for batters and pitchers, a 3D mound and ball, and "intelligent" crowds (if you're having a lousy season, the stands are dead empty). As for sounds, the robust two-man commentary--ESPN's Buck Martinez on color and former Blue Jays announcer Jim Hughson on play-by-play--creates a TV broadcast feel that's really compelling.
Features
Triple Play '98 hits the diamond with a fresh batch of new features. Players can swing for the fences in Arcade mode or get hip-deep in realism with Sim mode. Of course, you'll find all the major league teams, players, and stadiums, as well as ramped-up stats, interleague play, and a new Practice mode. Disappointingly, one of the coolest features of last year's version--adjusting your batter's stance--was ejected from the game. While this unfinished preview version was still too early to judge definitively. TP '98 already handles well enough that it ranks as one of the spring's leading prospects.
Other Games by Electronic Arts