WWE Smackdown! Here Comes The Pain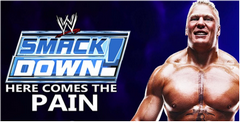 Click the "Install Game" button to initiate the free file download and get compact download launcher. Locate the executable file in your local folder and begin the launcher to install your desired game.
The fifth game in the SmackDown series, WWE SmackDown! Here Comes the Pain is regarded as one of the greatest wrestling games of all time! This was a game-changer in the world of wrestling games and it is a game that still holds up very well to this day. It is arguably the best of all the PlayStation 2 wrestling games!
Become The Best!
The main single-player mode of this game is the Season Mode. Here you can pick any WWE Superstar on the roster or your own created character and try to take them to the top of the WWE. The game is really cool in that you have separate stats for your wrestler in Season Mode than you do in the other modes. So, if you picked, The Rock, for example, you can level him up and make him stronger.
Season Mode in WWE SmackDown! Here Comes the Pain gives you a lot of leeway in what you do. It loses the first-person point of view from the previous game and instead has you using menus to move around the locker room/backstage area. I get why they did this and it does streamline things, but I do wish they let us walk around like in SmackDown: Shut Your Mouth.
A New Way To Grapple
This game changed up the gameplay considerably. You now had a new grapple system that greatly expanded the number of moves a wrestler could now do. Add to this a new submission system and a body damage system and it is just mind-blowing how much they were able to change the core gameplay while keeping the feeling of the game the same. The grapple system adds a great deal of depth to the game, but it still moves at that quick and arcady pace that the series is known for.
A Game Of Many Firsts
As well as the new grapple system WWE SmackDown! Here Comes the Pain introduced a whole load of firsts for a WWE game. New match types The Elimination Chamber and the Bra & Panties match were included for the first time. Tons of new wrestlers were included with iconic stars such as John Cena and Batista making their debuts. This was also the first WWE game to make proper use of adding classic/legendary wrestlers to the game such as Sgt Slaughter and Rowdy Roddy Piper. The amount of new content they were able to add to this game is just staggering.
Virtual WWE
The more recent WWE games are a real mixed bag as far as the visuals go. That was not always the case and on the PlayStation 2, the first few games in the SmackDown series were known for their impressive visuals. Each wrestler has a full entrance, many have alternate attires and the arenas of which there are many all look just like they do on TV! From a looks point of view, this game is great! The only downside is the soundtrack. Yukes the people who made the WWE games always struggled with commentary and this game did away with it altogether. I do wish they had just a tad, maybe even if it was calling out just the big moves.
9.5
As you can tell, I freaking love WWE SmackDown! Here Comes the Pain and I still fire it up a few times each year to this day. If you are a wrestling fan you already know what a great game this is. For me, it is one of the top five wrestling games of all time and it is one of those games that if you have not played it for a while, you forget just how special and good this game is.
Pros:
Features a massive roster of WWE Super Stars
Introduces a new fun grappling system
Season Mode is a lot of fun
Tons of match types including some brand new ones
I love the visual style of the game, especially the arenas
Cons:
It makes you see how soulless and un-fun current WWE games are!
I do wish there was just a tad of commentary and voice acting
Download WWE Smackdown! Here Comes The Pain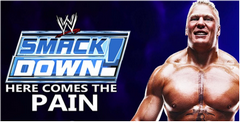 System requirements:
PC compatible
Operating systems: Windows 10/Windows 8/Windows 7/2000/Vista/WinXP
Game Reviews
People say:
7
The SmackDown series adheres to the age-old philosophy of not fixing what isn't broken. Sure, you'll spot a few key tweaks each year, but in the end, each version offers the same level of quality as the last. And hey, that's not such a bad thing--Here Comes The Pain delivers solid thrills that'll please any WWE diehard. Returning players will definitely appreciate the revamped Story mode. This time around, forging alliances or rivalries really does affect your matches, and the conversations you'll have with other wrestlers sound pretty believable, as opposed to last year's stilted, poorly-written drivel. As always, the in-ring action is fast and responsive. You're always able to pull off the moves you want, and fluid animation makes 'em look downright painful. As far as your choice of match types and rosters, Pain can't be beat. For the first time ever, your dreams of forcibly disrobing opponents in a Bra and Panties Match or bustin' up fools in an Elimination Chamber can be realized. Of course, nearly every superstar you'd ever want is available from the outset--developer Yuke's added a bunch of classic wrestlers this year; now, you can pit guys like Sergeant Slaughter and George "The Animal" Steele against today's stars.
8
Of all the WWE game franchises, I've favored SmackDownthe least...until now.Thanks to its incredibly deep Season mode, Pain is easily the best wrasslin' title since the days of the Nintendo 64. Every week, events transpire in true soap-opera-like fashion, and the decisions you make throughout the ever-changing story lines keep the experience unique. The action inside the ring is great--the new grappling system not only improves match pacing, but, more important, also adds a bevy of moves to your wrestler's arsenal. Visually, however, minor problems exist: Some WWE superstars lack the polish of others, and everyone still walks like they have a stick up their butt. But neither of these complaints will stop wrestling nuts from enjoying Pain.
7
Fundamentally, Pain's a good title--the wrestlers look realistic, the gameplay's responsive and balanced, and there's no shortage of crazy modes. Plus, creating your own wrestlers is easy, breezy fun, with tons of wacky wardrobe options to outfit your friends/enemies with. Problem is, outside of a few tweaks and minor additions, this is just like last year's Shut Your Mouth. For example, the reworked Story mode may have ditched Mouth's boring hall-wandering, but Pain's barely animated, stone-silent chats between wrestlers are just as lame. (Should I give Rikishi a ride home after he's injured in a match? The drama!) And the wrestler entrances lack the excitement of the real thing, with crappy-looking spectators and embarrassing, one-sided signboards that mirror the front image on the back, but reversed. How hard is it to render a piece of poster board? Spruce up the presentation next year, please.
Playstation 2 Screenshots
Similar Games
Viewing games 1 to 6