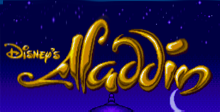 Genesis Cheats
Level Skip
Manufacturer: Sega
Machine: Genesis
In a level, pause and press these buttons in this order: A, B, B, A, A, A, A, B, B, A. You'll hear a sound and skip levels.
At the Title Screen, choose the "Press Start" Option and go into the game. In the game, press START to pause the game. Now, press these buttons: A, B, B, A, A, B, B, A. You'll hear a sound. The screen will fade and go to the next level!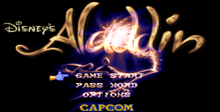 SNES Cheats
Level select
Highlight the "Options" selection at the title screen and press Start. Press L, R, Start, Select, X, Y, A, B on controller two. A chime will confirm correct code entry. A level select option will appear above the start option on the title screen. Hold L + R and press Up or Down to select the level, and Left or Right to select the section.
Bonus lives
Press B when the Genie blinks during the bonus levels for one or two extra lives.
Passwords for levels
The Market Place:(none); The Cave of Wonders: GMAS; Escape from the Cave of Wonders: JMPG; Inside the Genie's Lamp: GJAM; The Pyramid: MAGP; "A Whole New World": PJSP; Jafar's Palace: JPAJ; Final Battle: APMS;
Key: A - Aladdin; P - Princess; G - Genie; M - Monkey; S - Sultan; J - Jafar.
Passwords
Manufacturer: Capcom
Machine: Super NES
At the Title Screen, move the hand down to the Password Option and press START. Enter the level passwords as shown.
If you are having trouble with this game, these passwords should help you out. At the Title Screen, move to the Password Option and press the START button. Put in one of these passwords to get to your level of choice.
Level 1:
Genie, Abu, Aladdin, Sultan
Level 2:
Jafar, Abu, Jasmine, Genie
Level 3:
Genie, Jafar, Aladdin, Abu
Level 4:
Abu, Aladdin, Genie, Jasmine
Level 5:
Jasmine, Jafar, Sultan, Jasmine
Level 6:
Jafar, Jasmine, Aladdin, Jafar
Level 7:
Aladdin, Jasmine, Abu, Sultan