F1 ROC: Race Of Champions Cheats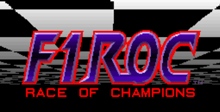 SNES Cheats
Change opponent's name
Select the name change option to alter the name of an on-screen player. Press Down on controller two to switch the highlighted name with an opponent's name, then change that name. Press Down for the next name.
Sound test
Change the player name to SOUND.
Music test
Change the player name to OTO.
Slot machine mini-game
Change the player name to CASINO before the Monaco race. A mini-game that will allow you to win cash from a slot machine will appear before the Monaco race.
Extra money
Change the player name to SETAUSA or SETUSA. $10,000 will be available at the start of the next race.
Hidden track
Select the training option from the configuration screen. Select the Monaco track, prepare your car and begin the race. During the race, look for the section with water that forms a point between two gray barriers. Turn around and drive directly into the point of water at top speed. With proper positioning, your car will be able to drive on the water without sinking. Look for an opening that leads to green grass. Enter the opening to find a new track that does not appear on the map.
Music Test
Here is a music select for F1-Roc. This music mode lists all 18 music selections that are used in the game. First, bring up the name register screen. Next, input your initials as: OTO and push START. You will then see a music select screen. Use the A and X buttons to change the numbers and then START to listen to your selection.
Discover Hidden Course
Choose "Start" on the title screen. Get past the player select screen and choose "Training" in the Config screen. When the course screen comes up, highlight and choose the MONACO course. Do all of the changes you want to your car and then start the race. While you are racing, look carefully for a body of water that comes to a point between two gray barriers. Once you find this, get up to top speed (turn around and come back if necessary) and head for the water. If you place your car just right, you will be able to run your car on the water without falling in. Search for a significant opening from the water to green grass. Once you get to this, you will see that it leads to a new course that is not even on the map!