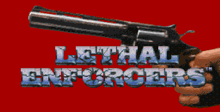 Genesis Cheats
The arcade smash hit Lethal Enforcers is coming to both the Sega CD and the Super NES. Both versions of the game recreate all the intensity and drama of the coin-op.
Terrorism has been at an all-new high, and security has been stepped up to thwart the criminal activities. During your duty, you will be faced with a number of high pressure situations. The game starts off with a holdup at the local bank. Take down as many thugs as possible before following them in your car.
The next level takes you to China Town, a place filled with criminal activity. The others missions will take you to an airport, a subway terminal, and even a factory.
Along the way, you will be able to acquire better guns, so that you may decimate the crooks faster. Just make sure you don't hit innocent civilians.
Lethal Enforcers is as close as one could get to the arcade game. The Sega CD version has real voice in it for added effect. To make the game play like the arcade, a special gun will be packed in with both versions.
If you ever wanted to be a police officer, you'll like this game. It's just like the shoot-don't-shoot simulators that the police use.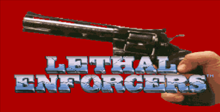 SNES Cheats
Eight continues
Pause game play, and press Up(3), Down(3), Left, Right(3), B, A(4), Start.