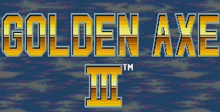 Justin Garcia CoolDuelist posted a comment: 15 years, 2 months ago

This is the final part of the Golden Axe series, And it's unfortunate that you can't play as Gillius Thunderhead (The Dwarf) He was and still is my favorite character, in fact he looks cooler now with the new clothes. You still can use lightning magic though, The new Panther character is a lightning type character. The Graphics are much better, Everyone is bigger and the Monsters are stronger and more agressive. More boss fights, wow! This is the best of the series. This Game is highly Recommended by me, JGCD!
matthew posted a comment: 14 years, 3 months ago

did no there was a golden axe 3. i have not hear about it
mariano_xbox94@hotmail.com posted a comment: 13 years, 8 months ago
John Good posted a comment: 13 years, 7 months ago

I'm a n00b... What are the controls for this game?
Andy posted a comment: 13 years, 7 months ago

Read the help page, There is loads of information on how to change the controls to your liking their...
vinx_619 posted a comment: 13 years, 7 months ago

indulged1 has typed this a lot of times before and he will be furious- Before hitting Esc for full screen click on options then controllers set config then select what you want to use I.E Game pad, Keyboard, Then click define and read the bottom of the window and hit the key you want to use for that function and you done, Plus you'll never have to do it again!, Hope this helps