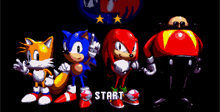 Justin Garcia CoolDuelist posted a comment: 13 years, 5 months ago

This is the fusion of Sonic and Knuckles with Sonic the Hedgehog (Sonic 1). Instead of a plot or actually putting knuckles in the sonic 1 game, they created a collection of the special stages from the sonic and knuckles game. Collect the blue spheres. No Adventure at all and you can play as sonic or knuckles. It's fun. This Game is recommended by me, JGCD.
Tomas posted a comment: 12 years, 7 months ago

Hello I Want Said you something. When it installs it says to me: No Way! not that it happened to him. Good I wait for your Answer!
vinny puleo posted a comment: 12 years, 6 months ago

Same thing happened to me.
Michele posted a comment: 12 years, 6 months ago

I downloaded this but can't find how to set the controllers, can anyone help. I have been through everything??
Andy posted a comment: 12 years, 5 months ago

Before you hit Esc to zoom screen click on options then config, controllers, Port 1 is player 1, Port 2 is well you can guess, If you have a game pad click on the Use button and select it, Then Define and hit the keys you want to use for Up, Down, Left, Right, A, B, C, Start, X, Y, Z, Mode and that's it!....
Eugenia posted a comment: 12 years, 3 months ago

Luv it! brings back memories without the hardcourses
habib posted a comment: 12 years, 2 months ago

every time you open the game you will se the no way which makes the game unplayable but i can stop this from bothering anyone who want this game. if you have the deafult controls and want to get rid of this annoying no way press control spacebar and shift or if you're using a sega genesis a b then c or if you're playing it on the sonic mega collection plus for the ps2 press square X O
Bryan posted a comment: 11 years, 8 months ago

JETHAWK! I TRYED CONTROL SPACEBAR AND SHIFT AND ITS DOSENT WORK! SO F*** YOU!
habib posted a comment: 11 years ago

Think before you say something stupid Sonicmarioguy200 and Try again not just curse me from the first time and check which key was assigned to be A which is B and which is C. And remember you need to press them all Togetther at the same time