Viewing games 1 to 5 (of 5 games)


See also:
Super Castlevania IV

It is a retelling of Simon Belmont's foray into Dracula's castle, first told in the original Castlevania. The game...
Aladdin is one of the finest platformers ever. It combines pick-up-and-play gameplay with one of the smoothest game engines out there, as well as some of the most detailed graphics ever.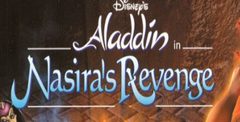 The camera slowly pans in on an island surrounded by fire. In the center of the island stands an ominous figure -- she raises her hands to the skies and summons the once great Jafar.