BattleTech: The Crescent Hawks' Revenge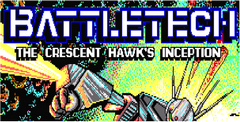 a game by
Westwood
Platform:

PC

Editor Rating:

7

/

10

, based on

1

review
User Rating:

8.0

/

10

-

1

vote
Rate this game:
In Infocom's second Battletech install ment, Jason Youngblood returns to continue the search for his father. Though the storyline continues faithfully into this sequel, nothing else about the original Bat-tleTech is evident.
The designers of The Crescent Hawks' Revenge decided to rewrite the entire command structure to provide an easy-to-use entry system that allows gamers to control a larger number of units than ever before. Changing the concept of an already successful game is risky, but it seems to have payed off this time. As play starts, gamers are brought into the story and carried through each scenario by a collection of gorgeous VGA pictures and some interesting sound effects. Players watch their scoutcraft get ambushed by enemy fighters and consequently crash land on the planet below. So begins the adventure. The gamer must now command all remaining Mechs to safety as the enemy approaches.
After the scenic storyline is complete, it is replaced with a grid map of the area in which players will launch their attack. All commands are entered by key, and the system is surprisingly simple to use. Function keys correspond to each Mech, and players simply call up a warrior and decide what he is to do.
Mechs can be instructed in a variety of movement and firing patterns, all of which must be selected based on the Mech's capability. Improper use of a Mech can result in ammunition loss, overheating or even a meltdown.
The most intriguing aspect of game play is the allied warriors' ability to act independently once their orders are fulfilled. If gamers don't issue a Mech further orders once his initial setup is complete, he then acts on his own, moving and even firing on the enemy at will. The quality of his decisions is based on his experience in the field, and he is rated from "green" to "veteran." Players will find that the veteran Mechs need little or no orders.
Throughout the battle, Jason is kept abreast of what's happening elsewhere by means of remote communications from his other Mechs. Each unit calls in with a digitized voice of its own to let the gamer know where he or she stands. If a unit is damaged, it radios in to request help. This independent aspect of the Mech's behavior makes game play more realistic.
The only real problem with Battletech is in the graphics on the game grid versus the visual interludes. Since the back of the box shows nothing but the beautiful pictures players see during intermission, people may be misled to believe the entire game is played in this colorful VGA world. On the contrary. The game is played on a two-dimensional map with graphics that don't come close to what you see on the back of the box. While the lack of breathtaking visuals during combat may prove a disappointment to some, those more interested in a well-designed tactical war game, will find that BattleTech: The Crescent Hawks' Revenge is a must.
Download BattleTech: The Crescent Hawks' Revenge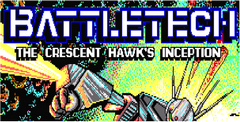 System requirements:
PC compatible
Operating systems: Windows 10/Windows 8/Windows 7/2000/Vista/WinXP
Similar Games
Viewing games 1 to 10