Command & Conquer: Red Alert 3 - Uprising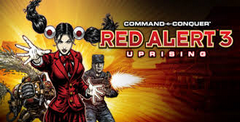 Click the "Install Game" button to initiate the free file download and get compact download launcher. Locate the executable file in your local folder and begin the launcher to install your desired game.
The game was released on PC on October 28th 2008 and was rated for players who are 16+. A portion of it was released on the Xbox and the PS3 later in 2009. The game belongs to the Command and Conquer: Red Alert series.
Gameplay
The game has nice features that include 4 different campaign modes instead of 3 which is the usual number. Each campaign has around 3 missions where for the soviet campaign there are 4 missions. The Sigma Harmonizer aka the superweapon is the main focus for the soviet campaign and I would recommend that you should play it first for a better experience.
A notable thing was that although the previous version of the game had mixed and cold reviews a lot of people surprisingly were waiting for the game to release but the response was colder than it was for the previous one. There are a few new units in the game and some of the FMV cast has been changed, we have Mr. Malcolm and also Ric Flair (ridiculous right?)The gameplay and challenge mode are all just average. There is not much of a difference in this game from its predecessor games and many features and scenarios are alike except the music, that new!
The game has been morphed into a faded colorless mediocrity and the story is just even worse. There is no spark in the gameplay and that's because there are so many flaws in the story and the things are lacking. The challenge mode is a rehash from the previous versions and the skirmish mode which is a mirrored image from the previous command and conquers games. One more thing which I believe is an absolute planning disaster is that the game includes no multiplayer feature. It is insulting, the game costs about $20 and there is literally no multiplayer at all. The previous Red Alert had this one feature on which a lot of people really enjoyed and this one doesn't even include that. So you don't even have the co-op and versus mode feature either and that boils my blood.
The new maps are designed in a good way where you can play them in individual as well as the command mode of the game. Starting as a small unit you battle your way through to building a stronger and larger unit.
Rating
Red Alert 3: Uprising may have dropped most things which their predecessors were praised for, yet it still holds the entire glitchful journey and occasional animation jitters. However, Electronic Arts didn't abandon their promise towards making an effort for great music, where they delivered someamazing new tracks to complement the visual chaos. It's just too bad that Uprising struggles to constantly preserve the golden era of the franchise, let alone improve them.
We would give it a 3/5.
Download Command & Conquer: Red Alert 3 - Uprising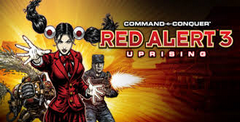 System requirements:
PC compatible
Operating systems: Windows 10/Windows 8/Windows 7/2000/Vista/WinXP
Game Reviews
For An Expansion pack, Red Alert 3: Uprising has a lot of new content If you're expecting just a few missions and maybe a couple of extra units, prepare your gobs for some true smacking.
Most stunningly, and I'm sure this will make or break opinions of this stand-alone add-on, there's no co-op campaign play. Online co-op was the big new feature of RA3 and it's been totally axed here. On the upside this makes Uprising feel like classic Red Alert. On the downside, it's just not Red Alert 3.
Despite that, the challenge some felt was absent in RA3 returns when you don't have a co-commander fighting with you. There are four campaigns, one for each faction, and another where you play as psychic schoolgirl Yuriko Omega.
The Yuriko campaign plays more like an RPG, although Yuriko doesn't level up by killing enemies; instead she studies computers (inevitably there's one PC that's just full of porn). This storyline is entertaining, as bouncing dolphins off aircraft carriers always is, and is a good complement to the main campaigns.
There are only a few campaign maps for each side, but they take several hours, and lots of unit management, to complete. As for new units, the Soviets get stiffed, with only old favourites the Desolator and Grinders being useful, while the Allies get the Harbinger Gunships and Pacifiers, both of which are hard to take out and devastating powerful. The Empire gets a floating giant robot samurai head, which is great fun but takes a long time to build.
Tough Going
And after that, there's the Challenge mode, which is basically one giant nonlinear campaign with no difficulty settings, all three sides and no saving (what?!). As you complete missions you gain extra units and more choice over the next. Unlike in previous EA RTS games, this extra mode has had as much work put into it as the main campaign, and while the lack of a save is a bit annoying, we can't fault the enjoyment factor.
When judging Uprising, the question is whether the lack of co-op ruins it. For me it didn't, but for some people it will; although they may be sated by the Skirmish play options. Then again, some really disliked the co-op aspect of RA3. so for those Uprising will be an improvement. Even the visuals are more colourful and detailed. And it's got Ric Flair and Malcolm McDowell in it. Can you say no to that?
Similar Games
Viewing games 1 to 6