Dashin' Desperadoes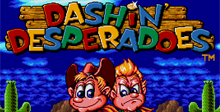 Click the "Install Game" button to initiate the file download and get compact download launcher. Locate the executable file in your local folder and begin the launcher to install your desired game.
Data East's new Wild West workout pits you against a wily, villainous partner in a race for the affections of the beautiful cow gal Jenny. This game's a desperate dash for glory, glamour and a good time!
Yeehaw!
Dashin' Desperadoes is a frenetic split-screen game that's filled with cowboy crunchin' mayhem. You play Will in a mad dash against a friend (either real or computerized across six worlds with three stages apiece). You run, dash, jump, throw bombs and stomp across the terrain, all while trying to beat your partner to Jenny, who's waiting for you at the end of each stage. In the third stage you have to beat a nefarious machine by throwing bombs and avoiding anything thrown at you.
If you get the Freeze Bomb, it will travel across any flat surface until it hits the mark. Throw it from above, and you should put the freeze on your opponent.
You'll pick up different icons in each stage, which can provide you with anything from extra speed to powered-up bombs including a Freeze Bomb, a Thunder Bomb, a Fire Bomb and an Electrical Bomb. Besides trying to beat your pesky "pardner" to the gal you'll also have to contend with creatures and obstacles, like Sharks, Porcupines, Abominable Snowmen and bone-bashing Boulders.
Dashin' Good Looks
The graphics in DD are small and cartoony, but that's perfect for the split-screen action, which would be tough to follow if the sprites were any larger. The enemies are nondescript, but the backgrounds are diverse and imaginative. You'll see every kind of background, from the old west to a sunny beach, to snowbound scenery. The divided screen is annoying at first, but you'll get used to looking at both screens at once. Controlling your desperado is easy, but beating the other desperado to the finish line is tough.
ProTip: Against the end-level contraptions jumping and bombing works the best. Only dash when the machine moves offscreen.
The music in DD is good, but no guitar twanger. It has a very kiddie feel to it, but it blends in nicely with whatever background is shown.
When playing against the computer, you'll find the computer-controlled player hangs around if you're too far behind. Watch out, though, because he'll toss bomb in anticipation of your arrival. Watch the screens and sneak up on him, then jump and dash into him. This tactic could give you the advantage.
Always try to stay on the upper areas of the game. The Lower areas have more obstacles.
Don't Dis the Desperadoes
Although at first this game seems directed towards younger players, it has a frantic-bat-fun quality that makes it both charming and challenging. Once you get the hang of it, you'll be dashing around and bombing your bumpkin buddy right off the screen. This game's definitely more fun in the two-player mode.
Dashin' Desperadoes lets you accumulate continues faster than a cowboy can spit tobacco. You shouldn't have too much trouble breezing through the game, that is if your partner is not as desperate to reach the end as you are.
Download Dashin' Desperadoes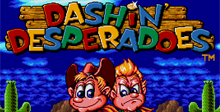 System requirements:
PC compatible
Operating systems: Windows 10/Windows 8/Windows 7/2000/Vista/WinXP
Game modes: Single game mode
Player controls:
Up, Down, Left, Right - Arrow keys
Start - Enter (Pause, Menu select, Skip intro, Inventory)
"A" Gamepad button - Ctrl (usually Jump or Change weapon)
"B" button - Space (Jump, Fire, Menu select)
"C" button - Left Shift (Item select)
Use the F12 key to toggle mouse capture / release when using the mouse as a controller.
Game Reviews
Theme: Action
Release: 1994
People say:
7
Dashin' Desperados is a strange game indeed. I like it in a perverse sort of sense. The comical characters have some neat animations. The whole game is one continual race. I especially like the Boss, where you must stop the car to save your girl. The Two-Player Mode is a welcome feature. This cart has limited appeal, but it is fun. If you are looking for a cart that's different, you might like this one.
7
Dashin' Desperadoes definitely gets points for originality. The idea is simple: race your opponent to see who gets the girl. It's a simple concept that is surprisingly fun to play. Lobbing bombs at your opponent or picking up other items adds to the all-out action! The game is 100 times more enjoyable with two players since the computer can easily kick your butt. The game can be too repetitive after a while.
5
This is a weird game, but that's okay with me. I like games with a little originality, especially this one. I like the comical theme behind it with the two characters racing in competition for a girl. The graphics are nice and the music paces the humorous theme. I feel the cart really excels in the two-player simultaneous mode, but isn't much fun with one player. Although it's original, it can get boring after a while.
6
I don't know about you, but this is obviously going in the 'I don't know what type of game' column. One thing for sure, it's something different. Race for a girl? Well anyway, if you think of it this way it's actually a good game. Delay your competitor by throwing bombs at him. A very good two-player game that may last for a couple of hours. A cool concept that may be good for parties. It could use more weapons.
A new game by Data East is making players turn their heads. Entitled Dashin' Desperadoes, you and an optional friend must race against each other in pursuit of the girl of your dreams.
A bunch of nifty obstacles stand in your way, but you have a handful of bombs to clear your way. Believe it or not, this game is quite amusing. It plays good, too!
This game is also known as Rumble Kids (Japanese title).
In Dashin' Desperadoes game you play a role of one of two cowboys try to win a girl's heart by racing each other in side-scrolling run-and-jump obstacle courses. The first to arrive will get her love. The duel takes you through six worlds with three levels each. In order to move on to the next world, you have to destroy the vehicle of your opponent, who has kidnapped the girl in each final level. Both singleplayer and multiplayer modes have horizontal split screens, which can be used strategically to slow down your rival.
In the game, the cowboys can jump, pick up weapons and dash at regular intervals to gain extra speed. In order to win the level, you need to make use of the many obstacles. Some are meant to slow you down, but others, such as running shoes, skateboards or jump pads, can be used to improve your speed. There are multiple paths for each level as well.
Will and Rick were like two peas in a pod or more accurately, two cowpokes in a corral. In other words, these two cowboys were best of friends and nothing could tear them apart that is, until Jenny came to town. Since her arrival, the two best friends have become bitter rivals, each vying for her attention and affection. When Jenny's father decides to send her on a trip around the world, Will and Rick decide to race each other to see which one of them will accompany her. Through deserts, icebergs, shark-infested waters, and even ancient ruins these two go head-to-head in the wackiest race you've ever seen. In split-screen action, you and your opponent (either the computer or a friend) will have to use fancy footwork and a few tricks to be the first to the finish line and win Jenny's heart.
Sega Genesis/Mega Drive Screenshots
Some hillbillies will do any think to kiss their sister! lol, This game is a really strange concept but it's actually very good fun, Your basically in a race avoiding obstacles on your mad sprint to the finish line i.e kissing the girl so it ain't based on Broke back mountain!.