Viewing games 1 to 3 (of 3 games)

See also:
Air Diver

It's a Simulation - Flight Combat Sim that has you destroy everyone in your way in order to hit your goal: to reach...

LHX Attack Chopper

Be the first to fly the high-tech LHX, America's next generation combat helicopter.
F-15 Strike Eagle 2 is a second game in the series features campaigns in Lybia, the Persian Gulf, The Middle East and Vietnam.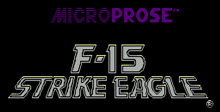 Fly a supersonic F-15 Strike Eagle through seven challenging Sortie Areas over video versions of Libya, Kuwait, and Iraq.