F1 Pole Position 64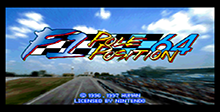 Click the "Install Game" button to initiate the free file download and get compact download launcher. Locate the executable file in your local folder and begin the launcher to install your desired game.
History may well record that Human Grand Prix was an enjoyable, if flawed, SNES UU game, but this N64 renovation owes more to the PlayStation's recent sweat-making FI than any 16-bit predecessor. And though there's no doubt HGP is the weaker of the two titles, persevere with it and you'll most likely find yourself hugely entertained.
Options are plentiful, with Time Attack and Battle modes giving you total control over races and a Contract preference allowing your devious tactical mind to poach drivers from other teams. The Grand Prix, though, is likely to be your ultimate port of call. Faultless it isn't. Crass verges and sandy sidings don't just lose you speed, they tend to stop you completely - buttock-clenchingly -dead. And the sun-drenched streets of Monaco - and the 15 other GP-based holiday spots - take on an 'under construction' feel as their architecture appears suddenly via some truly horrendous pop-up.
But the speed of the game is breathtaking. Careering round the track at 250 kmh is beautifully realised, while the analogue stick was made to control racing cars. The Al in the game is also well defined, with CPU opponents possessing the kind of competitive but fair attitude that the drivers in Mario Kart so noticeably lack. And, finally, the detail is enormous, with every whim catered for. A refined set of work shop options, for one, turns proceedings into a Perfect Striker for engine fans.
Perhaps not thoroughly deserving of an import pay-out, then, but HGP is back-slappingly fun all the same.
Tour of the Town
Monaco is one of the most challenging locations in the Formula 1 calendar, and Human's pin-point interpretation makes for sweat-riddled gaming. Tiny, barely passable streets, gawp-worthy hairpin corners and only one true straight add up to tough racing. And when you've failed qualifying and find yourself last on the grid, it's the sort of impossible mission Jim Phelps positively hankers for...
Sign on the dotter line
The Contract Mode provides players with an opportunity to delve into the multi-million dollar transfer market. It's not quite Eric Hall stuff but, here for example, Our Lad Damon - or H. Dill as he's labelled in this court-friendly unlicenced F1 game -can replace either the sausage-munching Schumacher or the Blighty-based smile-machine Eddie Irvine. New, adjusted data can be saved onto a Controller Pak so that your brand new teaming of Dames and Mickey can stay with you forever. A simple option but one that gives immense amounts of strategic freedom.
Download F1 Pole Position 64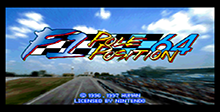 System requirements:
PC compatible
Operating systems: Windows 10/Windows 8/Windows 7/2000/Vista/WinXP
Game Reviews
The new Fi season is getting ready to start - get some early practice in with this cheat for Ubi Soft's racer!
Secret Car
Complete the entire game, succeed in becoming the world champion and save the game to a control pak. Restart the game, and when the"please wait while loading" message is displayed, press the A and B buttons together. Once the game has loaded, go to the car selection screen and you will have access to a secret car!
Return to the ancient days of 1996, when Damon Hill actually stood a chance of winning races, in this Formula One simulator. It's actually a slightly improved version of the Japanese Human Grand Prix, but some of the fundamental problems of the original - like unrealistic car handling and a lack of believable crashes - still remain, hampering enjoyment.
An early attempt to do an N64 Formula 1 game, with poor visuals and terrible car handling. Lapped by F-1 WGP in all respects.
Ubi Soft could have done a lot more with this. Obvious flaws include horrendous pop-up and stop-dead banks.
Step out of that go-kart, it's time to start racing with the big boys! Suit up, grab your helmet and get behind the wheel of a custom-configured Formula 1 racing machine! You got to be ready to compete against 21 other contenders in the multi-national Grand Prix. Pole Position is a classic game that's had its share of pit-stops over the years, but this time its got a bigger engine -- a full 64-bits to be precise.
Gameplay
F1 Pole Position 64, first released a few months ago in Japan as Human Grand Prix Racing, is a Fomula 1 race car simulation game where you are behind the wheel competing with the entire league of 22 pro Formula 1 drivers in the quest for the Grand Prix championship. Pick a car (with driver and country), and then customize it to your exact specifications. Qualify for your heat, make some adjustments to your machine, and race for the checkered flag.
I know what you're thinking: "another racing game?" It's true, you'd think that with so many race car games on the market that somehow the Big Three auto makers must be subsidizing these developers! But everyone loves a sequel, so let's give it a try, let's see how much they've improved on this oldest of video game ideas ...
I'll start with the best feature of all: this is the only officially licensed Formula 1 racing game for the Nintendo 64, with all 22 authentic cars and drivers from the 1996 season, and 16 tracks from all over the world. Accuracy is very important in a sim -- how many unsatisfied owners of Madden 64 are there because it doesn't have an official NFL license?
The next best feature is what gives this game its edge: control. You have much more control over your racing experience than ever before. This game proves that there's so much more to racing than simply steering and acceleration. All the cars are basically the same, but you get to customize and tweak and mold your Formula 1 car into the machine that you like. You have control over the steering resistance, tire durability and grip, gear shift level, brake response, downforce of wings, initial fuel level, suspension, and the level of pit work. It's all very confusing at first, but after several laps and a few races you begin to get a feel for what settings will work best for you and your racing conditions.
The trick to this game is your racing strategy, not just stamina. Strategy plays the biggest part in your success for winning the championship. The instruction manual lists several "F1 Meister Tips" to help you develop your racing strategy, such as varying your gasoline load for more acceleration, picking a better tire pattern for optimal lap time, and paying attention to accidents and weather changes during the race. They don't baby you either: if you choose a manual transmission be careful not to rev too high -- spend too much time in the red zone and you'll have a blowout from excessive engine load. If all this customization seems like too much to handle, don't worry -- beginners will have as much fun as veterans do. The factory default settings are good enough to get you going until you feel comfortable with customization.
Another great aspect is the overall sensation you get from racing in a Formula 1 race car. After a few laps of this game, two things came to mind: the IMAX film I saw recently called "Super Speedway: Racing with the Andrettis", and the "Days Of Thunder" ride at Paramount's King's Dominion in Virginia. Those experiences, and now this game, are all excellent ways to get a feel for what it must be like to really ride in such awesome machinery.
If you want to try something different than the World Grand Prix, there are two other modes of play: Battle Mode and Time Trials. Pick a track and battle it out with another driver of your choice, or save your best time trials to your controller pak and challenge your friends. Okay, wait, now it's time to unload a little about some of the shortcomings of F1 Pole Position 64.
Frustration #1: When I buy a new video game, the first thing I do is open the box (letting the inserts fall to the floor) and fire it up without looking at the instructions, probably like most gamers do. If I can't figure out the basics of the controls and how to play the game in five minutes or less, the magic is gone and I start to lose interest, from frustration, confusion, or worse. Most games, in that golden moment of first trying them, should be fundamental enough for the average gamer to catch on immediately to basic gameplay. F1 Pole Positionshould've passed this test, but it never had a chance, because of:
Frustration #2: "Please insert memory pack ..." What? If I needed a memory pack you shoulda told me that when I bought the game. Or, better yet, PROVIDE ME WITH ONE. Okay, F1 doesn't require a memory pak to play it, but why then do I get this nasty text message that fills my whole screen when I switch on the power without a mem pak in the controller? They should take a tip from Acclaim's Turok: Dinosaur Hunter, and show a nice little message tucked away in the options menu that reads "cannot save data, no controller pak detected," instead of interrupting that first golden moment. Ever get a remote control car for Christmas but "Santa" forgot to give you a 9.6v battery pack also? Sold separately, thanks a lot; Mom, when do the stores re-open again?
Frustration #3: F1 has no mutiplayers. My friends and I wanna race! What a waste of those other three controller ports ... Someone missed a great opportunity when making F1 to win a spot in the top 10 games of 1997 when they left out that gem. GoldenEye is a first-person shooting game and it's multiplayer capable, and when you're alone it lets you use TWO controllers at once if you dare.
Okay, I feel better now; thanks for listening. After only a few disgruntled words I was able to move past that disappointing first impression and get down to some serious racing.
Graphics
Video games have sure come a long way, baby! My first racing game was "280 ZZZAP!" for the Bally Astrocade System, which was fun in its day but it's a Tamagotchi compared to F1 Pole Position 64. At 30 frames per second (30 fps) the cars blend in smoothly with the scenery -- the polygons could use some more polish but it's a small sacrifice for having almost a dozen cars on the screen all at once, with no noticeable slow-down. It is disconcerting however when the clear sky up ahead suddenly becomes a row of trees and a SHARP TURN -- LOOKOUT!!! Ouch, there goes my lap time ... but it goes to show what good graphics do for this game.
The sounds are accurate, with voice-over communications from your pit chief and even a slight doppler effect when you get passed by that German team -- you even hear it from your chief: "You're slowing down." The cars do give off this awful high-pitched whining sound, but believe it or not those are actual recordings of F1 race car engines. If it's annoying to you, remember it's a simulation -- you want as close to the real thing as possible, don't you? Hey, you're still sitting in that go-kart, aren't you ...
Bottom Line
The reason there are so many racing games out there is because with each new release, the developers get a few steps closer to perfection. F1 Pole Position 64 is the best racer so far, but there's quite a lot of room left for improvement. F1 is the perfect game for dedicated racing fans and gamers that want more out of their racing experience, specifically more control. It has its flaws, but as a whole it's the most fundamentally complete racing simulation I've ever experienced. The price of this game is a little high, but reasonable compared to other games (before the recent Nintendo price drop began).
This is a serious game for serious gamers -- if you have the attention span of a cartoon character, stick with the go-karts and leave the power driving to us.
PROS: F1 licensed; car customization; accurate sounds; voice-over communications.
CONS: no multiplayer ability; no "RumbleAbility"; needs a controller memory pak (not included).
Realistic racing's peeling out on the N64 with F1 Pole Position, a Formula 1-style game drawn with polygonal 3D graphics. Gamers can choose from 30 drivers to burn rubber on 16 tracks (based on the Grand Prix lineup) in 22 F1 cars. Other highlights include a radio for communicating with the pit crew and damage caused by crashes, failed transmissions, engine breakdown, and more.
After the disappointing Cruis'n USA, the Nintendo 64 could really use a good auto racing sim. Unfortunately, due to some visual glitches and dreary gameplay, FI Pole Position 64 isn't it.
Formula and Function
FI Pole Position 64 revs up with 22 real-life FI race cars and drivers flying low around 16 International Grand Prix circuits, including familiar locales like Monaco's Monte Carlo and Italy's Monza. Cars can be customized in eight areas and piloted from seven perspectives.
The visuals, however, leave a lot to be desired. Most objects are solid and cleanly presented, but there's an unforgivable amount of pop-up--objects on the horizon wink into existence as you approach them. On courses with fog and rain, it's even more noticeable. Small touches like sparks and tire smoke could have been more dynamic as well.
Sonically, things aren't much better. Your pit-crew chief calls out instructions and helpful advice during the race, but sometimes it's tough to understand him. The music isn't terribly interesting, and the engines roar with all the power of an electric razor.
The Yellow Flag
The control options are pretty flexible, but even with the analog controller, you'll still find yourself tapping the stick around comers. The Season mode is okay and the courses are challenging, but the lack of a two-player mode hurts the replay value. The real tragedy, however, is how soon this racer breaks down. A few tune-ups back at the garage would have kept FI Pole Position 64 out of the pits.
ProTips:
You'll have to apple the brakes on hairpins, hut most of the other curves can he handled In letting up on the gas and coasting through.
Sullui the suspension to make better use of the analog stick. You'll he able to ease into turns more effectively.
If you approach a curve too fast, an alarm will sound. Let up on the gas you'll spin out.
Nintendo 64/N64 Screenshots
See Also
Viewing games 1 to 12