Monaco Grand Prix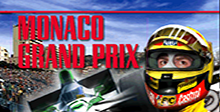 Click the "Install Game" button to initiate the file download and get compact download launcher. Locate the executable file in your local folder and begin the launcher to install your desired game.
People say:
8.0
I was beginning to think I'd never find an F-1 game that could bridge the gap between realism and fun. I think my search has ended. While it doesn't look that impressive, nor is it deep with detail, Monaco definitely has a kicking' game engine. The frame-rate is fast and smooth (even under heavy traffic-jam conditions), and the handling is very intuitive and natural. Thumbs up for gameplay as well. Thankfully the Al is tuned with a forgiving hand. Unlike most F-i sims that punish you at the slightest blunder, you may err a bit (even in Sim Mode) and still stay competitive. To its credit MGP is strong in the right areas--gameplay and vehicle handling. Still, it does have some flaws. Multiplayer (up to four players linked) works well but sadly no computer cars race along. It gets boring if your opponents) can't keep up. The lack of an F-1 license doesn't help either. Especially when so many others have it. Track maps in Sim Mode are missing as well. The bottom line? F-1 purists may scoff at the lack of refinement while casual fans will like the excitement this game generates. I had a blast methodically working my way through the field challenging car after car. At the zenith of racing splendor I could care less about the license or the other shortcomings. Monaco Grand Prix is simply 'fun to play.
8.0
There are similarities between this and the N64 version of Monaco Grand Prix- but not much. Ubi Soft's pair of Monacos each fulfill what the other could not. While the N64 version had excellent graphics, the PlayStation Monaco has a much better frame-rate. The game's analog controls (both steering and throttle) are near-perfect I've not felt such seamless and responsive controls since GT. If you dig F-1 racing, I highly recommend this titan?
6.5
Pretty much any developer is going to be hard-pressed to beat Psygnosis' F1 97 for hard-core GP racing. Sure, it's a couple of years old, but when something like Monaco GP2 comes without any significant license attached, this is easily overlooked. Graphically, Ubi Soft's game isJast, smooth and at least on par with the inferior F1 98--but it lacks any particularly notable features, save for some dum-mied-clown gamepl.
6.5
The sense of speed in the PlayStation version of Monaco GP is fantastic, which is key, because it makes you feel even more satisfied when you knock your opponents' cars off of the road. No, you're not supposed to do this but I don't play by the rules when it comes to these fancy-shmancy racers. I take full advantage of the free-for-all Arcade Mode, and enjoy every minute of it. Still, for you hardcore racing freaks out there, MGP is a solid title.
Download Monaco Grand Prix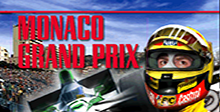 System requirements:
PC compatible
Operating systems: Windows 10/Windows 8/Windows 7/2000/Vista/WinXP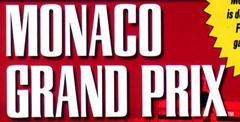 System requirements:
PC compatible
Operating systems: Windows 10/Windows 8/Windows 7/2000/Vista/WinXP
Game Reviews
We've told you about the ultra-sim, Monaco Grand Prix for the N64 (February issue). Now comes the slightly less detailed but very promising PlayStation version.
Before you roll your eyes at "just another Fi game" you may want to pay attention. At just 50 percent completion it's already apparent a sound foundation is in place. The frame-rate is very smooth and fast even when traffic gets heavy (up to 22 cars at once). And while the graphics are nothing special (similar to Psygnosis' Formula One 98), it's of small consequence given the competent racing gameplay.
Car control is accurate and responsive, especially when using the analog control. Weaving in and out of traffic and maneuvering the "s" curves is a lot of fun. On the other side, the analog speed control offers decent acceleration and braking.
Arcade Mode provides sloppy but entertaining racing. It's possible to bump other cars and do a fair amount of lawn driving. Championship Mode offers all the traditional physics of a real contest. A ton of adjustments can be made prior to and during qualifying. You can even adjust ground clearance and individual gear ratios. For the most part the sim physics hit the mark: The challenge lies in making a turn at higher speeds and not drifting too high, breaking hard before corners, etc.
No doubt the finished game will have all the bells and whistles we've come to expect in a Formula One game including two-player split and four-player link play. But, it appears Monaco Grand Prix will offset itself by featuring good racing gameplay rather than options galore (even though the game will have plenty).
MANUFACTURER - Ubi Soft
THEME - Racing
NUMBER OF PLAYERS - 1-4
Like a truck on the Autobahn, Monaco Grand Prix is the slowpoke of the PlayStation superhighway. Shockingly bland visuals keep Monaco in a perpetual pit stop. With side orders of jarring pop-up and drab textures to go with its low polygon count, Monacos only hope is to keep ahead of the Genesis 32X. Audiowise, the roar of FI engines has never sounded so much like a pigeon squealing.
By utilizing the Dual Shock controller's sticks for steering and acceleration, however, Monaco s decent interface puts the pedal to the gravel, and the 16 international tracks offer a challenging assortment of racing styles. Plus, a plethora of technical adjustments will keep virtual grease monkeys tinkering with the perfect car setup for each track. Despite those pluses, Formula I and Gran Turismo outclass Monaco in every category.
People say:
8.0
For passionate racing fanatics, the first glaring blunder for Monaco Grand Prix is its lack of a real F-1 license. However, Monaco Grand Prix offers a lot more than just another empty license. Despite its lack of name recognition, the game still has all 16 international tracks and a handful of fictional teams and drivers (whose names you can customize) to simulate Formula One. Every mode you'd expect to see in a serious "sim" is present: Single Race, Championship (race 16 circuits), Time Attack and Duel (2P split-screen) Mode. A special Career Mode also keeps track of your performance. If you're the second coming of Speed Racer, some of the teams with the fastest formula will try to recruit you to do the representing. For a "racing simulator," all of this should come as no surprise. The most distinguishing aspect of Monaco Grand Prix is its excellent sense of control. To get an idea of just how good this game feels, I pulled out Nintendo's F-i World Grand Prix and took my car for a spin around Suzuka. OK, so the frame-rate isn't as good, but when it comes to controls, there is absolutely no comparison- Monaco GP is the most playable F-i style racer for the N64. Like all great racing games, readily induces the player into a Zen-like trance where an ideal race line is all that momentarily exists.
8.0
MGP gushes great user-friendly gameplay in Arcade Mode, yet challenges the crap out of you in Sim Mode. It holds that balance better than any F1 sim I've played. It's weird using false drivers and teams, but it's tolerable. Like the PS version, the frame-rate and control are the best parts of the package. But unlike the PS version, this sim mode is really, really hard. Too hard actually. I love Arcade Mode though. A solid racer for casual fans and Fi freaks.
6.5
I'm all for making Formula One as accessible as possible to everyone, but I can't help feeling a bit shortchanged from this. It doesn't have any particularly distinguishing features that let it outshine other F1 games. Its super-simple Arcade Mode and dummied-down simulation make it easy to get into, but it doesn't have anything "new" to really offer. Sure, it's fast and the controls feel very positive, but Nintendo's own F1 World GP Is more fun.
6.0
I've said it once. I'll say it again: I don't understand what the fun is racing under such restrictions. What do you mean I can't knock my opponent into the guard rail? Unfairl And I can't even drive off-road? Bull! Luckily the Arcade Mode in MGP allows you to adjust the settings and turn penalties off, thus making it less like a sim and more...well, fun. The main problem is the sound effects--they're horrible. It's a good game--but for racing nuts only.
Monaco Grand Prix brings technical racing to the N64, but comes up a few cylinders short On the one hand, aficionados of FI -style racing will appreciate the game's hardcore sim-style action, including its challenging tracks, detailed Career mode, and thorough car-tuning options. On the other hand, they won't appreciate the total lack of licensed cats or tracks--its all fantasy here. For rookies, an Arcade mode was thankfully included, which is a nice leg up on FI World Grand Prix.
Despite some nice graphical details like dirt-accumulating tires, Monaco receives a yellow flag for its mediocre sounds, low-resolution textures, and unpolished track details. Sim fans dying for a break from the daunting FI World Grand Prix will likely flock to Monaco Grand Prix, but the more accessible Rush 2 Extreme Racing USA remains the best choice for armchair drivers.
PROTIP: Don't take shortcuts or block the track, or you'll be penalized by 10 seconds. Repeat the offense and you'll be elected from the race!
Nintendo 64/N64 Screenshots
Similar Games
Viewing games 1 to 8