ECW: Hardcore Revolution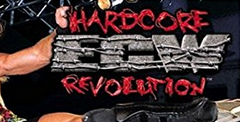 a game by
Acclaim
Genre:
Sports
Platforms:

Dreamcast

Nintendo 64

GameBoy Color

Playstation

Editor Rating:

7

/

10

, based on

2

reviews
User Rating:

8.0

/

10

-

2

votes
Rate this game:
See also:
Ecw Games
Gone are the days of slow, technical mat grappling. Now pro-wrestling athletes do things that send shivers up gymnasts' spines and juice more blood than a GWAR concert. Like it or not, wrestling has turned extreme baby, and it doesn't get more extreme than ECW: Extreme Championship Wrestling. Now you can enjoy all the blood, violence and vulgar language of the first "M"-rated wrestling game with the debut of Acclaim's latest game franchise, ECW: Hardcore Revolution for the Sega Dreamcast.
To say that ECW:HR doesn't bear a passing resemblance to WWF Attitude is like saying Goldberg doesn't look like Austin. Now this may start chants like "You suck, you suck!" but don't throw your drinks at the ring just yet. A tweaked version of the Attitude engine powers ECW:HR and it allows for faster gameplay and smoother animation. The Dreamcast's extra muscle puts out higher-res textures and poly-boosted wrestler models, making the game look more realistic. And to make it more like EC-Pn-W, the wrestlers bleed and bleed often.
Acclaim is hoping to get a good pop from the crowd by adding new modes and improving on existing ones. In Career Mode, players build their reputations by defeating jobbers (wrestlers born to lose) before taking on over 40 ECW superstars (in everything from cage to barbed-wire matches) and finally claiming the ultimate prize: the heavyweight championship title. But the game doesn't end there. You can still play as the champ and defend your title against all challengers. The Create-A-Wrestler Mode has been to the gym and pumped up some. Players choose what their wrestler looks like, from tattoos to tights, then build a move set for their wrestler and adjust attributes like speed, strength and agility. That's not all. Within the Create-An-Arena Mode, players design their own arenas with options to change mat and ring apron textures, arena lighting, banners and background graphics.
It'll be interesting to see if Acclaim will keep their baby-face image or turn heel with the release of ECW:HR. If the game gets a good reaction from the crowd, this could turn into a new franchise.
Download ECW: Hardcore Revolution
Game Reviews
The PS version of ECW Hardcore Revolution retains all the vulgar language, blood and chairs of the N64 version, while adding some FMV intros and CD audio. The graphics seem slightly sharper in this version than in the N64, but everything else is the same. Players will have plenty of opportunities to juice when Acclaim ships ECW:HR on Hardcore Thursday, 2/17/2000.
Nintendo 64/N64 Screenshots
GameBoy Color Screenshots
Similar Games
Viewing games 1 to 14