Grid 2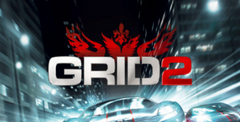 Click the "Install Game" button to initiate the free file download and get compact download launcher. Locate the executable file in your local folder and begin the launcher to install your desired game.
In terms of racing games, the RDG games have become one of the highest regarded within the genre and for good reason. Grid 2 had the tough challenge of making a game even better than the original, and based off of fans reactions when it was released, they did just that. You must win races in locations all over the world to have a shot at winning the World Series Racing title. With a plethora of different cars to race with, diverse track locations and weather, intense rivalries within career mode and throughout multiplayer, Grid 2 has firmly planted itself as one of the best racing games of the year.
Gameplay
The thing with racing games is how they set themselves apart from one another. In a game focused on racing cars it's difficult to create a truly unique experience for the player, where this difference is made typically ends up in the details and in game features. Grid 2 delivers an authentic racing experience with a believable storyline. You are dropped into the world of racing within the fictitious WSR (World Series Racing) with ambitions to win the championship while also growing the race to international dimensions. Seems simple enough, win races, grow fanbase and defeat other clubs from around the world.
The game offers different modes such as career mode, multiplayer online and challenges as you progress through each series. Also you are able to develop your own races and create unique track experiences. Where games like Need For Speed offer a different style of racing, Grid 2 delivers a highly authentic experience for the true race fans out there.
The Little Things
Certain aspects can make or break a game, no matter how small they may be. While the same is true for the opposite, Grid 2 does the little things right which leads to an authentic experience that fans take notice of. Visual effects such as leaves whipping up across the track or the feel of losing control in a risky drift, these aspects leave players satisfied with the overall experience, while some games leave fans questioning the authenticity of what they just experienced.
The little things matter to true fans of this genre, something like the reflection off your windows of the surroundings means something to players, even if it goes unnoticed at times. The audio is also a crucial aspect to the game, where in Grid 2 the industrial sounds of roaring motors and squealing tires really envelops the player into the overall experience, as if they were truly experiencing the race first hand.
8.5
Grid 2 is an exceptional follow up to its previous games, where fans feel as though their experience was truly considered by developers. The races feel real and sound real as well, while there isn't any ground breaking new features this game will satisfy racers cravings for a realistic experience on the track.
Pros:
Realistic feel to the game, detailed audio and visual aspects makes the full experience truly wonderous.
Different modes and challenges for players of all sorts, multiplayer alone will keep you addicted to the race.
Cons:
Some players may find the lack of available courses disheartening, where they may miss out playing their favourite tracks from the real world.
Download Grid 2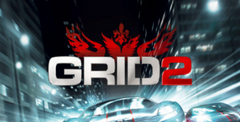 System requirements:
PC compatible
Operating systems: Windows 10/Windows 8/Windows 7/2000/Vista/WinXP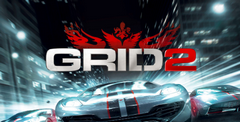 System requirements:
PC compatible
Operating systems: Windows 10/Windows 8/Windows 7/2000/Vista/WinXP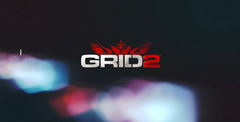 System requirements:
PC compatible
Operating systems: Windows 10/Windows 8/Windows 7/2000/Vista/WinXP
Game Reviews
If you are looking for an aggressive racing game that pushes the envelope, you're looking for Grid 2. An interesting game that takes from, and improves upon, many things from its predecessor, Grid 2 is franetic fun wrapped up in functional and enjoyable game. Not the prettiest title in the genre, but this game is well-made and knows exactly what it is about. If you want to play a racing game that doesn't waste your time and pulls you in with an interesting concept that is delivered nicely to the player, you are going to have a great time with this one.
Gameplay
The gameplay is as you would expect, a little more arcade than simulator. Like Burnout Paradise, Forza Horizon 4 or Wreckfest, this game wants you to have fun, not stress your way through all the races. That said, there are still a few things like vehicle damage, both cosmetic and mechanical that cause you to think a few turns ahead. There are a lot of gameplay modes for you to engage in here. Checkpoint races, elimination races, time attacks and the classic race that means you need to get from point A to point B as soon as possible are all here and more. If you are after a solid racing game that is sure to be a blast, you'll love this.
Visuals
The visual effects, be it the reflection of the streets on the hood of your car, the fireworks in the night races, and the small particle effects in the form of leaves and such that blow across the screen make this a hell of a game to look at. That said, I cannot praise it through and through. Although there is a lot to see here, a lot of the time the maps are a little lackluster. Races in places like Paris are absolutely stunning, but Japan or an established racing circuit often leave a lot to be desired. Regardless of that, unless you're slowly cruising around a racetrack like its midnight outside your ex-girlfriend's house, you probably wont even notice.
Story
In all fairness to this game, the career mode is actually really well done. Long gone is the boring system of going form race to race and just following a progress bar that you see slowly fill up until its complete and the game is over. There is much more flavor here and I found it to be a very refreshing change of pace. With the fictional World Racing Series (WRS) taking off, the player assumed the role of a driver who must travel the world and drum up support and business for this new event.
With custom ESPN visuals that ground this in reality, Grid 2 does very well in making sure you are engaged at all times and that you really feel like this is a story that's going somewhere. No longer are you simply rinse and repeat racing but instead, you are working towards something. It may not sound like much, but it's a welcome change that added a lot to the title.
8
A robust and well-designed racer. Grid 2 is a worthwhile dive into the genre that won't disappoint you.
Pros
Great Visual Effects
Excellent controls
Interesting career
Cons
Not enough maps and circuits
Maps leave a little to be desired
Playstation 3 Screenshots
See Also
Viewing games 1 to 15