Hi-Octane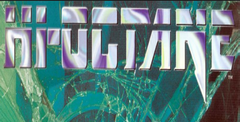 | | |
| --- | --- |
| Platform: | PC |
| Rating: | 6/10 |
On the bleak, dangerous streets of the 21st century, you'll engage in the bloody business of unsanctioned, lawless hover-car racing. In this arcade-style driving combat game you'll tear through cities, wastelands, and deserts in six vehicles. Of course, your arsenal will be mighty, but you're going to need all that firepower just to back out of your parking space.
Game Reviews
HI-OCTANE IS NOT YOUR AVERAGE RACING GAME!
If I took all the racing games I've ever played and rated them 1-10, they would all get a 5. The main reason is because no matter how great the game may look, without a lot of action, zipping around the same track for 10 laps can get pretty boring. If a game is going to succeed, it'll have to keep the player's interest for more than a couple of hours!
Hi-Octane definitely stands above the rest, because it has every feature that a gamer could ever ask for. First, there are six different hovercrafts to pick from, each with its own special characteristics, including speed, armor, weight and firepower.
As far as weapons go, each craft is equipped with a chain gun and a missile launcher. Both are very effective against your opponent, and can be recharged and upgraded to certain points in the race.
In other games, the computer drones are either easy to beat (meaning you spend the entire race lappirlg other drivers) or4he opposite (the computer cheats too much).
Hi-Octane does away with this problem. If you're at the end of the pack, you may not be able to pass the leaders. But with enough firepower, you can muscle your way to the front by process of elimination.
However, if you're skilled enough to be holding first place, when you start to lap the computer drones, they will launch everything they've got to take you out.
The last feature available to you on your craft is the booster. Besides being a very effective way to pass other drivers, you'll need it every time you see a big skull-an'd-cross-bones sign. This is a good indication that there is a ramp coming up, and charging your boosters may be the only way across the gorge!
TRACK INFORMATION
There are only six tracks you can pick from when racing, but each one has its own little secrets. Figuring them out will not be an easy job.
First, there are little pit stops in different areas of the track where you will need to stop and recharge your weapons, shields and most important of all, fuel. The tracks themselves are very intricate, sometimes confusing. But with a bit of racing under your belt, you will notice that there are shortcuts and secret areas to find.
The shortcuts are great for making up some time, and the secret areas have tons of power-ups to use to your advantage (if you're lucky enough to find them).
There are four different camera views you can pick from: three trailing views, so you can see your hovercraft and a cockpit view. I'm partial to the cockpit view myself, because you can tell how bad you're getting hit by the chain gun by the amount of bullet holes in the windshield.
One of the most important features is the ability to have eight players racing at the same time over a network. There is even a league table where you will be able to keep track of your progress.
If all the features that Hi-Octane has to offer aren't enough, the graphics on this high-speed racer look great.
One great touch is the way the road seems to be blanketed by a layer of fog. This drastically cuts down on visibility of the corners, and makes it hard to see shortcuts.
The bottom line is this game has enough cool features to keep the die-hard racer busy, but can also be enjoyed by somebody who would rather just strap themselves in and play.
EA combined its Magic Carpet engine with high-speed, first-person, hovercar racing for an adrendaline-packed rush. Climb into any of the six armed and dangerous hovercars and race on one of six unique tracks. To win, you must do more than follow the course's gut-wrenching twists and turns - don't forget to scour the tracks for ammo and fuel power-ups. Survival is the name of this game as you attempt to place in the top three enough times to claim victory.