Viewing games 1 to 2 (of 2 games)


See also:
Hook

Based on the hit movie of the same name, Hook is a challenging and swashbuckling adventure that will bring you face...
Based on the 1990 film of the same name, Home Alone puts you in the role of Kevin, the little boy who was played by Macaulay Culkin in the movie.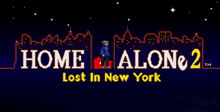 The main character, Kevin McAllister has come to New York City without his parents. However he doesn't seem to be bewildered, and confidently checks himself into a hotel and just starts having great fun.