Viewing games 1 to 2 (of 2 games)

See also:
Demolition Man

Based on the Sylvester Stallone/Wesley Snipes movie. This is where the "non-stop action" description comes into play.

Stargate

Travel through the StarGate to a new intergalactic dimension of non-stop action, danger and adventure! Face a hostile...
Judge Dredd is a platform action game based on the British comic book character of the same name and the 1995 movie that tarnished that name.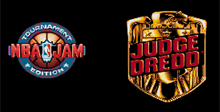 No fouls, very little gravity, and no realism. But that's what made it so damn fun.