Kame Paradise 2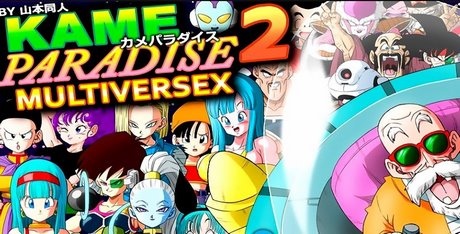 Click the "Install Game" button to initiate the free file download and get compact download launcher. Locate the executable file in your local folder and begin the launcher to install your desired game.
a game by
YamamotoDoujinshi
Platform:
PC
Editor Rating:

6.3

/

10

, based on

3

reviews,

2

reviews are shown
User Rating:

8.5

/

10

-

4

votes
Rate this game:
See also:
Dragon Ball Download, Eroge Download
So, here's one of the more bizarre entries to a famed anime franchise. In fact, we're not even sure it's an 'official' game to make up the series. However, Kame Paradise 2's explicitness probably underlines that no, it is in no way associated with the DB collection. As silly as the game looks, it sparks curiosity into how it plays.
Kame Paradise 2 is a fan-made game that follows the tales of Master Roshi, one of the side characters in the universe. If anyone understands his personality, you could probably see what direction this game is going. Yes, it's an RPG about him chasing girls and, well, being Master Roshi. You already feel this game is going to be ridiculous.
Capsule Corp Courting
The narrative behind Kame Paradise 2 is as Master Roshi as you can get. This elderly combat master has decided to take his love of women to the next level, stealing a time capsule to plunder through time and perv on young girls. Yes, it's not exactly the epic nature of Dragonball, and it's likely to drive most away in an instant. But some will choose to see it through.
Surprisingly, the game doesn't look terrible. Fan-made games with a lewd undertone generally aren't the most well-designed titles on the planet. However, Kame Paradise 2 does have enough sharp graphical assets to keep it somewhat engaging. That fact doesn't break it from the point, though; that gameplay is pretty mundane.
The only attractive part to those who didn't leave Kame Paradise 2 in the first 5-minutes is the hunt for girls to admire all around the Dragonball multiverse. That leads the mechanics to be pretty basic - exploring and completing some simple puzzles on each level. It's honestly rather bland and doesn't justify spending time to achieve.
But you know there will be someone who wants to see it through to death. There are plenty of sex scenes with a famous female character and many dry humor lines from Master Roshi and beyond. We can assure most players, though, there really isn't a whole lot that will retain your interest unless lewd visual novels are your thing.
Master Baiter
What's fascinating it someone actually made a lewd game out of the Dragonball universe. Kame Paradise 2 is a testament that people will make a sex game out of any popular series. It does feel like a cheap attempt at a sex game, but it's still infinitely better than the disaster that is the Leisure Suit Larry series. At least fans put some love and effort into their development.
6
But for those who don't revel in the 'adult' niche of games - Kame Paradise is definitely one to miss. The rewards don't justify the bland gameplay with little challenge and any meaningful objective. It's just another one of those things made to cater to an outlandish internet forum. It probably succeeds on that count, but not for most of us.
Round-Up - Pros & Cons
Pros:
Colorful environments make the game look professional
Cons:
Bland gameplay that presents little challenge
Cringing narrative
Not well designed
Download Kame Paradise 2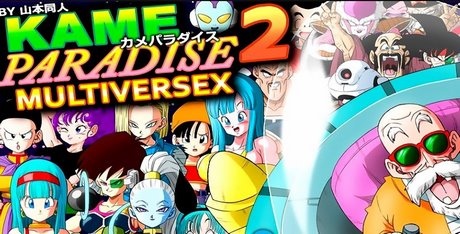 System requirements:
PC compatible
Operating systems: Windows 10/Windows 8/Windows 7/2000/Vista/WinXP
Game Reviews
Kame Paradise 2 is a game developed by Yamamoto Doujinshi, and it is an adult game based on the Dragon Ball anime series. It is a very graphic and explicit Hentai title, that should NOT be played by anyone under the adult age in their own country. With that being said, players that enjoy the genre and the cartoon are in for a good time.
The Dragons Balls Take New Meaning
Kame Paradise 2 is a game that does an excellent job of keeping the player engaged. The story is still incredibly tight - no pun intended. And it does a wonderful job of shining the spotlight on multiple characters from the anime. It mostly centers around Master Kame as the title might suggest, and the pervy old man here gets as lucky as he has ever gotten.
The thing about Kame Paradise 2 is that its characters need little to no introduction so players are thrown straight into the action. The game is a very simple 2D title very reminiscent of old Pokemon games. Players are tasked with walking around the world, and interacting with a massive amount of NPCs in search of their next goal. Those goals lead to sex and very explicit content 100% of the time. Characters are smartly introduced one by one at just the right time so that you get to enjoy their company as they appear in your game and have time to get used to the scenery, and unique interactive experiences each one provide.
This game is more of an interactive hentai experience, than game, and it was designed with simplicity in mind. In fact, I'm entirely sure it was designed so players could actually play it one handed - if you know what I mean. For those that haven't been playing games like this for long there's no secret, you basically just walk around, and choose the next movements by selecting the dragon balls in the order that pleases you. There's no need for them to remember too much information at once; each character gets their moment in the spotlight before moving on so that by the end when everything comes together (as expected), it feels perfectly natural and easygoing.
It's Over Sixty-Nine Thousand
The gameplay stays fun and sexy throughout, with new scenes and characters to interact with. There are familiar faces, and the gameplay doesn't bring any new challenges or twists. Kame Paradise 2 however brings the game to a new level with animations, and design. The sex, and every position available, added to the couple of options you have in each encounter are guaranteed to satisfy fans of the genre. If like Kame you are a pervert and have dreamed of Bulma, Android 18 or any other female from the series this is for you. And this might be one of the things worth mentioning, this is clearly a game focused on male gamers since their perspective is the only one represented.
While banging hot cartoon chicks, and exploring the world can be fun for a while, everyone knows that after a while any sexually explicit content becomes hard to consume. And that's when a break until the next day, cycles, or empty house moment comes in handy. However, there truly isn't that much to do or replay after you've completed the game a couple of times, and clicked every option available in every sex scene.
The artwork is beautiful and the soundtrack is epic. The sound effects are great as well, but that's not why anyway would ever play this game. It can also be said that this game has some excellent voice acting, smooth gameplay, and an overall wonderful experience.
There are a lot of options in there to experiment with in order to create the experience you want. As you begin to play this game, you'll be able to immediately see that there are many options there to experiment with in order to create the experience you want. There are a lot of different types of actions to choose from, and it's up to you how much time and effort you want to put into them. You can easily choose whatever suits your mood or situation as long as you are having fun there's no wrong way to play this.
Kame Paradise 2 is an amazing game that you should play right now. Kame Paradise 2 is a fun game for your alone time. The gameplay was fun, the sound design was great, and the art was beautiful. If these things are important to you in video games (and why wouldn't they be?), of the hentai adult genre then this game is for you!
Conclusion
So yes, is Kame Paradise 2 a good game? Yes. Is it the best game ever? No. The game offers a lot of content for players to enjoy and its sheer amount of options, and scenes that are very well designed and balanced, makes it stand out from similar games.
7
It also boasts one of the best cast of characters. It delivers exactly what it intends to, and can be played with one hand, much like Nekopara, Mosaique Neko Waifus, Sakura Hime, and Magical Girl Celesphonia.
PROS
Amazing Cast
Good Sound Design
Decent Gameplay & Story
One-Handed Gameplay
CONS
Low Replayability
Mild Sex
100% Male Focused Sex Scenes
Similar Games
Viewing games 1 to 8