King of the Road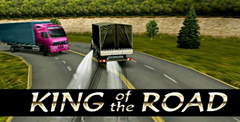 Download King of the Road and rule the highways in this high-speed racing game! Outsmart your opponents, evade the police, and become the ultimate road warrior. Rev your engines and conquer the road now!
Videogames can let you live out your wildest fantasies – from slaying dragons to traveling to the deepest corners of the universe. Some players have dreams that might seem to be less ambitious, but no less exciting. For those players, King of the Road might be the game they were always waiting for. An early entry in the truck simulator genre, King of the Road puts players on command of their own eighteen-wheeler as they deal with the day-to-day life of a trucker. There's a lot more going behind the scenes in the job of a trucker than what might seem, and it's up to you to make sure that the deliveries are delivered safe and on time.
Detailed and fun
It might sound like a simple concept – drive a truck from point A to point B – but there's a lot going on in King of the Road.
Players will have to take care of every aspect of their truck, from the gasoline to the state of the engine and other mechanics. Not just that, they also have to be on the lookout for any new jobs that might become available as they drive.
The cockpit of your truck is surprisingly detailed, containing everything you need to be a successful trucker. One of your most valuable tools is your CB radio; using the radio will be your main way of communication with other drivers. You'll also have to negotiate with the police and the mob, two forces that will always have a special interest in your cargo.
More than eighteen wheels
As the game progresses, players will also be able to purchase more trucks and create their fleet of truckers. This is not as easy as just "get money, hire driver," though. Players will have to participate in circuit races for the right to hire any new drivers. Only after you've won your fair share of races can you start your trucking company, and that's where the fun begins.
The main objective of King of the Road is to become the biggest, meanest trucking company in town. To do so, you will have to control the market – this is achieved by dominating 51% of the delivery market. Something that's much easier said than done.
On the road again
The atmosphere in King of the Road is sincerely hard to beat. There's a unique, liberating feeling when you're just cruising down the road. The revamped fuel mechanics and intuitive menus also ensure that the game is as simple as it can.
Keeping track of your finances is easy enough, and the game soon becomes as much of a business simulator as it is a truck one. Of course, the game is definitely an acquired taste, and not every gamer might be immediately lured by the concept of King of the Road, as entertaining as it might be.
To maximize your earnings, goods have to be delivered as fast as possible and in a near-flawless state. Of course, to do so you'll need to drive as fast as you can. That's where players will have to decide what's more important: their gig, or their reputation with the police. As we said, King of the Road is deceptively simple, especially for a truck simulator.
9
Solid driving mechanics and rich visuals (for the time) make sure that King of the Road is one of the best truck simulator games available, like Euro Truck Simulator 2 or American Truck Simulator. The business management sections are fun and complex, and they don't interfere with the trucking all that much. That said, this is a game that might not be for everyone, especially if you have no interest in either management or truck driving.
Pros:
Great simulation controls
Detailed cockpits
Fun business management
Cons:
Races feel a bit forced
Not everyone might like the slow gameplay
Download King of the Road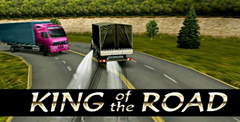 System requirements:
PC compatible
Operating systems: Windows 10/Windows 8/Windows 7/2000/Vista/WinXP
Game Reviews
Ever wondered who leaves pornography in lay-bys? You know, those great big fetid piles of Razzle and Fiestas? Lorry drivers, that's who, unloading the evidence before returning home to the missus. That's the theory anyway, although it's not one given any credence whatsoever by King Of The Road, despite its claims of being a comprehensive lorry driving simulation.
This might sound like the most boring idea ever, but the game does attempt to provide a slightly more glamorous interpretation of life behind the wheel. Competing against rival firms, goods must be transported in the quickest time and with minimum damage, offering the quandary of whether to flout the law and risk financial castigation, or take your time and get paid a pittance.
In many respects it's as much a business simulator as it is a driving game, as vehicles can be bought and upgraded, and eventually other drivers can be hired to work for your empire. It's like being Eddie Stobart, but with illicit races and drug smuggling. Quite a technically accomplished effort, it might not readily qualify as fun, but it is perversely playable in the sense that you feel you have a job to do and so persist despite the mind-numbing effects of mile after mile of open road. Ultimately though, you are just driving a lorry, and none of us wants that.
See Also
Viewing games 1 to 5