Leadfoot: Stadium Off Road Racing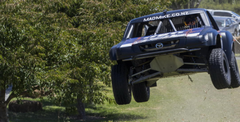 Click the "Install Game" button to initiate the free file download and get compact download launcher. Locate the executable file in your local folder and begin the launcher to install your desired game.
Overview
The fans at Hewitt Raceway are cheering at a near-fevered pitch as you begin your mental checklist. Your last race here was a disaster, damaging the shocks and drive train of your Super Lite almost past repair. But now, thanks to timely sponsorship from Team Ratbag, you finally have the money to shell out for that new engine you've been craving. You silently congratulate yourself as you rev up your engine and ready yourself for the countdown… and you're off! In a few minutes, everyone will know if you're the winner... or just another racing casualty.
Leadfoot: Stadium Off Road Racing is the first dirt track stadium racing game for the PC, brought to you by Infogrames, Inc. and developed by Australian-based Ratbag. This is certainly not the first racing game this team has produced, but in many ways Leadfoot might be the most unique. The game features eight different vehicles, 12 custom tracks with different physical characteristics, and realistic vehicle damage that can impact speed and handling. Leadfoot supports several different 3D graphics hardware types, as well as straight software rendering for you non-accelerated types. Leadfoot also has multiplayer capabilities via LAN or the Internet, with individual matches supporting up to 10 racers.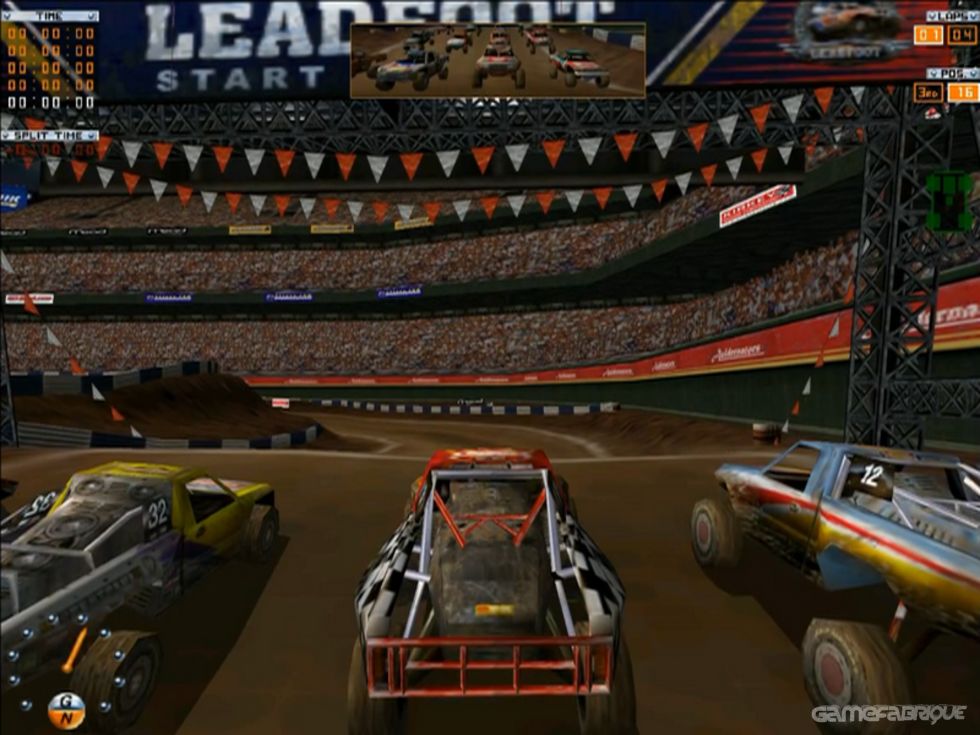 Gameplay, Controls, Interface
For those of you with slower machines and/or no steering wheel, take heart: Leadfoot works with computers with processors as slow as PII 233 or equivalent, and can be steered with mouse, keyboard and joystick as well as force feedback steering. Controls are pretty simple, with only a few keys or buttons in use during play.
The game itself offers simple single-player racing and a career mode, along with the multiplayer option discussed later in this review. If you're in the mood for a quick race or want to test out a new configuration quickly, Quick Race is the way to go. However, career mode offers other great options. You start with limited cash and have to win or place in races in order to earn more. This, in turn, leads to better engines, shocks, different truck or Super Lite designs, and so forth. You can also pick up sponsors to get a quick boost of cash, which is a really nice touch.
The configuration screen is quite simply a racing enthusiast's wet dream. You have the ability to tweak just about every aspect of the vehicle, be it handling, clutch weight, tire grooving, shock balance, etc. In fact, all the menu screens, whether for configuration or racing setups, are well thought out and easy to maneuver through.
Now to the gameplay itself. Handling is extremely realistic, which gives Leadfoot a bit of a learning curve. Where most racing games are your basic "floor it and turn" variety, Leadfoot's off-road tracks are tricky to keep one's car on without thinking through the turns. It is very easy to overaccelerate into a turn and end up hanging over a guardrail (my specialty), or fishtailing through a turn because of oversteering. This makes Leadfoot more difficult to control, and more of a time investment to become a skilled off-road driver. Even with the vehicle AI cranked low, I was still getting my hat handed to me by the computer. Vehicle handling on loose surfaces like dirt is spot on; jumps and bumps, while exciting, stay within the limits of modern science. So if you're hoping to catch some Motocross Madness air, you'll be a bit disappointed.
Something else to think about: the game allows for realistic damage as well. A small ding in other racing games might end up being a blown-out engine or damaged tires in Leadfoot. I would recommend starting out in Arcade mode (no damage) to get the hang of driving, then switch to Realistic damage to try out a whole new aspect of competition.
One of the more interesting features, aside from the Career mode, is the ability to create movies from the game. Movies can be recorded during a race, and later edited and ported to the .avi file format. It supports different camera angles and a wide variety of extra features. However, to me this seems more of a simple extra and does not add very much to the overall game.
Multiplayer
Unfortunately, this is the weakest aspect of the game. Leadfoot currently ships with a copy of GameSpy Arcade, a program designed to assist people in finding multiplayer games. However, Leadfoot players have been having a difficult time playing games once they find them. High latency, GameSpy client problems and/or game flaws made my online gaming experience less than satisfactory. Also, a 28.8 modem connection (the lowest recommended connection speed) would be nightmarish, as my 56K connection was still laggy and experienced high ping. Kudos to the GameSpy team, however, for being honest enough to tell you when you log on that Leadfoot is currently being worked on to overcome said problems. Still, if you're getting this game purely for multiplayer, either wait for the patch or throw a friendly LAN party.
Graphics
Graphics are crisp and well laid out. The game supports several different 3D graphics sets, including Glide, Direct3D, and others. It also has a software mode for those of us without accelerated graphics cards. The Super Lites and truck skins are all well rendered, and the track details are top notch. If I had any complaint, it would be that some non-functional details were thrown together. While much attention was lavished on the vehicles, tracks and views, crowds in the stadium and people watching from the track were almost cookie-cutter 2D in appearance. Still, there's not much to complain about here.
Audio
The game offers some directional audio effects. However, apart from a rock jam during the initial loading screen, vehicle noise and cheering crowds are the only real sounds. There is no in-game music. Due to the repetitive nature of most game music, perhaps this is a blessing.
System Requirements
Windows 95/98/ME, PentiumII 266MHz, 32MB RAM, 250MB hard disk space, 4X or faster CD-ROM drive and mouse, 8MB Direct 3D compatible video card, DirectX 7.0 compatible sound card and video card (DirectX 8.0 included). A Steering wheel and pedals are highly recommended.
Internet connection or LAN required for multiplayer gaming and a minimum modem speed of 28.8 is required for Internet gaming.
Bottom Line
Leadfoot is an excellent single-player racing game. It has great features, and its simple control structure and ability to work effectively with slower machines make this an excellent game for almost any racing fan. The learning curve alone will keep you coming back for more. However, as a multiplayer game, Leadfoot still has some work cut out for it and the resulting disappointment lowers the score. 84 points for the way it plays currently, but if the team manages to iron out the multiplayer options this game would rate in the low 90s. If you enjoy off-road racing or are looking for a racing challenge, Leadfoot is your best buy.
Download Leadfoot: Stadium Off Road Racing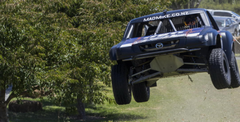 System requirements:
PC compatible
Operating systems: Windows 10/Windows 8/Windows 7/2000/Vista/WinXP
Other Games by Infogrames