Backyard Baseball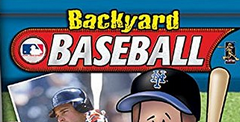 Backyard Baseball is a fun and casual sports game aimed at kids, developed by Humongous Entertainment and released in 1997. The cute and colorful visuals invite youngsters (or wondrous adults) to partake in a classic game of baseball. You'll pick your team from a group of neighborhood kids, and enjoy a simplified and addictive match of the sport. As a series, the Backyard sports titles have found great ways to introduce sports to gamers of all skill levels. Whether or not you're a fan of baseball, Backyard Baseball finds charming and fun ways to motivate you to play.
From the main menu, you're able to hop into a pick-up game, check out your coach trophies, and join the Backyard Baseball League. The League mode is the main focus of the game, and where you'll find the most customization and gameplay. Once you've signed in as coach, you'll get to create your own team and pick their colors. After that, it's time to draft your team!
There are around 30 different neighborhood kids you can draft onto your team. You'll have to choose nine, and there's a wide variety of characters to pick from. Kids from all walks of life are ready to play; humble farmhands, Spanish-speaking sluggers, nervous nerds, and more. Each kid has their own stats to check out, ranging in power in four categories. Pitching, Batting, Running, and Fielding are all taken into account, so you'll want to pick a good spread of strengths for your team. For those who don't care, you can also let the game choose for you.
Once you've crafted your team, it's time to take on your opponents in the Backyard Baseball League. In the Team Dugout, you can arrange players on the field, see your schedule, and check match records. It's your job to carry your team to victory throughout the season, winning the award trophy. Playing the actual match is easy enough. When you're at bat, you simply choose the kind of swing you want to take, wait for the pitch, and try to click at the right time. You can also adjust your stance while at bat. Pitching and playing outfield is similarly easy. When pitching, you simply choose the type of pitch you want (including fastballs, intentional walks, etc) and click to throw. If a ball is hit, you direct one of your team members to catch it and throw it at a chosen base. Everything feels incredibly easy to figure out, and the overall gameplay is welcoming and cheery.
Overall, Backyard Baseball is a fun baseball title that's great for kids. The colorful cartoon visuals and personable athletes make games fun and memorable, and the commentators and player jaunts are fun and witty. Playing the game is easy and enjoyable, making it perfect for newer gamers. Multiple stadiums, over 30 unique characters, and a happy attitude make Backyard Baseball a content-rich and enjoyable game. If you've got a younger gamer you want to introduce to baseball, or you have some nostalgia for this late 90's sports game, Backyard Baseball is a must-play.
Download Backyard Baseball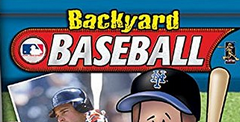 System requirements:
PC compatible
Operating systems: Windows 10/Windows 8/Windows 7/2000/Vista/WinXP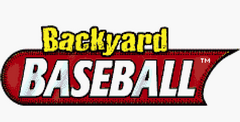 System requirements:
PC compatible
Operating systems: Windows 10/Windows 8/Windows 7/2000/Vista/WinXP
Game Reviews
Employing the same successful formula found in its previous 'Backyard'? series of sports games, Backyard Baseball for the Nintendo GameCube takes to the diamond with colorful 3D graphics, solid controls, and exciting game play featuring teams made up of pint-sized versions of some of your favorite Major Leaguers. And while Backyard Baseball may be intended for youngsters, there's a good chance many adults may be captivated by its charm as well.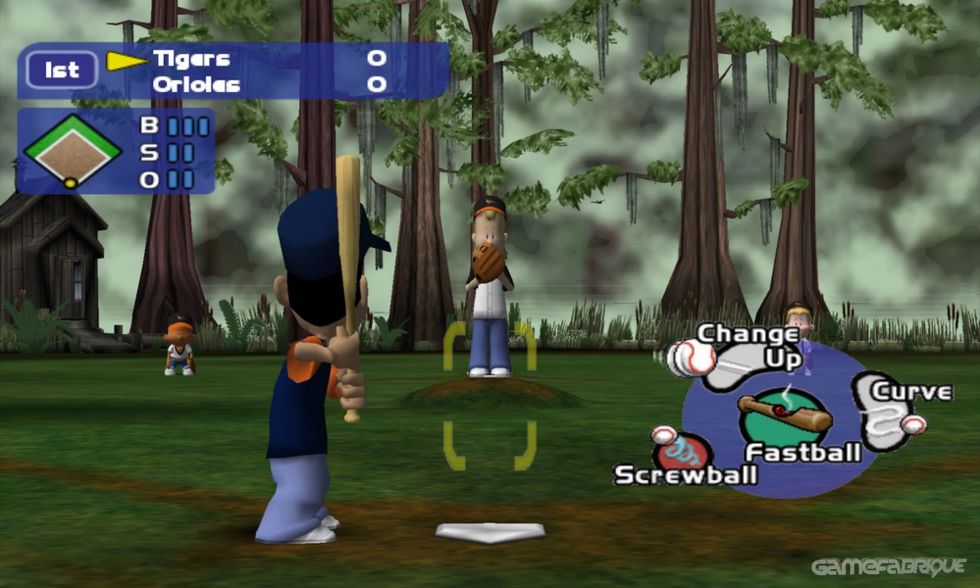 If you can get beyond its 'kiddy'? image, believe it or not the game actually provides a decent-playing rendition of our favorite pastime. Partake in a single game, homerun derby, or create a team and explore the rigors of season play. The game does include an MLB license for all 30 Major League teams, as well as 10 backyard teams made up of fictional players. And while you won't find every major leaguer, some of your favorites, such as Mike Piazza, Sammy Sosa, Barry Bonds, Jim Thome, and Pedro Martinez are included. Of course, like all the other Backyard sports games, the players are kids and the action takes place in fictional outdoor arenas as opposed to real Major League stadiums (Hey, with a game title like this, what did you expect?).
When you're on the mound you'll have a full arsenal of pitch-types to choose from including fastballs, curves, screwballs and change-ups, as well as a pitch locator in which to aim your pitch. At the plate, you can select one of four different types of hits: grounders, line drives, power swings, and bunts. In addition, during each game you can earn different power-ups that'll give you an advantage over your opponent. And despite the kiddy theme, the game provides a ton of options for setting the rules, changing your lineup, managing your defense, and viewing player cards and stats. The controls are straightforward and easy to learn. But be warned, once you venture beyond the easiest difficulty setting, the game becomes quite challenging. Nonetheless, it's a blast to play and each game becomes as unpredictable as the last.
The real charm of the game becomes obvious once you see it in action. The player graphics are absolutely adorable and the whole package is loaded with vibrant colors and comical animations. And for a game of this nature, the sound effects do a decent job of capturing the sounds of the ballpark, even if said ballpark happens to be a playground.
If you're a diehard baseball video gamer and only realistic simulations will do, then it's rather obvious that this game is not for you. But if you're a parent of young children, Backyard Baseball will be a delight for the whole family.
Similar Games
Viewing games 1 to 2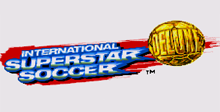 International Superstar Soccer Deluxe
The most playable soccer game of them all has now arrived for your Megadrive. Choose from 16 formations, 8 strategies, 20 players and 9 adjustable player skills.