Motor Mayhem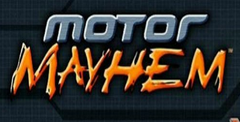 Click the "Install Game" button to initiate the free file download and get compact download launcher. Locate the executable file in your local folder and begin the launcher to install your desired game.
Overview
Somewhere in the near future, humans must battle against a force unlike any other. They call themselves the Duvo, a race that evolved below the Earth's surface, waiting until the time was right to strike against those who dwell above. In a last-ditch effort to save all humanity has struggled to create, multiple organizations have created genetic super soldiers to rally against the Duvo in hope of halting the oncoming hordes. These manufactured individuals, or Minduals as the populace call them, have stopped the Duvo from exterminating all life -- but it has cost them their freedom.
With the Duvo threat avoided, the Minduals rejoin society, though they frighten the public trying to move past the terrible memories of the Duvo War. In time the Modified Life Forms Act is passed, mandating that all Minduals be required to spend the rest of their lives behind the walls of military research labs. At first it suits the Minduals just fine, allowing them to continue their military training unmolested. They are unaware that they are being groomed to compete in a worldwide tournament called the Vehicle Combat League. Finally they will prove their superiority as the world's greatest warriors and perhaps find a way to win back their freedom.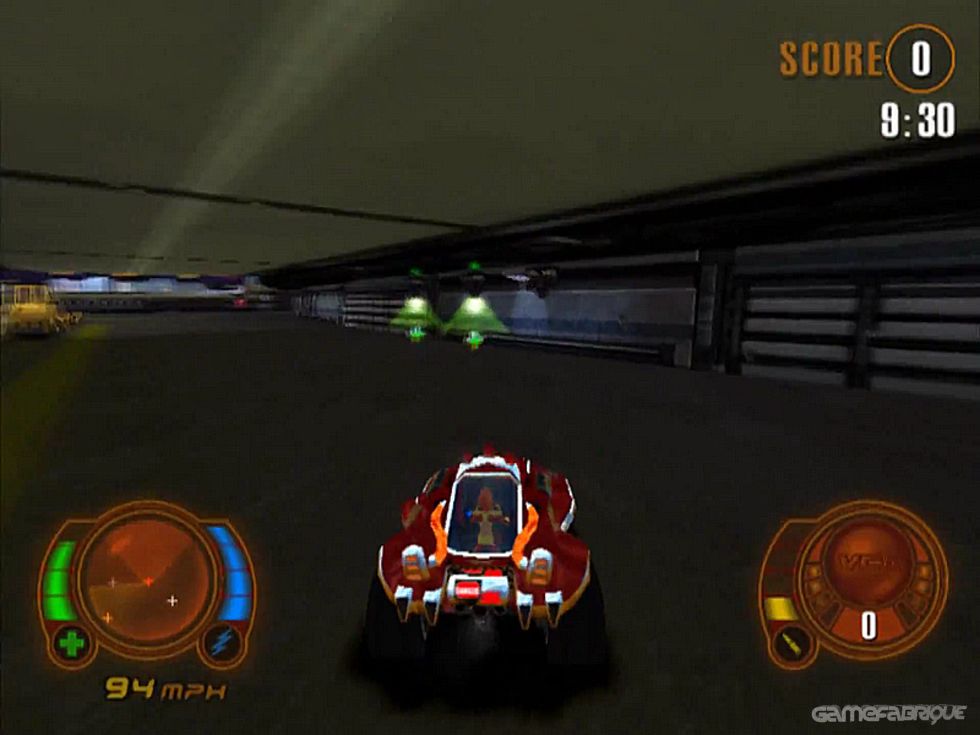 Gameplay, Controls, Interface
After you get through the credits you may choose a number of unique characters to battle in the arena. Each character has a couple of marvelous battle techniques that you may use to gain the upper hand against your opponent. As soon as you have acquired your combatant you have three challenging tournaments to choose from. The tournament you choose determines the strategy that you must use to conquer your opponents.
Before you battle against the other combatants you should understand how to use your Heads Up Display. At the lower left side of your screen you will see your radar, surrounded by a green line and a blue one. The green line is an indicator of your remaining health and the blue line is how much energy you have in reserve to fuel your special attacks. On the right side of the screen is the indicator showing how powerful your machine gun is, what type of special weapon you have equipped and how much ammo you have left. If you want to know how you're doing, look at the top right corner of your screen to view how many kills you have scored. If you are skilled enough to pull off one of the special attacks, you will see it named at the top of your screen. Once you are familiar with the Heads Up Display you should be able to search and destroy everyone on the course with ease.
Throughout each course there are a number of different power-ups that will aid you in the fight against your opponents. There are multitudes of unique weapon upgrades, from improving your basic machine gun to acquiring a launcher with homing missiles. If you think you have a chance of being destroyed, you can pick up an invulnerable shield that will last until it has taken a certain amount of damage or you can grab a health power-up to gain partial or complete health recovery. If you feel up to the challenge, you can attempt to locate a cheat key in the courses that will allow you to unlock a number of amusing cheat options at the start menu.
I haven't found much to complain about the overall game play, except that it's difficult. As I maneuvered around attempting to vanquish my enemies, it seemed extremely difficult to control their vehicles. On top of the complex controls, it seemed difficult to get a lock on the other opponents with any of my weapons except the homing missiles. If you're up for a challenge against terrible odds, you're going to enjoy this game.
Multiplayer Support
One of the best options is the ability to go head-to-head with another opponent who will probably make the same mistakes you do. I had such a terrible time controlling my character's movements that when I was able to fight a real person I didn't feel so bad that I had done so badly earlier. The split screen option isn't too bad, and it's loads of fun hunting each other down to see who will be the winner. Even though the other characters are still a threat, you and the other player can gang up on them and have more time to destroy each other.
Graphics
They were nothing to get excited over, but the graphics gave the game an amusing feel. The characters and scenery were disappointing, similar to what you might see in a low budget anime film. If they truly wanted a game that gave you the thrill of hunting down and destroying all opposition, I think they should have tried for a darker design. Of course the game's rating does suggest that it was made for teenagers, which would explain why it doesn't come across as threatening.
Audio
I had a hard time getting into the game since there was little to be said about the quality of the sound effects. There was a vague amount of theme music in the game, but it lacked so much that it threw off the mood the game was trying to set. If the music weren't bad enough, the sound effects drove me into a frenzy, they were so mind-numbing. If you need to listen to something else while playing this game, I would suggest popping in some Offspring and pumping up the volume.
Bottom Line
Motor Mayhem has some qualities that may appeal to those of us who can't resist a challenge against near-impossible odds. On the other hand, those same people may feel that the comical characters and poor sound effects detract from the intent of the game. There really isn't any substance keeping this game together as a possible hot release. I would suggest that you pass this game by and wait until another hot release makes it to the shelves.
Download Motor Mayhem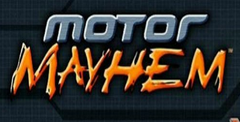 System requirements:
PC compatible
Operating systems: Windows 10/Windows 8/Windows 7/2000/Vista/WinXP
Game Reviews
Infogrames isn't saying much about Motor Mayhem, but from what we've gathered it's a motorcycle combat racer set in the far future. The year is 2166 and the World Vehicle Combat League is the popular sport of the day. Like other apocalyptic titles a pretentious, sometimes cheesy story line boils down to just racing and fighting. We're digging the way those vehicles look, though. Watch for Motor Mayhem! this fall.
Developed by Beyond Games and published by Infogrames, Motor Mayhem! is the first in a series of games designed to showcase the VCL (Vehicle Combat League). Featuring a rich, WWF-like backstory, nine different vehicles, eight unique fully destructible arenas, Championship, Endurance, Last Man Standing, Quick Start and split-screen modes, Motor Mayhem! has an immersive quality that gives it more character than Twisted Metal or Vigilante 8. Expect it to arrive sometime this winter.
Playstation 2 Screenshots