Viewing games 1 to 2 (of 2 games)

See also:
CyberBall

Cyberball is an arcade game of 7-man American football, using robotic avatars of different speeds, sizes, and skill...

Mega Man's Soccer

It is a video game released by Capcom for the Super NES in 1994 that combines soccer with the original Mega Man series.
Mutant League Football encompasses 19 different fields and four difficulty levels, as well as two-player support.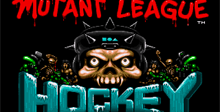 Hockey with an attitude! It's mutated mayhem on the ice in the wildest, funniest, goriest game ever. 23 wild mutant teams and 23 unique arenas, each with bizarre obstacles like exploding mines and ice pits. Call nasty plays like exploding pucks and..