NCAA Football 14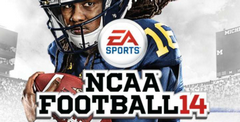 Click the "Install Game" button to initiate the file download and get compact download launcher. Locate the executable file in your local folder and begin the launcher to install your desired game.
While most sports games end up being worthless, NCAA Football 14 is the exception to that rule. The reason for that is this currently is the last officially licensed NCAA Football game. there were a lot of legal issues and EA ended up killing the franchise. As a result, this is one of, if not THE most sought-after sports game by collectors.
Modes For Days
One of the criticisms that people will throw the way of NCAA Football 14 is that it is lacking in game modes compared to what that same years Madden offered. I get what people are saying, but I feel that there are more than enough game modes to keep you busy and happy while you are playing this.
Ultimate Team
EA went all-in with their Ultimate Team mode in all of their sports games and this one was no different. However, I actually feel that the Ultimate Team mode on offer here was a great deal of fun. You basically have to create your own dream school via different cards. You get cards for players, coaching, stadium, and so on and it is very addictive. As EA could not use current players, they use players of the past and it is a lot of fun. Had EA made a sequel to this I would have been very interested to see what else they would have added to Ultimate Team mode.
Hey, Want To Join My Team?
What I have always enjoyed in my football games and NCAA Football 14 is no different is the Dynasty Mode. I feel that this is the pinnacle of the Dynasty Mode in the NCAA series from EA and the reason for that is the way recruiting is now handled. It has so much more depth this time around. You have many different factors that can add up to if a player sees your school as a place they want to go. It may seem a bit daunting at first, but it actually works very well and I found this to be one of the most addictive parts of the whole game.
More Control On The Field!
If you look back at reviews that were printed at the time this game was released, many were way too harsh. Saying that EA did not do enough to the engine, but EA did actually tweak a few things under the hood of what this game offered. The total control passing of the quarterback is awesome and makes you feel like an absolute star when you nail a pass just right. It also gives you more options for making quick decisions which is something I liked.
You also have far more control of running and when it comes to defending, your linemen feel like they act more naturally and athletically than they have in the past. EA even added in a simple "one-button" approach to things that were there to make this game more accessible for people new to the franchise.
8.5
I know that most people will look at NCAA Football 14 as just another sports game, but I feel the history behind this is very interesting. The fact that it can go for well over 100 bucks tells you that people love their college football. I think that EA was on the right track with this and the few changes they did make to things make this an overall better game than we got the previous year and I for one would have been very interested to see what they would have done with a sequel.
Pros:
This is the most sought-after sports game out there!
The Ultimate Team mode is great
I love the recruiting aspect in Dynasty Mode
You feel like you have way more control over your players
Cons:
The game is very hard to come by now
It sucks that EA could not use real player names
Download NCAA Football 14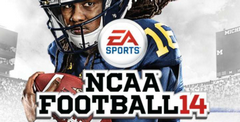 System requirements:
PC compatible
Operating systems: Windows 10/Windows 8/Windows 7/2000/Vista/WinXP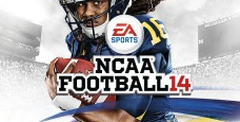 System requirements:
PC compatible
Operating systems: Windows 10/Windows 8/Windows 7/2000/Vista/WinXP
Game Reviews
College Football Fans have played NCAA Football 14 over and over in the last few years as this was sadly the final game of the franchise before the NCAA announced that it would not be renewing its licensing contract with EA Games back in 2013. Although in present day we now know the game is coming back with a long awaited new version sometime around the summertime in 2023.
With NCAA Football 14 players were left with their final experience of what playing in the NCAA Football program entails. High paced games, deeply entrenched rivalries and explosive superstars fill out this game leaving fans with an overall experience unrivalled by others within this genre. Although overall the game hasn't changed too much from its most recent versions (NCAA Football 12 & NCAA Football 13) players have been waiting for years for the next installation of the NCAA gaming franchise.
Gameplay Experience
The game itself can only change so much from year to year, of course the overall goal is to play the game of football (American football that is) through the college system which is held in the highest regards by hardcore fans across the continent. Signing contracts, playing a full season through your chosen division, showing off your skills to make the leap forward into the big show and having fun while doing so is the main aspect of this game. For new players and the veterans of this genre, NCAA Football 14 is a great experience to highlight your skills as a player or coach, controlling your destiny and chasing the sought after national title. Though there isn't too much different from this game to the last version, fans around the world have been playing this game for years as it never fails to deliver a fast pace, enjoyable experience.
Updated Features
The visuals and audio within the game are nothing to call home about, yet these aspects don't exactly ruin your experience as they were never the main reason why people chose to play these games. The difference between pro football games such as Madden NFL 21 and what NCAA Football 14 bring is the experience of being a non-pro player, working towards making their big break into the next, professional level of the game. As in real life there is a different feel to the game in the college program, players aren't signing multi million dollar contracts, with the whole world examining every aspect of their lives, instead you play as a young athlete hungry for success, and proving your worth to your coach, team and more importantly the crazed college-football fans who never miss a game. This is what makes the NCAA Football games so exciting, bringing fans back year after year to prove themselves.
This game remains a highly enjoyable gaming experience for lovers of the sport, and continues to do so years after it was released due to the halt in new game creation under the NCAA Franchise.
8
However, with little updates and new modes this game seemingly has become a slightly updated version of the last title. While this remains true, NCAA Football 14 is still a very sought after game which has remained as a crutch for fans of the genre waiting for the next title to be released nearly ten years later.
Pros:
Fast paced atmosphere in games paired with exciting storylines which the player decides upon, securing your spot in the pros or falling from grace. Its up to you.
The game does a great job of capturing the elements from a non pro-player and highlights these differences to give you a feel different from the pro-games such as Madden.
Cons:
Very few updates towards graphics and audio, some small glitches which can prove annoying when played over and over again.
Playstation 3 Screenshots
Similar Games
Viewing games 1 to 7