NCAA Football 13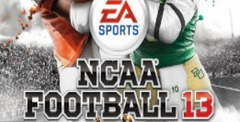 Download NCAA Football 13 and experience the excitement of college football! Choose your team, develop a winning strategy, and compete for glory on the gridiron. Are you ready to make your mark? Play now!
You would have to say that NCAA Football 13 is one of the most in demand EA Sports games on the market! The reason for this is that this is the last football game to have the NCAA license. The whole NCAA license thing is a real nightmare and it is a shame that they could not come to some kind of agreement. Anyway, today we are going to be looking at why so many people want to add this game to their collection and why it will cost you upwards of 60 to 80 bucks for a copy if you want to add it to your collection.
The Ultimate College Team
The big change in NCAA Football 13 was that EA added in the Ultimate Team mode from their Madden series here. It is very similar to what you would expect from Ultimate Team mode. You have to collect players, your stadium, kits, and so on and build your team this way. All of the players are "dynasty" players so there are no current (well current in 2012-2013) players, but that is to be expected. Like modern Ultimate Team modes, you have to earn money to buy new packs of cards to build your team. There is something not quite as "scummy" about it in comparison to how EA does this these days.
The Ultimate Dynasty
The mode I like best in NCAA Football 13 is the dynasty mode. Here is where you get to take your team to the top and make them the ultimate college institution in the nation. While much of this is the same as last year's game, the way recruiting is handled is drastically changed and I would say changed for the better. There are far more things to keep an eye on to make sure your school is the most attractive to the star high school players throughout the nation. As well as these two game modes, Road to Glory and Heisman Challenge also return.
Leaving It All On The Field
There were also some changes made to the on-field action in NCAA Football 13. Total control passing is a fun addition where you now have more control over guiding your receivers to grab a pass. You also have total control running for your running back which gives you the ability to use a burst of speed at the right time. You also have a new blocking system for your linemen which makes blocking far fairer and less likely to destroy the flow of the game in an unnatural way. While they did not reinvent the core gameplay, I do think that these changes give you more overall control over the action on the field.
8.5
I know it would be easy to say that people want NCAA Football 13 because it is the last game of its kind and that is the only reason why. However, I actually think that the series went out with a bang. Granted you could argue that they did not change a great deal. However, the changes that they did make I feel are quite significant and make this a better game than the one that came before it. While it is not cheap, I do think that this is a damn fine game of college football.
Pros:
Ultimate Team here is actually fun and not like what it has become
The new recruitment system in Dynasty Mode is great
New controls give you more control over players on the field
The fact this is the last NCAA football game makes it an interesting part of gaming history
Cons:
The price for this can get pretty insane on eBay
It is a shame they were never able to use current players
Download NCAA Football 13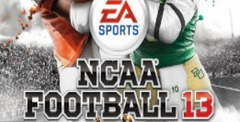 System requirements:
PC compatible
Operating systems: Windows 10/Windows 8/Windows 7/2000/Vista/WinXP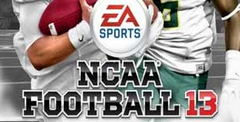 Minimal System Requirements:
OS: Windows 2000, Vista
CPU: Cell 3.2 GHz (8 cores)
RAM: 128 MB
HDD: 8,14 GB
System Requirements:
OS: Windows 10, 8, 7, WinXP
CPU: Cell 3.2 GHz (8 cores)
RAM: 256 MB
HDD: 8,14 GB
Playstation 3 Screenshots
See Also
Viewing games 1 to 8