Unnecessary Roughness 95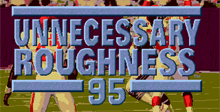 More than 1000 NFL players, including bruisers like Reggie White and glamour guys like "Neon" Deion Sanders, compete in this bone-crushing Genesis game. You get 28 pro teams and two all-star squads, plus a long list of options for stuff like weather conditions and type of field. Hit the High-Impact Button, and you'll see some real game-bustin' plays! Use a multiplayer adapter to get four-player kicks. A1 Michaels (of Monday Night Football fame) calls the play-by-play.
Download Unnecessary Roughness 95
Game Reviews
This hard-hitting football sim stars players from the NFL Players Association and boasts the standard gridiron features, plus full-season, playoff, and championship play.
Sega Genesis/Mega Drive Screenshots