Pro Soccer Online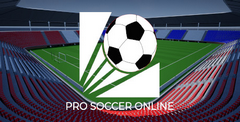 Download Pro Soccer Online and experience the thrill of soccer like never before! Create your dream team, master your skills, and compete against players from around the globe in this immersive online soccer game. Kick off and play now!
Pro Soccer Online aims to provide a unique soccer experience that emphasizes skill and finesse over arcade-style scoring. Developed by Skywall Studios LLC, Pro Soccer Online immerses players in a realistic soccer simulator setting. In this review, we will take a closer look at the gameplay, mechanics, and overall experience of playing Pro Soccer Online.
About the game
Pro Soccer Online offers a level of control and challenge not seen in mainstream soccer titles. Players must accurately input stick movements and precisely time shots, passes, and tackles to be effective. Every touch of the ball has weight and momentum that must be accounted for. Goalkeepers have a more active role, diving and parrying shots rather than just standing in nets.
Though realistic, Pro Soccer Online still provides ample opportunities for creative, highlight-reel plays. Players can perform feints, spins, overhead bicycles, and more if they are able to physically pull them off in-match. The gameplay truly tests a player's abilities and patience.
The learning curve might be steep, rewarding mastery of the controls and physics is part of the appeal for Pro Soccer Online. Players become intimately familiar with the way the ball moves under their control and can discover new ways of manipulating it with each session. The truer-to-life gameplay creates an experience that can't be matched by most mainstream soccer titles on the market.
Game modes and Features
Pro Soccer Online also includes an online multiplayer mode where players can compete against others from around the world. Matches are 5v5, first-person, and encourage teamwork and communication. Players can voice chat with teammates and view match replays from multiple camera angles after the match ends.
Comparisons can be drawn to games like Rocket League in terms of realistic ball physics and skill-focused gameplay. However, Pro Soccer Online strips away the arcade elements, boost pads, and aerial maneuverability of Rocket League for a purer simulation experience. It provides the challenge of mastering ball control and tactics without fanciful mechanics.
Offline modes include seasons, tournaments, friendlies, and training drills. Seasons offer a career mode where players can manage a team, develop players' skills, and rise through league divisions. Tournaments feature qualifying rounds and knockout stage matches against AI opponents. Friendlies provide a open-ended environment to practice or compete against AI teams. Training drills specifically focus on honing ball control, passing, shooting, and defensive skills.
Review: 8/10
Overall, Pro Soccer Online deserves praise for its realistic approach to soccer and high skill ceiling. The controls and physics create an engaging experience that will frustrate less skilled players but delight soccer enthusiasts and sim racers alike.
8
Pro Soccer Online is an enjoyable and immersive soccer simulation game. The real-life leagues and teams, detailed tactical system, and AI-controlled matches add depth and strategy to the gameplay. However, the steep learning curve and reliance on microtransactions can be drawbacks for some players. Despite these issues, Pro Soccer Online is definitely worth checking out for fans of soccer management games.
Pros:
Real-life soccer leagues and teams with accurate player and team statistics
Detailed tactical system for customizing team formation and playing style
AI-controlled matches add an element of realism and immersion
Available on both PC and mobile platforms
Cons:
Steep learning curve and overwhelming for new players
Download Pro Soccer Online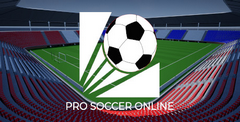 System requirements:
PC compatible
Operating systems: Windows 10/Windows 8/Windows 7/2000/Vista/WinXP
Game Reviews
Pro Soccer Online is a first-person soccer simulation where the player will be able to score with a kick over himself and then do a backflip to taunt his opponent. The gameplay promises a whole lot of fun.
Gameplay:
Character customization (clothes, sneakers, accessories, hair and face)
It is possible to assemble a room and play together with your friends
The game fully implements the rules of soccer - you can't break them
The game features good physics, as well as a great variety of kicks and celebrations after goals
See Also
Viewing games 1 to 8