Rocket League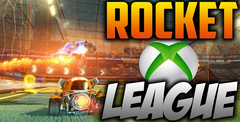 Click the "Install Game" button to initiate the free file download and get compact download launcher. Locate the executable file in your local folder and begin the launcher to install your desired game.
a game by
Psionic Systems
Platforms:

XBox One,

Nintendo Switch,

PC,

Playstation 4

Editor Rating:

9.5

/

10

, based on

3

reviews
User Rating:

9.6

/

10

-

5

votes
Rate this game:
See also:
Games Like Blur, Futuristic Racing Games, Team-Based Games, Local Multiplayer Games, Split Screen Games, Games Like Paladins, Fast-Paced Games
Rocket League is an immensely unique multiplayer game that mixes the classic sport of soccer with fast-paced racing mechanics. Like other massively popular online games like Fortnite Battle Royale and League of Legends, Rocket League offers an approachable and enjoyable gameplay experience with a surprising amount of complexity. With modes available for both single-player and multiplayer groups, there's enough variety to keep you engaged for hours on end. That's a good thing too, as there are hundreds of unlockable cosmetic goodies to unlock, along with an addictive "rocket pass" progression system to keep you intrigued.
Main Game Features
Simple but deceptively complex gameplay mechanics
Full solo season and multiplayer game modes
Ranked and casual online playlists
Basic Gameplay
Regardless of if you're playing solo or in one of the many multiplayer modes, the core mechanics of Rocket League are always the same. Whether on a team or by yourself, you'll face off in exciting arcade-style matchups, where you use a rocket-powered car to play a simplistic version of soccer.
The car controls are easy-to-learn, allowing you to accelerate, use a standard and quick-brake, flip your car for extra speed and power, and utilize boost to go super-fast. Your objective is always the same; score more goals than your opponent in the allotted time. It can take a while to get used to the controls in Rocket League, but the concept is incredibly easy to understand and makes it a very welcoming game. There are dozens of tutorials to help learn the finer points of the core gameplay mechanics, and like any great multiplayer game, there's always room to improve.
Modes of Play
There are so many different modes in Rocket League that it might be hard to pick what to play first. If you're new to the game, the best place to start (besides with Training) is the fully-fledge Season mode. Here, you can create your own custom team and carry them through a full season of intense matches against computer-controlled opponents. There are multiple difficulty options for the AI, allowing you to ramp up the challenge as you improve. Season mode is the best place to test your mettle and prepare for the multiplayer battleground.
Once you're ready to take on other players, you can hop into any of the exciting and enjoyable multiplayer modes. There are three main categories of modes, Casual, Ranked, and Extra Modes. If you're looking to kick back and not play too hard, you can queue up for 1v1 Duels or team-based matches in the Casual playlist, with some fun and hectic modes like 4v4 Chaos to spice things up. When you're feeling brave, you can play most of the same modes in Ranked play, where you will be awarded a rank based upon your performance. Every few months, a new competitive season is introduced, continuously challenging you to improve your rank. Extra Modes are also incredibly fun, letting you play various sports like hockey, Basketball, and some other especially silly matches like Rumble and Dropshot. Each mode provides a slightly different experience, giving a wide array of options for all player-types.
Conclusion
Whether you're having a blast in Season, Casual, Ranked, or Extra Modes, Rocket League is always rewarding you with new cosmetic items to outfit your car. With hundreds of unique items ranging from decals and flags to toppers and paint-jobs, there's no shortage of fun ways to stand out on the field. Like most great games, Rocket League is always beckoning you to play another match, resulting in hours of competitive and often ridiculous entertainment.
9
If you're looking for a new multiplayer game to dig your teeth into and you don't mind a bit of learning, Rocket League is easily one of the best experiences out there. Give it a try!
Pros
Highly addictive progression system
Scoring a goal is consistently satisfying
Unique modes and rotating playlists
Cons
Can be hard to rank up
Needs more single-player content
Takes many hours of play to become proficient
Download Rocket League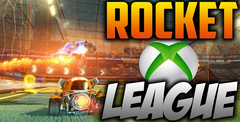 System requirements:
PC compatible
Operating systems: Windows 10/Windows 8/Windows 7/2000/Vista/WinXP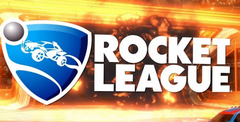 System requirements:
PC compatible
Operating systems: Windows 10/Windows 8/Windows 7/2000/Vista/WinXP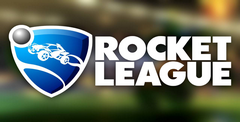 System requirements:
PC compatible
Operating systems: Windows 10/Windows 8/Windows 7/2000/Vista/WinXP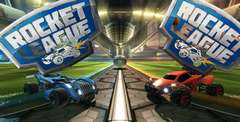 System requirements:
PC compatible
Operating systems: Windows 10/Windows 8/Windows 7/2000/Vista/WinXP
Game Reviews
Buckle up and prepare for high-octane excitement with Rocket League, the fast-paced vehicular soccer game that has taken the gaming world by storm. Developed by Psyonix, Rocket League combines the thrill of sports with the adrenaline rush of rocket-powered cars, resulting in an addictive and exhilarating gameplay experience. Get ready to unleash your inner athlete and dominate the field in this multiplayer sensation.
Gameplay
Rocket League revolutionizes the concept of soccer by introducing rocket-powered cars as the players. The gameplay is a perfect fusion of precision driving, aerial acrobatics, and strategic teamwork. As you zip across the pitch, you'll find yourself pulling off jaw-dropping aerial maneuvers, executing precise shots, and performing gravity-defying saves.
The gameplay mechanics in Rocket League draw inspiration from popular sports games like FIFA 20, NBA 2K20, and Madden NFL 20, with a twist of vehicular mayhem. The controls are intuitive, allowing both casual and competitive players to quickly grasp the mechanics. The skill ceiling is high, offering endless opportunities for mastery, from mastering the timing of jumps to executing intricate aerial maneuvers.
Visuals
Rocket League boasts a vibrant and visually stunning aesthetic that perfectly complements its fast-paced gameplay. The arenas are meticulously designed with attention to detail, showcasing a variety of exciting locations and dynamic weather effects. The cars themselves are beautifully rendered, with a wide range of customizable options to suit your personal style.
In terms of visuals, Rocket League shares similarities with games like Overwatch, Fortnite, and Splatoon. Each match is a visual spectacle, with explosions, boost trails, and breathtaking goals that create a thrilling and immersive experience. The graphics are crisp, and the smooth frame rate ensures a fluid gameplay experience even during intense moments.
Multiplayer
Rocket League doesn't have a traditional story mode, but its competitive and online multiplayer gameplay provides endless opportunities for thrilling encounters and memorable moments. As you compete in ranked matches, tournaments, or casual play, you'll experience the rush of victory, the disappointment of defeat, and the joy of teamwork. The game's vibrant community and esports scene further enhance the social aspect and provide ongoing excitement.
This game is profoundly fun with near limitless gameplay. Rocket League is a standout title that has redefined the sports genre, blending high-flying action, teamwork, and competitive spirit into one exhilarating package. Whether you're a seasoned player or new to the game, Rocket League guarantees an unforgettable and adrenaline-fueled experience. So, rev up your engines, aim for the top corner, and score some amazing goals in Rocket League.
Conclusion
Rocket League is a tour de force in the world of competitive multiplayer games, offering an addictive blend of skill-based gameplay, stunning visuals, and thrilling moments of triumph. With its intuitive controls, engaging online community, and a constant stream of new content, Rocket League ensures that every match is a heart-pounding experience.
9.5
Strap in, grab your controller, and prepare to enter the arena for a game that will keep you coming back for more.
Pros
Addictive gameplay that combines precision driving and aerial acrobatics
Visually stunning arenas and customizable cars
Thrilling multiplayer matches and a vibrant community
Cons
Occasional matchmaking issues in online play
Nintendo Switch Screenshots
Playstation 4 Screenshots
See Also
Viewing games 1 to 8