ModNation Racers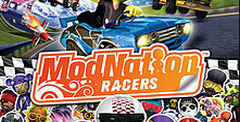 Download ModNation Racers and get ready for the ultimate kart racing experience! Customize your racer and kart, design your own tracks, and compete with friends in a fun, fast-paced adventure. Can you become the champion of ModNation? Play now!
Modnation racers is one of the most innovative racing sims released in recent years. In fact, when it came out some reviewers described this game as the Mario Kart 64 killer. And yes, you hear that often, but with this game it might actually be true. You see, while it's similar to other kart racing games there are a few things which set it apart.
Infinitely Customizable
Modnation Racers is different because it relies heavily on user generated content like LittleBigPlanet it has the same play, create, share slogan. This makes a refreshing change from the pre-generated tracks which most people are used to. It also means this game is infinitely replayable. If you ever get bored simply create a new track or character.
Creating Content
So what kind of content can you create? Pretty much everything including characters, vehicles and race tracks. You have a variety of options when customizing your character including various skins, masks, facial hair and decals.
The track creator is easy to get to grips with. All you do is drive over flat terrain and paint the road from the start of the race to the finish. You also have other options such as deforming the land or adding items, lakes, mountains, buildings, animals, and customizing the time of day.
Exhilarating Gameplay
If you've played Super Mario Kart then you'll know what to expect. The mechanics of the game are essentially the same with very little difference. You have the usual power ups, weapons and four player split screen. And as we've come to expect from most games there's also an in-depth storyline (You're basically racing to save your family business).
9
Modnation Racers is a fairly standard racing game. Despite this it's a lot of fun to play and will keep you entertained for hours. This game is best suited for people who love go karting games want something new. If you're bored of games like Mario Kart and want have a go at designing you own content then it's highly recommended.
Pros
Gives you the option to create your own characters, vehicles and race tracks.

Offers endless replay value. If you get bored simply make a new track.

Amazing fun to play with friends. Especially at parties.
Cons
This game doesn't quite have the charm of Mario Kart. We found the characters ugly.

You have to create stuff. While there are pre-generated tracks this game focuses on user created content. Not everyone wants to spend hours designing characters or race tracks.
Download ModNation Racers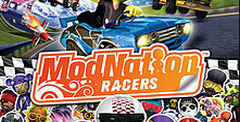 System requirements:
PC compatible
Operating systems: Windows 10/Windows 8/Windows 7/2000/Vista/WinXP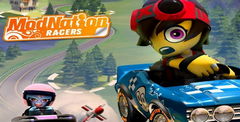 System requirements:
PC compatible
Operating systems: Windows 10/Windows 8/Windows 7/2000/Vista/WinXP
Playstation 3 Screenshots
Similar Games
Viewing games 1 to 9