Super Mario Kart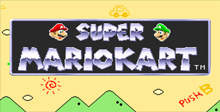 Click the "Install Game" button to initiate the free file download and get compact download launcher. Locate the executable file in your local folder and begin the launcher to install your desired game.
Super Mario Kart is a go-kart racing video game published for Super Nintendo Entertainment System (SNES) in August 1992 in Europe and North America. The game sold eight million copies worldwide and became the third best-selling SNES game of all time. The game was later on ported for Nintendo's Virtual Console Wii in Japan in June 2009 and in North America in November 2009. The game was released in April 2010 in Europe.
The player takes control of the main characters from the Mario series. There are eight total characters, each with different capabilities and skills. The player races against computer-controlled characters in multi-race cups. There are three difficulty levels.
The gameplay offers speed and offensive boosting power-ups which the player can use to take advantage of. Players can also race against the clock in a Time Trial mode. There is also a multi-player mode where players race against each other one-on-one. There is also a Match Race mode. Battle Mode is another option for multiplayer. In this one the player can defeat rivals with power-ups or destroying balloons.
The eight characters of the game are Mario, Luigi, Princess Peach, Yoshi, Bowser, Donkey Kong Jr., Koopa Troopa and Toad. The characters have their own skills, top speed, acceleration and handling. Each character has its power-ups. Yoshi drops eggs while Donkey Kong Jr. throws bananas.
The graphics are great and were considered "detailed" by the Nintendo Magazine System and also as "spectacular" considering the period when the game was released.
The popular game was followed by several releases and most of them were hits and successes. Mario Kart 64 was released in 1997 for Nintendo 64. The second follow-up was Mario Kart Super Circuit, released four years after the first sequel for Game Boy Advance. Mario Kart Double Dash was also released for GameCube in 2003. Mario Kart DS was released for Nintendo DS in 2005 and was the first one to include multi-player capabilities via the Nintendo Wi-Fi Connection. This one was very popular and sold 7.83 million units around the world, becoming the best-selling handheld racing game. The version for Wii was released in 2008.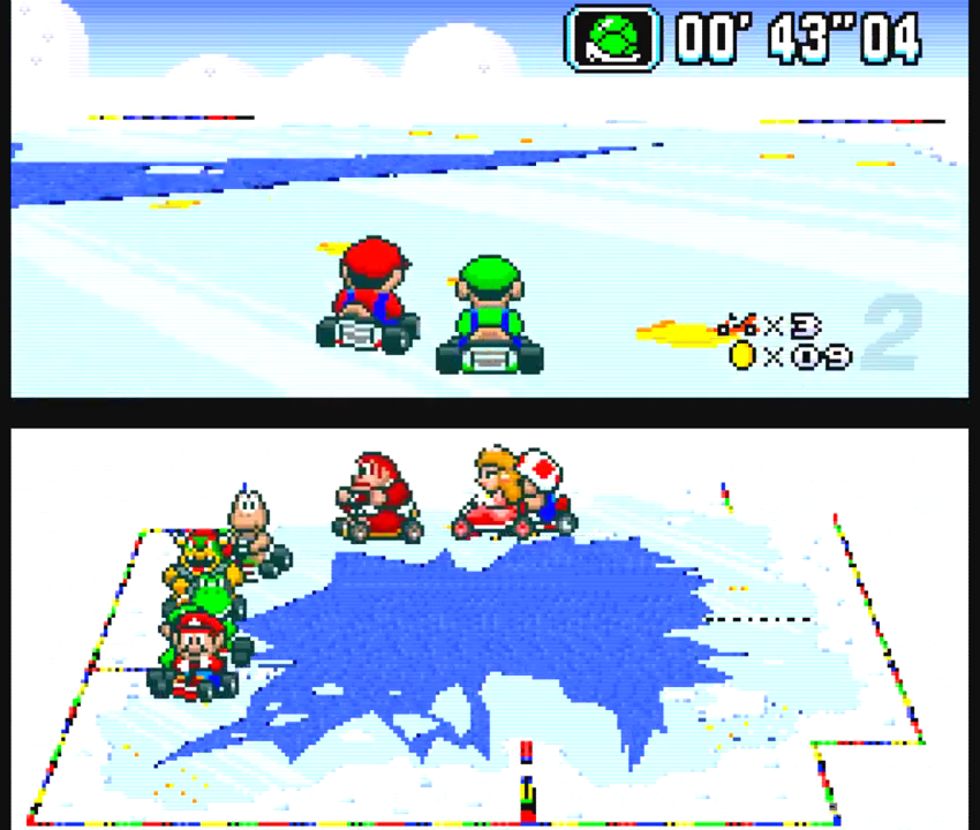 The gameplay features advanced maneuvers such as hopping and power sliding. The second maneuver allows a kart to maintain its speed while turning corners, but executing the move too long will cause the kart to spin.
Super Mario Kart was a hit on the market when released. It received a Player's Choice after selling one million copies. The game went to salve eight million copies worldwide. GameRankings and MobyGames give an average of 90 percent while GameStats and TopTenReviews offer average over 80 percent.
Download Super Mario Kart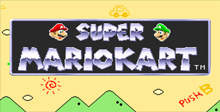 System requirements:
PC compatible
Operating systems: Windows 10/Windows 8/Windows 7/2000/Vista/WinXP
Pentium II (or equivalent) 266MHz (500MHz recommended), RAM: 64MB (128MB recommended), DirectX v8.0a or later must be installed
Game Reviews
Super Mario Kart, developed and published by Nintendo, burst onto the gaming scene less than a year after the launch of the Super Nintendo Entertainment System (SNES). This innovative title captivated gamers with its impressive visuals, immersive gameplay, and unique use of weapons. Despite its release over two decades ago, Super Mario Kart continues to hold a special place in the hearts of players, and its recent availability on the Virtual Console has rekindled the excitement surrounding this timeless gem.
About the game
Super Mario Kart harnessed the power of the Super Nintendo's Mode 7 graphics capability, delivering a visually stunning experience. The game's illusion of 3D, achieved through rotating landscapes and smooth scaling, was groundbreaking at the time and still holds up today. The sense of speed, especially in the 150cc cup, is exhilarating, and with practice, players can master the art of power-sliding through challenging 180-degree corners. The faithful emulation on the Virtual Console ensures that the game looks identical to its original release, further adding to the nostalgic charm.
One of Super Mario Kart's defining features is its ingenious implementation of weapons. By running over "?" blocks scattered throughout the tracks, players can acquire a range of items to deploy strategically. Skilled racers often receive defensive items like green shells and banana skins, while those struggling might find themselves equipped with powerful offensive tools like red homing shells or lightning. The variety of weapons, including the ghost to steal from opponents or the feather for shortcuts, adds an extra layer of excitement and unpredictability to the races.
Thrilling Tracks and Intense Competition
Super Mario Kart boasts four cups—Mushroom, Flower, Star, and the unlockable Special—each with five tracks inspired by the Super Mario World universe. These tracks, from Donut Plains to Bowser's Castle, have been thoughtfully designed to challenge players' skills and encourage strategic racing lines. Environmental obstacles, such as Thwomps, gophers, and treacherous terrain, demand precise maneuvering. Speed boost strips and well-timed mushroom boosts provide opportunities for overtaking rivals. The inclusion of a time trial mode allows players to refine their racing skills, with the ability to compete against their own ghost data for added motivation.
While the single-player mode provides ample entertainment, Super Mario Kart truly shines when enjoyed with a friend. The split-screen multiplayer, with the bottom screen acting as a map or rear-view mirror, reinforces the game's multiplayer focus. Friends can engage in intense battles, sabotaging each other's attempts to claim victory. The Battle Mode, with its exhilarating balloon battles in various arenas, further amplifies the competitive spirit. Carefully planned power-slides and well-timed item usage become key strategies as players jostle for supremacy.
Review: 9/10
Super Mario Kart has rightfully earned its place in gaming history. Its enduring popularity is a testament to its timeless gameplay, which still offers immense enjoyment today.
9
Although the graphics and sound may show their age, the core mechanics, multiplayer mayhem, and addictive track design make it a must-play for racing enthusiasts. Super Mario Kart combines the excitement of a racing game with all the wonder of the Super Mario World characters.
Pros:
Innovative use of Mode 7 graphics and impressive visual design
Diverse character selection with unique kart attributes
Engaging weapons system that adds excitement and unpredictability
Well-designed tracks that challenge players and encourage strategic racing lines
Thrilling multiplayer experience, perfect for friendly competition
Cons:
Limited character selection
Looking similar to Nintendo's other hot racing game, F-Zero, Super Mario Kart stars that cast and crew from the Super Mario series of games. You can pick a driver of the go-kart and head out to the track and burn rubber! Everything scales and rotates while you get a view of the track and the fellow racers in a map screen below!
Machine: SNES;
Manufacturer: Nintendo of America;
Buyer's Guide: Take on the computer or a friend in racing circuits that take you through Mario Land. For the ultimate in head-to-head, two-player, split-screen action, race a friend in the Battle mode. A must-have for SNES owners.
Driver's Ed: Each character can get a burst of speed off the starting line by accelerating at the precise moment. With Koopa, for example, press the B button after the first starting beep. Experiment with the others.
Released in 1992, Super Mario Kart was the first video game in its series. In this racing style game, players operate go-karts as one of eight characters from the Super Mario series. With its advanced graphical images and use of Mode 7 texture mapping, Super Mario Kart is the third best-selling game on the Super Nintendo Entertainment System. With a split screen view, players can view the top portion as the course and the bottom of the screen in a rear-view mirror perspective or an overhead shot of the entire track. In the multiplayer mode, the second player views the bottom screen version. In this 4 megabit cartridge video game, challenge yourself or build upon your skills in the Grand Prix, where in the first single player mode – the player races against seven computer-controlled drivers. You can choose from engine classes such as 50cc, 100cc, and 150cc. The larger the engine, the faster vehicles, which also means the harder the level. This fun family game has over eight million copies in circulation.
Super Mario makes his latest appearance on the Super NES atop a super-charged go-kart! This driving variant expands upon the F-Zero three-quarter play style with more tracks, different characters and power-ups that can be used to knock opposing racers off the course! Great graphics and music support the action and add even more to the Super Mario Bros, theme.
People say:
9.0
This is the best driving game to come along for some time. Mario Kart may look like an F-Zero clone on the surface, but there are many interesting upgrades ranging from power-ups to special combat modes using a split-screen layout. Replay options and plenty of tracks add to the appeal of this super game!
9.0
Another hit tor Nintendo. They may not make many games in a year but the ones they do are spectacular. Cute looking but not a cakewalk as this is a game that requires lots of technique to master. Fun for the kids but challenging enough for those who take their racing seriously. A definite must have!
8.0
A cute, but very good follow-up to F-Zero. This game may look cutesy, but don't be fooled! It really gets intense. The game play is very good and loaded with neat features like instant replay. The graphics and music are high quality and utilize Mode 7 very well. The game is a ton of fun and even better in two-player mode.
8.0
Jammin'! Super Mario Cart really blasts past the fun barrier, bringing all of my favorite Nintendo characters back in one spectacular racing game with plenty of power-ups, race tracks, and obstacles! This is one of those games that is very hard to put down, especially with the twin screen action and replays!
SNES/Super Nintendo/Super Famicom Screenshots
See Also
Viewing games 1 to 6