Super Smash Flash 2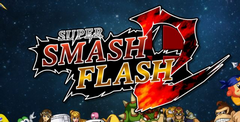 Get ready to see some of the most recognizable franchises in the video game industry coming together to duke it out in Super Smash Flash 2 — the sequel to one of the most ambitious Flash projects ever made. For a fan game, the level of complexity and professional attention to detail on display in this game is simply astonishing.
Only a handful of games have the level of dedication that the team behind Super Smash Flash 2 has for their project. While corporate constraints tie the original game this title is based on, this fan project has been making the dreams of Super Smash come true through years of active development and substantial updates.
The Ultimate Fighting Game Roster
Games like Super Smash Bros. Ultimate have helped players settle ages-old disputes, like "who would win in a fight between Mario and Link?" Super Smash Flash 2 goes one step further by adding characters that transcend the limitations of any of the Nintendo-released titles.
That's the reason why we might be seeing Super Smash Flash 2 brawls including the likes of Dragon Ball's Goku going against a Black Mage from the Final Fantasy series. It's hectic and exhilarating to see some of your favorite characters from all sorts of franchises coming together in a single game. And the best part is that this game doesn't sacrifice almost anything in terms of playability compared to the Nintendo original.
Sure, the game might look a bit more simple than other brawlers like Super Smash Bros. Ultimate or even the free-to-play MultiVersus, but what it lacks in visuals, Super Smash Flash 2 more than makes up for in its solid controls and responsive gameplay.
As long as the simple sprites and flat backgrounds don't bother you too much, this is the closest we'll ever get to experience what it would have been like if a Super Smash Bros. game ever came to the Nintendo DS.
Plays Like The Original
The idea of creating a Super Smash Bros. game with loads of anime characters is nothing new among fans of the series. Goku alone has been probably one of the most requested characters in the history of the series. However, when it comes to staying true to the original game's gameplay, Super Smash Flash 2 is as legit as fan games can get.
Every character has unique quirks and properties that make them fun to try and master, making the game feel like it has the potential to become a serious competitive fighting title.
Attributes like a character's weight and stamina are kept in line with the mainstream Super Smash Bros. titles, giving this fan game a sense of fairness that even the real deal lacks at times. This is the result of fans knowing precisely what they're looking for in a Smash game, and making a game that caters to their needs.
In short, Super Smash Flash 2 is what every Flash game should strive to be. A fun-to-play experience that's also surprisingly easy on the eyes.
10
Super Smash Flash 2 is the ultimate 2D brawler, with characters that all feel unique and well-balanced. A definite must-play for fans of the original series.
Pros
Great selection of characters from all sorts of entertainment franchises
Active development means new stages and mechanics are added constantly to the game
Balanced characters and responsive controls make this game ideal for competitive play
Cons
Some character sprites definitely look much better than others
Download Super Smash Flash 2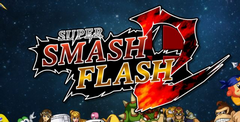 System requirements:
PC compatible
Operating systems: Windows 10/Windows 8/Windows 7/2000/Vista/WinXP
Similar Games
Viewing games 1 to 8