Yoshi's Safari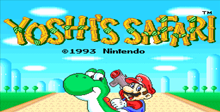 Click the "Install Game" button to initiate the free file download and get compact download launcher. Locate the executable file in your local folder and begin the launcher to install your desired game.
You've explored ' all the Mario lands, you've raced the Super Mario Karts, and you've chomped some of Yoshi's Cookie. So what's left? An all-out shooting game, that's what. When you go Koopa-hunting on Yoshi's Safari, get set for some charming, mindless fun with a plastic gun.
ProTips:
The Stage 1 Boss fires in a four-shot pattern, with the first two shots always coming from the upper guns.
Shoot the magenta dome to blast this Stage 2 Boss.
Shootin'Fool
The gun is no ordinary controller. It's the Super Scope, a two-foot-long shoulder- mounted weapon that'll set you back an additional $30. A small Receiver Module sits on top of your TV, and then you blast away at the screen through the gun sight. Thankfully, it's a lightweight armament, though the littlest gamers might tire of holding it after awhile. One Scope is mandatory for Yoshi's Safari, whether you play alone or with a pal (a second player uses a standard controller).
Shoot down the flying Anvil, and it'll fall on the Stage 3 Boss. The Anvil is only vulnerable when it's facing you.
The game is a simple-mind- ed addition to the legendary family of Mario games. It's also one of the easiest games in the clan. You ride Yoshi's back as he runs down a forward scrolling path toward oncoming Koopas, Goombas, armored bosses, and items. You can't control Yoshi's speed or direction, only his little-used jumping ability. Basically, all you do is shoot, shoot, and shoot some more, a task made even simpler by the presence of a rapid-fire Turbo Button. What's more, your Scope fires accurately, even if you're not a sharpshooter. Count on beating this Safari every time.
Concentrate on enemies in front of you. Enemies to the side can't hurt you.
When you come to a jump, hold the Scope's Cursor Button until Yoshi lands safely.
Scope It Out
Jazzing up the Safari are the graphics. Plenty of Mode 7 rotation makes your path twist and curve smoothly in front of you. The backgrounds are colorful, displaying settings as varied as a sunny beach and a gloomy underworld forest.
Unfortunately, with only a few exceptions, the familiar enemies and bosses all tend to look the same.
The sounds add little to the game. Perky music bounces along between the stages, but during the action all you hear is the sound of your own gun. Menacing sound effects would've given the bosses some personality.
Replenish your Power Bar when the Float Castle 1 Boss drifts off-screen.
Shoot at the arms of this metallic Octopus to clear Stage 6.
Have Gun, Will Play
So is it fun? Mildly. Addicting? Hardly. This Safari is strictly for kid hunters looking for a small game. Teenage beginners and intermediate players could venture onto Yoshi's Safari for a few minutes of shooting action, but don't expect to be challenged or thrilled. By making this game so easy, Nintendo may shoot itself in the foot.
Download Yoshi's Safari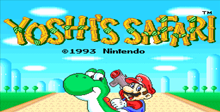 System requirements:
PC compatible
Operating systems: Windows 10/Windows 8/Windows 7/2000/Vista/WinXP
Pentium II (or equivalent) 266MHz (500MHz recommended), RAM: 64MB (128MB recommended), DirectX v8.0a or later must be installed
Game Reviews
Get your Super Scope and get on Yoshi's back for a wild shootin' ride: Yoshi's Safari! This is the latest in the Super Scope games, this time you ride on Yoshi's back, shooting enemies as you go! Look out. though, these enemies shoot back and can cause you and Yoshi serious damage! Also look out for the back of Yoshi's head, you can accidentally shoot it and cause your "team" damage! And with the two-player option, one shoots with the Super Scope, the other controls Yoshi's steering, jumping, and ducking for a total team effort! Get ready for the hunt of your life with Yoshi's Safari!
After playing this for a while, you may be tempted to turn your SuperScope on yourself and end it all! Yoshi's Safari suffers from one fatal flaw - it is way too easy. The scrolling and graphics are excellent, but that's it!
Yoshi's Safari is a video game made for the Super Nintendo in 1993 where you must ride on the back of Yoshi to track down the evil Bowser, and put a stop to his evil plans. Requiring the SuperScope, you play via a first-person mode, and must shoot at Bowser's minions, as well as other objects and creatures.
SNES/Super Nintendo/Super Famicom Screenshots
See Also
Viewing games 1 to 5