Tecmo Super Bowl 3 Final Edition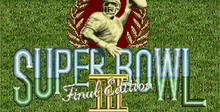 Tecmo's Final Edition dashes toward the playoffs, but it stumbles for hardcore fans craving a realistic NFL sim.
Go for Two
Super Bowl HI includes 30 pro teams and their players. Play Preseason, Regular Season, or Pro Bowl games against the computer or a friend. You can also make trades, acquire free agents, and create your own rookie.
The graphics are pretty good. The small, animated sprites move smoothly, and the familiar overhead side view lets you see about 30 yards downfield, which works except when receivers go deep.
The sounds are also passable. You hear crowd noise, an announcer, and good grunting effects when players get nailed.
Fumble!
Tecmo drops the ball with player control. You can't switch to the player closest to the ball after the snap, and your ball carrier can't spin or stiff-arm to avoid tackles. You also have to cycle through receivers on passing plays, and the computer takes over for both offense and defense when the pass is in the air.
Two-player battles make Final Edition worthwhile, though the game's shortcomings will make diehard armchair QBs reach for Madden '96. If you're looking for an easy-to-learn football game, though, consider Final Edition for your next draft pick.
ProTip: If your opponent runs play-action passes, use a line-backer and blitz up the middle.
Download Tecmo Super Bowl 3 Final Edition
Sega Genesis/Mega Drive Screenshots