NHL Hockey 96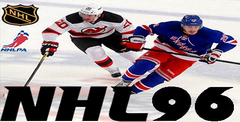 Click the "Install Game" button to initiate the file download and get compact download launcher. Locate the executable file in your local folder and begin the launcher to install your desired game.
There are two things which Christmas brings without fail: the Queen's speech, and an update of an EA sports game. Unfortunately. NHL Hockey '95 was scarcely different from the previous year's NHL Hockey (rather like the Queen's speech). But this time around. EA is really giving us something new. Yes. NHL '96 is still quintessential NHL Hockey, but at the same time it's almost inconceivably different. In fact, the difference is so huge it's a bit like the Queen deciding one year to throw all that speech malarkey to the wind, look straight into the camera, and pop out her funbags for the lads.
Special cynic
Now some world-weary people pour nothing but scorn upon EA's annual revamps. A touch of scepticism was partly justified with NHL '95. because, as mentioned, it wasn't a vast improvement over its predecessor. Always on the frontline of games criticism, we at asked our most cynical of cynical correspondents to assess just how radical the new version really is. So ladies and gentlemen. I give you Mr Algernon Gitt. (Algernon decided to telephone HA because he was too lazy to visit them.) EA's phone: Ring-ring.
A Gitt Ring all you bloody like. No one's going to answer you. EA: Hello?
A Gitt: Oh. er. yes. I want to know about this new hockey game. Like, is it bollocks or what? EA: Wait just a moment please.
A Gitt We're all waiting - waiting for this goddamn awful world to claim our already pathetically wretched lives. EA: Ah yes, NHL 96. We're rather proud of this one... A Gitfc Don't be. Time will render your pride as futile as any other human emotion or achievement.
EA: Put a sock in it, you miserable bastard. We're proud because we've really revolutionised the game. For example, the player is no longer limited to a mundane top-down scrolling pitch: the entire stadium is three-dimensional, and you can flick at will between 11 camera angles. We've maintained the supreme playability of the first two games and even a complete imbecile will be whizzing around the ice after just a nano-second's practice - whizzing being the operative word, given the speed of the 3D engine. Moreover, anoraks will find themselves catered for like never before, with literally hundreds of player photographs and statistics. And here's the best bit: we've finally bowed to public demand and added fight sequences!
A Gitt: And you really expect me to be gratified at this endorsement of inter-personal conflict? EA: Oh sod off then.
A Gitt: (Decides to boot the CD to look for himself) Stone the crows! It's all true! EA really has created a next-generation pc sports sim! My word! It's so fast, even with all the detail on full (on a P90 anyway), and the presentation is thoroughly flawless - you even get Whitney Houston singing the national anthem at the start of each match. That's it - my days of cynicism and nastiness are over. I'm off to pick some flowers and help some old people change their colostomy bags.
Puck off
All of the stats sections will be familiar to NHL regulars. You can create players, organise tournaments, play through seasons and indulge in loads of other hockey-related j apery, but it's the arcade sections that really set the game apart. Like the previous incarnations, all the moves you might need (from just merely passing to smacking fellow sportsmen in the mart) are easily accessed with just two buttons - but that's where any similarities end.
Yes indeedy, this is every sports sim fan's dream game. Imagine an action replay feature in which you can move the camera with the mouse to any angle you please. Imagine yourself playing with four friends simultaneously. Imagine that you own a 14400 baud ninja-modem and can play matches over the phone. Imagine Maggie Philben telling you that the future is actually now, like she used to every week on Tomorrow's World. (Just make sure you don't imagine her going home afterwards for a quick game of hide the sausage with Keith Chegwin.)
Do the Hockey Cokey
As far as the consumer goes, I have to admit that I think EA is taking the mick somewhat by persisting with these updates. Good as they invariably are, it might be a little less abrasive on the games-playing public to release them biennially at the most. But - and this is the largest but since Vanessa Feltz thought she'd slip on a miniskirt - what it comes down to is this: NHL '96 is brilliant. If you want a stylish and slick sports sim for your pc, you'll basically have to choose between NHL '96 or the forthcoming FIFA '96.
Download NHL Hockey 96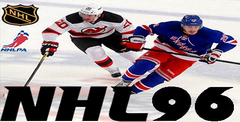 System requirements:
PC compatible
Operating systems: Windows 10/Windows 8/Windows 7/2000/Vista/WinXP
Similar Games
Viewing games 1 to 14