NHL Hockey '95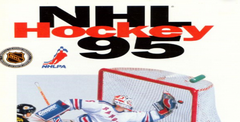 Click the "Install Game" button to initiate the free file download and get compact download launcher. Locate the executable file in your local folder and begin the launcher to install your desired game.
Every year on the consoles, EA's sports games -John Madden Football and NHL Hockey - are re-released in the run-up to Christmas with new season stats and a minor tweak to the gameplay, just to give them that extra "must have" quality. You think about it for a while - reluctant to be taken in by marketing deviousness - then you buy them anyway. You have no choice -they're far and away the best sims of their respective sports that you'll play. Now it's happening on the pc: NHL Hockey 95 is this year's upgrade for last year's classic game.
Sanity, madness and the team
Let's get the new additions out of the way first. There's a fake shot to try to make the computer-controlled goalie fall over in amazement; there are drop passes - a fancy term for leaving the puck behind you for a following team-mate to pick up (something you could do before by the simple method of passing backwards); and there's the more useful option to make your defenders "hit the ice", or throw themselves lengthwise to try to cover as much area as possible in order to block a shot. This isn't as insane as it sounds, given the amount of padding these people wear - it's just a question of finding the puck afterwards. (Cries from the crowd: "It's in his mouth! He's hiding it where his teeth used to be!")
There's also some new goalkeeper animations, which nobody cares about as long as they save the shots. Then there's the "create player" option. At last, the chance to play the person of your dreams at centre ice and Alf Roberts -the Jabba the Hutt ofWeath-erfield - in goal (and over most of the pitch, come to think of it). This is the kind of option all sports games should have by law. It means that if you're really so bothered about having updated teams every year you'll probably sit down and do it yourself given the chance. (Then buy the new version anyway because it has some new goalkeeper animation.) For everyone else, who doesn't give a toss, it's a chance to have a laugh.
To recap...
The rest is as it was last year - exhibition games or seasonal campaigns, full control of league schedules via the League Manager facility, trading, great sound effects and animation, and outstanding gameplay. There are two great sports game on the pc. One is Front Page Sports Football, which is diminished slightly as a computer game by the effort the uninitiated must expend to really get going. The other is this - the controls are as intuitive as controls get, so you'll be playing in seconds, but there's enough depth to ensure that you'll improve with practice. You don't need to know anything about ice hockey: you just have to like a good sports game. (A good joystick splitter would help, too). If you have it already, buying this version is up to you. If you don't have it, it's well worth it. (Or you could buy a Megadrive and an old copy of EA hockey - and at about $8, a complete barg.
Download NHL Hockey '95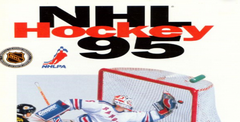 System requirements:
PC compatible
Operating systems: Windows 10/Windows 8/Windows 7/2000/Vista/WinXP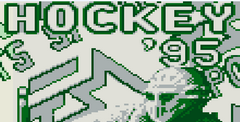 System requirements:
PC compatible
Operating systems: Windows 10/Windows 8/Windows 7/2000/Vista/WinXP
Game Reviews
the Genesis and good on the SNES, NHL Hockey '95 finally makes the jump to the handheld world, but it sprains its ankle upon landing.
Replacement Hockey?
At first sight, NHL '95 appears to answer every ice junkie's prayers -but looks can be deceiving. There are some highlights, though, such as the excellent Shootout and Playoff modes.
All 27 pro teams are included, but they're ruined without an NHLPA endorsement. These scabs, however, do get to perform real NHL moves like slap shots, wrist shots, one-timers, penalty shots, and even drop passes.
With only two buttons at your disposal, the control feels like skating on dull blades. Passing, shooting, and playing defense all become frustrating on this rink.
Shaved Ice
The Stanley Cup contender on this cart is the graphics. The sprites are large and detailed, but that creates another problem. The bigger the players, the less ice that fits on the tiny screen, so you almost need a map to find the net.
The sounds are almost nonexistent. You'll miss the roar of the crowd when a player is slammed into the boards or the hum of the Zamboni after the ref blows his whistle.
It's not difficult to make the playoffs here, but as far as game quality goes, NHL Hockey '95 is two games behind with only three left in the season. Despite the nice looks and options, the mediocre gameplay puts this hockey sim in the penalty box with a ten-minute misconduct.
ProTips:
The fake players have the same numbers and attributes as the pros, so you can adjust your lineup the same way you would w ith the real play ers.
Because you have a poor view of the net, one-timers can be tough to get off.
Similar Games
Viewing games 1 to 12