Realm Royale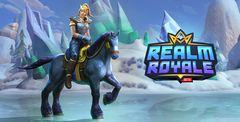 Click the "Install Game" button to initiate the free file download and get compact download launcher. Locate the executable file in your local folder and begin the launcher to install your desired game.
Rising during the wave of the battle royale genre, Realm Royale threw its hat into the mix during the boom of BR's. Similar in structure to the likes of Fortnite Battle Royale or PlayerUnknown's Battlegrounds, Realm Royale takes a bit of a different stab at the genre by introducing champions and a fantasy background to boot. Although it functions exactly like a normal battle royale game, where each player tries to outlast 99 others, Realm Royale is a breath of fresh air when it comes to combat potential, styles, and overall environment. To top it all off, its an entirely free game that can get you right into the action and is highly addictive. At the time of writing this review, however, there are several issues with servers being difficult to find and has no new major content updates in the future.
Forge Your Way to Victory
The main idea of a battle royale game is to find decent weapons (usually through luck), have a bit of third person shooting skills, and hoping you don't get jumped from behind while outrunning the enclosing circle. For Realm Royale, this is still mostly true, although there are some primary differences that set it apart from competitors. Most notably, it is set in a world that is based on magic and fantasy that adds a few new elements to play around with. Depending on the champion you've chosen, there are different abilities to wield that give you an edge over your enemies. This can range from 'flight' using slinging spells, to deploying turrets, to even becoming invisible for a short time to surprise the opposition. Using these powers, the game involves some different aspects of strategizing and optimizing your loadouts. Despite the fact that these were fun abilities overall, I didn't find myself leaning on them too often – I'd often resort to gearing up with legendary weapons/runes/armor. However, this definitely leads me to the point that the game is well balanced around abilities. You still have to rely on forging items and defending your position while they're being made, which takes skill rather than pure luck.
The Cost of Popularity
Regardless of the unique portions of this title, Realm Royale really feels like it fell apart after the release of Fortnite. I remember playing both games during the summer of 2018, and while I preferred Fortnite at the time, Realm Royale still had some charm that was undeniable. They were both trying to cash in on the success of PUBG, and ultimately Fortnite won this race. Unfortunately, since 2018, the company behind Realm, Hi Rez began trying to mimic the successes of Fortnite instead of sticking to a unique path. They didn't completely rebuild the game, but it felt like with every patch, there was one less thing that made Realm special. It didn't take long for it to become what is essentially a shadow of what it used to be. By and large, Realm is still a good BR game, it really is, but it doesn't embody the charm it did upon release.
Bottom Line
Realm Royale does everything right that you'd want from in the battle royale genre, especially when it was gaining traction. Sadly, it was overshadowed by Fortnite and, instead of trying to build on the neat features that set it apart, it tried to follow the same steps for success.
6
It lacks the charm it once had, but still has some gameplay that might be worthwhile to some out there. Just don't expect to find a server quickly.
Pros
Free to play
Diverse abilities
Forging weapons means less RNG overall
Cons
No future content updates
Servers running thin
Patches over last couple years have made it a generic BR title
Download Realm Royale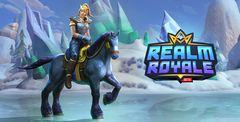 System requirements:
PC compatible
Operating systems: Windows 10/Windows 8/Windows 7/2000/Vista/WinXP
Game Reviews
Another free-to-play battle-royale game hopeful to challenge the throne, Realm Royale sees the popular genre come gallantly to every system, bearing a fantasy aesthetic and complete with a brand-new heroic class system. Trying it's best to offer players something different than Fortnite Battle Royale or Apex: Legends, Realm Royale offers compelling gameplay, friendly visuals, and fun to be had with friends. However, is that enough to keep a seat in this highly stratified genre?
Familiar Design, New Ideas
There are a few things that set Realm Royale apart from other battle-royale games on the market. The first and most notable is the fantasy aesthetic. While the game from a stylized viewpoint looks remarkably similar to Fortnite—everywhere from the menu font to the character models—it caters more to the tropes surrounding something like World of Warcraft. To be sure, one of the only other battle-royales of note that take place in a fantasy world is Spellbreak—which this game shares a few characteristics with too. That being said, the battle-royale genre tends to share a lot, as shaking it up too much reclassifies it as some other type of game.
Throw in a Class System Too
The other thing that sets Realm Royale apart from other games of the genre is the implementation of a class system. Players are free to choose between Warrior, Engineer, Assassin, Mage, and Hunter—each sporting their own perks and fundamentally changing playstyles. With that in mind, the typical loot to find the best items is still in play, but the combat encounters fare much differently as a lot of loot is specified by class. However, one drawback of doing a class system and making it so integral to playstyle—unlike something like Apex: Legends that relegates it mostly to supers—is that some classes are just better than others. For example, if you find yourself in a solo-match you're likely to choose Warrior, and be surrounded by other Warriors. With the ability to heal and be a tank, there isn't much reason to choose other classes unless you find yourselves in a group match with friends.
How Else to Stand Apart?
Realm Royale does a few other things to further distinguish itself from a newly found to be, oversaturated market. One such decision is ridable mounts. As characters don't have a sprint button the mount system, after a timed delay and vulnerability, is a welcome change to the usual running or driving cars in something like Warzone. Additionally, the magic powers that bring about simple cover mechanics are more fun sometimes than the complex building of Fortnite. Lastly, and perhaps what Realm Royale is most famous for is when you get killed, you're down but not out—you turn in to a chicken. If you can escape enemy fire as a chicken, you come back to life and it makes for some fun-lighthearted events.
A Difficult Throne to Usurp
The challenge Realm Royale faces is the one all battle-royales face: Fortnite. As that game has become engrained in popular culture, finding an audience for another game, especially one so stylistically similar—is going to be a hard sell. The free-to-play model can be extremely effective, but only if the user base is extremely high, and extremely engaged.
6
That being said, while Realm Royale is fun to play, there isn't enough to make it the game to choose, when others do the same thing—and often, better.
Pros
Fantasy aesthetic
Class system
Chicken to respawn
Cons
Generic map, style
Limited gameplay options
Doesn't do enough to stand-out
Diminishing user base
See Also
Viewing games 1 to 8