Rock n' Roll Racing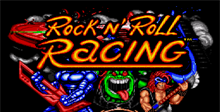 Click the "Install Game" button to initiate the free file download and get compact download launcher. Locate the executable file in your local folder and begin the launcher to install your desired game.
Strap on your crash helmets, racing fans, there's a hot new racing game burning up the SNES. Souped-up muscle cars, plenty of twisty, bouncy tracks, and some of the rowdiest music you've ever heard make Interplay's Rock 'N Roll Racing a thrilling driving experience.
Let the Carnage Begin!
This ain't your father's old- fashion road race. Rock 'N Roll Racing throws you onto over 50 futuristic tracks on alien planets that have swamps, deserts, and techno-backgrounds.
In One-Player Mode, you choose your driver from six raunchy road warriors, each of whom has special driving skills, such as quick acceleration or jumping abilities. You select a car and arm it via an Options Screen, and then you take on three challengers in a quick sprint. Versus Mode pits you against a friend and two other cars in a frenzied split-screen race. Adding to the excitement are all kinds of dangerous obstacles, like Slip Sauce and exploding Scatter Packs, strewn across the track. Sunday drivers, stay home!
ProTip: Choose a bright color for your car. Black cars can be hard to see against the dark backgrounds.
By winning races you earn points toward higher levels. You also earn money, which enables you to purchase custom accessories for your car. Among the available armaments are Lightning Nitro, Bear Claw Mines, and heat-seeking Sundog Beams. Hitting Button Y fires these weapons throughout the race, but it's not always that easy to pull off when concentrating on steering. The 3/4 overhead view makes cornering tough at first, especially through traffic, but eventually you'll be sliding into turns like a pro and firing at enemies like Mad Max. Try not to be distracted by the colorful, imaginative graphics around you. Keep those eyes on the road!
Learn to accelerate through turns by sliding into them.
Watch for telltale smoke from your enemies. They're easy targets for your weapons.
Use your ammo sparingly to have enough to take out the lead car late in the race.
Racing Rock 'n' Roll
A car race never sounded so good. The soundtrack explodes with appropriately rowdy classic rock songs, supercharged burners like "Bad to the Bone", "Born to Be Wild" and "Peter Gunn". Even without lyrics, these blazin' tunes will have you jamming the pedal to the metal. Amplifying the intensity is the impeccably recreated voice of Larry "Super-mouth" Huffman (the most familiar racing announcer in the country), who continually updates race positions. You also get various sound effects, like clanking metal and screeching tires, to put you in the high-octane mood.
Gentlemen, Start Your Engines
High-speed combat, colorful graphics, and rollicking music -- hey, what else do you want from a racing game? Interplay makes sure you get your money's worth by even adding some extra surprises (see if you can figure out how to get one of the The Lost Vikings to drive your car!). Rock 'N Roll Racing's gonna drive you wild.
Download Rock n' Roll Racing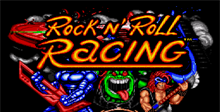 System requirements:
PC compatible
Operating systems: Windows 10/Windows 8/Windows 7/2000/Vista/WinXP
Game modes: Single game mode
Player controls:
Up, Down, Left, Right - Arrow keys
Start - Enter (Pause, Menu select, Skip intro, Inventory)
"A" Gamepad button - Ctrl (usually Jump or Change weapon)
"B" button - Space (Jump, Fire, Menu select)
"C" button - Left Shift (Item select)
Use the F12 key to toggle mouse capture / release when using the mouse as a controller.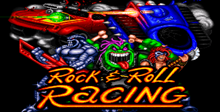 System requirements:
PC compatible
Operating systems: Windows 10/Windows 8/Windows 7/2000/Vista/WinXP
Pentium II (or equivalent) 266MHz (500MHz recommended), RAM: 64MB (128MB recommended), DirectX v8.0a or later must be installed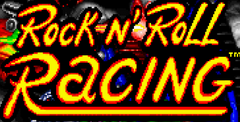 System requirements:
PC compatible
Operating systems: Windows 10/Windows 8/Windows 7/2000/Vista/WinXP
Game Reviews
Machine: SNES;
Manufacturer: Interplay; Silicon & Synapse
Buyer's Guide: One- or two-player head-to-head action combines in-car dogfights with a monster truck rally. Use cash gained from your success to equip your car with items such as lasers and body armor. A kickin' soundtrack and voice-overs makes this one hot!
Driver's Ed: Stay back at the starting line and fire lasers at the other cars from behind. Also, use the L and R buttons to help carve sharper turns.
Hot games are great - but this one's a scorcher. Screamin' cars and guitars make Rock N' Roll Racing a sizzlin' success. One- or two-player action lets you go head-to-head with a most gruesome field of lead-footed crazies alone or with a friend. The futuristic fun begins with five lean, mean racing machines that will annihilate the competition - and leave a dust trail all the way to the checkered flag. And, the totally awesome rockin' soundtrack will blow you away. So, crank up the tunes and strap yourself in, 'cause this is the wildest ride in the universe!
Now you can play as Olaf the Viking! To get him as your driver, start a new game and go to the Select Hero Screen. Press and hold the top L, R and SELECT buttons simultaneously. While holding these, scroll through the players until Olaf appears!
Is it racing? Is it combat? It's both! Rock N' Roll Racing for the Genesis will drive-you wild with its hard-chargin', hard- rockin' game play. The less- than-superior graphics and sounds, however, keep it from taking the checkered flag.
Mad to the Max
If you played last year's slightly slower SNES version, you'll recognize Rock N' Roll's alien backgrounds, bizarre drivers, and no-holds-barred racing. You compete against three other drivers in armored vehicles on short tracks that are peppered with power-ups, mines, and other deadly ' debris. Once you win enough money, you can modify your car and weapons in dozens of ways. An exciting Vs. Mode sets up split-screen dueling with a friend.
You have a lot of control at your fingertips. During the races, your car maneuvers quickly around obstacles. Unfortunately, the missiles and gunshots you fire are hard to aim from your speeding vehicle. You often have to get right on your target's tail to have any chance of hitting them.
Rock Show
The game's raucous spirit is amplified by the rockin' soundtrack. Though not performed by the original artists, songs like "Bad to the Bone" still shine as great driving tunes. The sound effect isn't -- as effective, however, particularly the feeble explosions. The ever-obnoxious Larry "Supermouth" Huffman is back, which may not be good news to some gamers. He sounds more garbled here than he did on the SNES version. The graphics won't win any awards, either. They convey the raucous spirit well enough, but the cartoony cars and otherworldly tracks aren't as sharp as their SNES counterparts. What's more, your tiny shots fly like atoms and are sometimes hard to see.
ProTips:
Don't get trapped outside as you approach turns. You'll be blocked from power-ups.
Beginners should e a driver who's good at j, like Tarquinn.
For a good attacker, choose Cyberhawk. His quick acceleration and jumping ability make him an aggressive driver.
Choose a bright paint Job for your car. Black cars can be hard to see on the dark tracks.
Break out of the pack quickly to grab more power-ups.
BF's Slipsauce fires out the back of your car into the path of oncoming opponents, it's a good weapon.
When Larry's big mouth gets on your nerves, turn him off so you can focus on the race.
Let the Carnage Begin
With its wild fantasy elements, this game is to legitimate racing what the Mutant League games are to football and hockey. And-with its adjustable difficulty setting and cartoony creations, it should appeal to a wide range of fun-lovin' gamers lookin' for a brash, entertaining time.
Rock n' Roll Racing is an isometric battle-racing video game, originally intended to be a sequel to RPM Racing, but it was decided that it would be marketed with a new title and feature rock and heavy metal music near the end of its development.
The game features four racers, with up to two human controlled racers, competing against each other and receiving bonuses for various accomplishments. The race tracks have hills, bumps, dips and traps that the players must avoid in order to succeed. Rock n' Roll Racing allows the player to choose from six different characters, including a seventh character who is none other than Olaf from The Lost Vikings!
The cars are equipped with weapons that the players are free to use in order to hinder their opponents. While there is no permanent penalty for having your car destroyed, you do have to wait a few seconds before you reappear in the race, and this can amount to quite a delay if you are destroyed repeatedly. Moreover, one of the bonuses for eliminating a racer is gaining a whole lap lead, along with money.
Between races, you are allowed to improve your car's weapons using the money gained during previous races. Although the weapons have limited ammunition, they are fully replenished after each completed lap. Depending on the planet where the race takes place, there are various items and traps to be found on the race track, as well as a different racing "champion" who must be defeated. Items include money, health power-ups, mines and oil slicks.
The game features a complex password system which allows you to continue from any point in the game, as each section of the password corresponds to a different statistic, such as money, car, etc. When there are two players, if one falls behind, the other has the option to leave him or her behind, or restart the race together. Should the loser be left out, they can always continue using the fore mentioned system. However, it does have its glitches; for example, two players can continue using the same combination, thus identical statistics and settings.
With its simple, yet very effective idea, Rock n' Roll Racing has great replay value and also quality, leading to an enjoyable gaming experience. It even garnered enough success to warrant a sequel of its own.
Rock n' Roll Racing features:
Six different characters plus a seventh, hidden character to choose from.
Rock and heavy metal tracks, as the title suggests.
Password system to continue from where you left off.
Rock 'n rollers and race drivers, start your guitars and engines! Here comes Interplay with a hot racer that will knock your socks off! In this perspective racer similar to RC PRO-AM, race to the sounds of "Peter Gunn" by Henri Mancini, "Born to be Wild" by Steppenwolf, "Bad to the Bone" by George Thorogood, and many more! There is an option that lets you race alone or against a friend! You can also purchase several upgrades for your vehicles, including modified engines, armor and missiles to blast the opponent apart! Your ranking after race determines how much money you will be awarded! All this, including great hosting and commentary by Larry Huffman! What more could you ask for?
The first tracks are on the planet Luna! All tracks are on pillars over a pit of who-knows-what! Watch the ramps so as not to jump off the track and into destruction below! Every time you make a lap, your weapons and other items are replenished back to full capacity!
First planet you will race on - Planet Luna! There are several other planets with different tracks, however, all the tracks on planet Luna are on pillars suspended in the air! The guard rails can be your enemy here as well as your friend!
Sega Genesis/Mega Drive Screenshots
SNES/Super Nintendo/Super Famicom Screenshots