Rune: Halls of Valhalla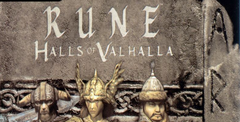 Click the "Install Game" button to initiate the file download and get compact download launcher. Locate the executable file in your local folder and begin the launcher to install your desired game.
Overview
In the sacred halls of Valhalla near Odin's mighty fortress, great warriors who fought and died in battles share their stories, rising each day to fight anew until death claims them once more.
Here is the final training ground of Odin's mightiest, training an eternity for the chance to stand against the unknown enemies of Midgaard. So grab your Dwarven work sword and shield, and prepare to lop a few heads in the never-ending blood bath for perfection.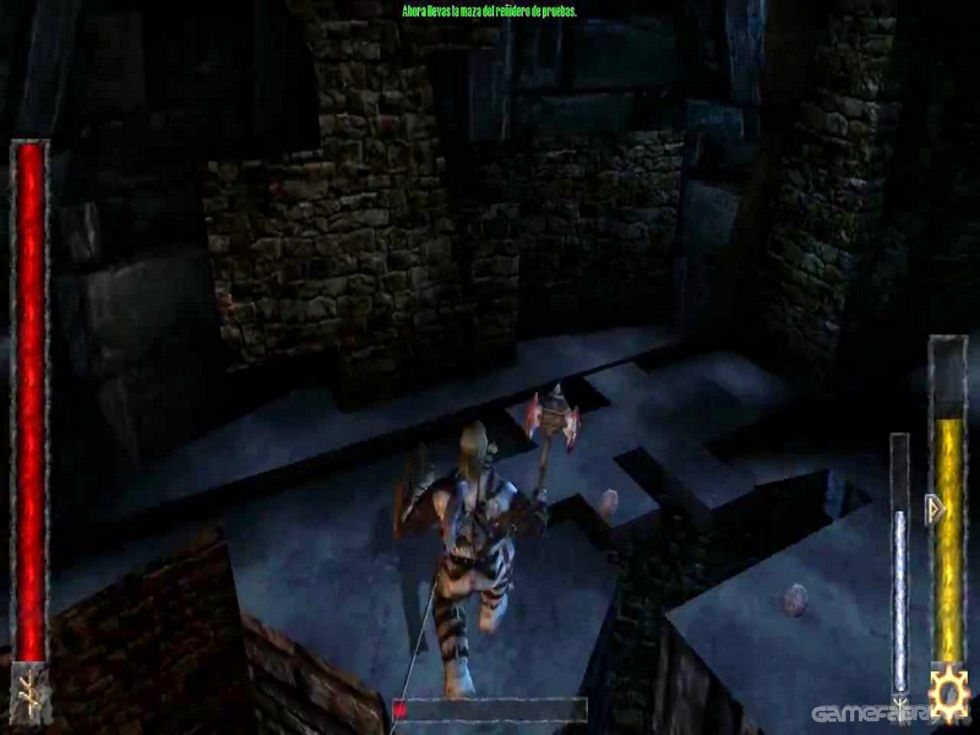 Gameplay, Controls, Interface
Human Head Studio's Rune: Halls of Valhalla is an expansion pack with one goal in mind, to make multiplay more fun without changing the basic play or features of the original game. Having said that, keep in mind that while this expansion is a standalone, meaning you can play it without the original game, it doesn't have any single player mode. And I don't just mean a single player storyline -- Rune: Halls of Valhalla doesn't even come with bots for training in multiplayer mode. No, this expansion is purely for playing against others via the Internet or LAN connection.
Unfortunately the game also doesn't come with any new weapons or rune powers, but I don't think that really affects this expansion pack. The original Rune was so packed with weapons, shields and rune power-ups that it really wasn't necessary. Too often game designers stuff their expansions with needless add-ons just to give players the sense of playing a new game. Instead Human Head spent all of their time putting together an expansion to an already strong game that dealt with the issues that needed expanding, namely levels and modes of play in multiplayer.
So what you will find in Rune: Halls of Valhalla are tons of new multiplayer maps, 34 to be exact, and 15 new character skins including several Valkyrie, Roman gladiators Romulus and Remus, a swashbuckler and even a Mongul and Syrian.
It's worth mentioning that seven of the new deathmatch maps included in the Rune: Halls of Valhalla expansion pack were the winners of the January contest sponsored by Human Head Studios. Three runner-up maps and seven honorable mentions are also available for free download at www.runegame.com.
Multiplayer
Rune: Halls of Valhalla also comes with two new multiplayer modes of play: headball and arena.
In Arena, players go head-to-head in a deathmatch, with the winner staying on to fight the next challenger. This mode allows for one-on-one, two-on-two or three-on-three matches. What makes this form of deathmatch interesting is that players waiting to challenge the winner have to sit the game out in a viewing area, where they can actually watch the current combat from a distance. Challengers also get to take their time picking the weapons they want to use in combat. Every waiting area comes with rooms chockfull of every weapon and shield in the game. Think of it as a department store of death.
In headball, players score points by tossing the severed heads of their enemies through the arena's goals. The match doesn't start until each team checks in by throwing a switch in the area. Once all teams are ready to rumble a countdown begins, giving players a chance to reposition themselves and gather weapons or runes. When the timer runs out, a gong sounds and the game is underway. To score, a player has to lop the head off of an enemy and then run it to one of the goals placed around the map, of course the other team's players will try to stop you. The server can be set up to allow for single point scores by tossing other severed limbs through the goal as well. The game plays a lot like capture the flag but without the same level of team tactics and, unfortunately, doesn't seem very popular, judging by the lack of games running on the populated servers.
Graphics & Audio
The graphics in this add-on haven't been touched at all with the exception of the new skins and their animations. Those new skins' graphics, however, match up well with the games dark, brooding look. Sound, as well, isn't really affected by the add-on.
System Requirements
Windows 95, AMD K6-2 or 3 or Intel Pentium II or Celeron 300MHz, 64 MB RAM, Direct X compatible sound card and video card with at least 8MB, 88MB free hard drive space, 4x CD-ROM, Internet connection. Rune is not required to play Halls of Valhalla in multiplayer mode.
Bottom Line
Some Rune fans might be a bit disappointed by the lack of single player modes in the expansion pack, but if you're just looking for more ways to kill your friends you won't be let down. Rune: Halls of Valhalla is also a nice entree into the world of multiplayer Rune for those players not interested in going it alone.
Overall the Halls of Valhalla is worth the money if you're into the game and definitely worth a try if you want to check out a form of multiplayer mayhem that doesn't involve running and gunning. There's nothing like cleaving a few arms and heads to take the edge off a stressful day.
Download Rune: Halls of Valhalla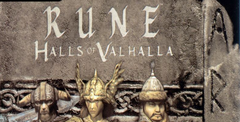 System requirements:
PC compatible
Operating systems: Windows 10/Windows 8/Windows 7/2000/Vista/WinXP