Rush Down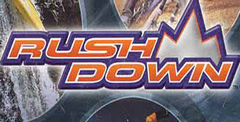 Click the "Install Game" button to initiate the free file download and get compact download launcher. Locate the executable file in your local folder and begin the launcher to install your desired game.
Electronic Arts expands on its extreme sports line with Rush Down, a racing game featuring mountain biking, snowboarding and kayaking. The game lets you test your skills on five different continents. Each locale has one course for each of the three events. You can snowboard down the slopes of Mt. Kilimanjaro, Mt. Altai or Mt. MacKenzie in the Canadian North. You can kayak the whitewater of the Colorado River and jump off Victoria Falls. You'll be able to ride your mountain bike through the Amazon Jungle, ruins of Zimbabwe, Beijing and Tokyo.
Graphically, the game isn't really awe-inspiring, but thanks to a healthy frame-rate of about 3o-6ofps the game moves tremendously fast--giving you a real sense of speed when racing down the mountains and rivers. Especially nice is the water effect when you're kayaking down a river. You can see into the water and actually watch it flow. On the audio side, EA is trying to spruce up the game with louder sound effects and real music from some French jungle and rock fusion bands.
Fans of ESPN's X Games should definitely look out for Rush Down when it hits stores this March.
Download Rush Down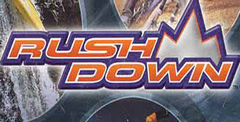 System requirements:
PC compatible
Operating systems: Windows 10/Windows 8/Windows 7/2000/Vista/WinXP
Game Reviews
Rush Down lives up to its name with blazingly fast downhill racing. While it's a little too flawed to achieve greatness, it's a wild ride worth checking out.
Xtreme Speed
Rush Down sends you bombing down the longest hills in the world on snowboards, mountain bikes, and kayaks. The game's coolest feature is its rocketlike frame rate, which delivers heart-pounding speed as you blast over jumps, hop obstacles, and even bust off a trick or two.
Each of the three sports presents an intense challenge (kayaking rocks, believe it or not), and the resulting arcade-style combos pretty cool as you race either against the clock, in a tournament against a CPU racer, or on split screens against a friend. With the directional pad, strong controls let you push your limits the whole ride down. Surprisingly, the analog controls aren't too hot, responding less smoothly than their digital counterparts.
Xtreme Rental
Rush Down suffers from a few other problems. Racing against only one opponent gets kind of boring after a while, and many gamers will be able to conquer each sport's five tracks--and essentially, the game--in short order. The sounds wipe out, too, with feeble in-race effects, terrible crowd noise, and mediocre announcing.
Graphically, the game's solid with interesting but limited racing animations and clean but repetitive terrain. Some pop-up occasionally interferes, but not badly.
At the finish line, Rush Down's an awesome weekend rental--you'll love every second of it. But only serious race fans and extreme sports junkies should consider a purchase. The game runs out of steam too soon.
ProTips:
For a slightly tighter turn, lay off the acceleration. You'll cut sharper turns and won't kill as much speed as when you use L1 or R1.
If you catch air and see that you'll crash, briefly tap L1 or R1 just as you land. You'll quickly change direction without killing much speed.
In Championship mode, box out your opponent when they try to pass you set It up so they rear-end you, they'll wipe out.
If you're jonesing for a new racing rush, Electronic Arts wants you. Rush Downs title sums it up. The essence of the gameplay will be straightahead seat-of-the-pants downhill racing: no real-life pros, no power-ups, no stunts, no combat--no bull. The twist will come from the equipment, which will consist of kayaks, mountain bikes, and snowboards, making for a sort of semi-extreme sport.
The competition spreads over 15 tracks scattered throughout five continents: North and South America, Africa, Europe, and southeast Asia. Your radical world-hopping race tour will blast by famous landmarks too, such as Africa's Mt. Kilimanjaro. Rush will mix up the challenge with three basic racing modes. Championship mode will match you against the A.I., while Arcade mode will pit you against the ever-brutal clock. Two-player split-screen mode will enable you to go head-to-head.
With auto and snowboarding racing games going full throttle these days, EA is hoping thrill-seekers will rush on down to Rush Down.
See Also
Viewing games 1 to 12