T-MEK 32X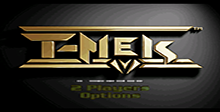 Time Warner's arcade hit rolls onto the 32X and PC this fall. T-MEK is a tank-like combat simulator (translation: drive and shoot, or die) that puts you behind the wheel of one of six high-tech vehicles that are armed to the treads for tournament arena battle.
Hidden weapons are scattered throughout the battlefield. Two players can go after each other in split-screen action, and four mechs can compete over a network.
Game Reviews
Manufacturer: Time Warner Interactive
Machine: 32X
0h, yeah! The giant combat robot game that's been burning up the arcades for months is coming to 32X. And so at last you'll finally be able to take on Nazrac the Eliminator in the privacy of your own home.
The 32X version features a 2 player split-screen mode (hopefully better than Cybersled's competition mode on the PlayStation), but apparently will include all the bizarre characters found in the arcade. Expect it to come blazing into your apartments and homes sometime this October.
In the arcades, T-MEK earned a solid rep for rowdy group combat. On the 32X, you still choose from six futuristic tanks and face off against three opponents in intergalactic arenas, but the thrill of group competition is lost.
In the arcades, T-MEK earned a solid rep for rowdy group combat. On the 32X, you still choose from by slow down and crowded screen space. The decent controls realistically reflect each tank's attributes, though.
ProTip: Enemies usually can't see you when you approach from the side, so get in several special-weapon shots.
With awful pixelization and weak detail, the graphics don't even pretend to be 32-bit. The sounds chime with an ominous announcer, but tinny tunes and effects spoil the fun.
This game won't satisfy 32X owners desperate for quality gaming. Some action junkies might find short-term thrills, but this game lacks long-term intensity and depth.
Refill special weapons under the spotlights.
Before you tackle bosses like Baked and Shocka, take out the other enemies.
Sega Genesis/Mega Drive Screenshots