Test Drive 4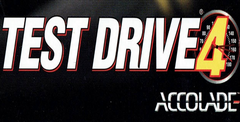 Click the "Install Game" button to initiate the free file download and get compact download launcher. Locate the executable file in your local folder and begin the launcher to install your desired game.
The Test Drive series is heading back to the streets after the less-than-impressive Test Drive: Off-Road. Developed by the team that created Psygnosis's Destruction Derby games, Test Drive 4 offers a killer lineup of modern exotic cars and 70s muscle cars, including the Viper GTS-R, '97 Corvette, '68 Plymouth Cuda 426, '67 Chevy Cobra, and more. The six on-road tracks are modeled on real-life maps of such locales as San Francisco, Kyoto, Munich, and Washington D.C. Graphically, these early images only show one track and one car, but it's already clear that TD4 is revving up for the kind of sleek, realistic cars and courses that Need for Speed II should have delivered. If the gameplay lives up to the potential of this early version, TD4 could shape up into one smokin' racing game.
Download Test Drive 4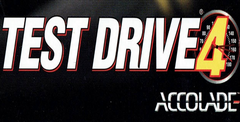 System requirements:
PC compatible
Operating systems: Windows 10/Windows 8/Windows 7/2000/Vista/WinXP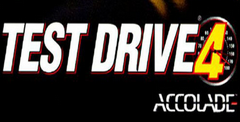 System requirements:
PC compatible
Operating systems: Windows 10/Windows 8/Windows 7/2000/Vista/WinXP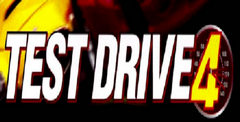 System requirements:
PC compatible
Operating systems: Windows 10/Windows 8/Windows 7/2000/Vista/WinXP
Game Reviews
Overview
Are you a fan of older-generation muscle cars, or do you prefer today's high-performance, technological wonders? Do you like brute force or sleek elegance? Is style in your vocabulary, or do you go for the word classic? It really does not matter how you answered the above questions, because the choice is yours. You can race in today's hottest production vehicles or choose the muscle-bound terrors of yesteryear. It is now up to you to settle the score once and for all.
Test Drive 4 is the latest installment of the Test Drive series and looks to outdo the mediocre Test Drive Off-Road. We all know how crowded the racing scene is starting to get on the PSX. Sure, the Test Drive games have been around since long before your beloved PSX, so it does have a bit of a right to keep putting out new racers. All we ask is that the games change enough to warrant a new release. TD4 is definitely like none other in the series, or for that matter, in terms of gameplay, it is like no other racer -- period. Take heed, this is not a game for novice racers. This massive tracks, insane AI and ultra-responsive (almost touchy) controls will leave you crying for your mommy!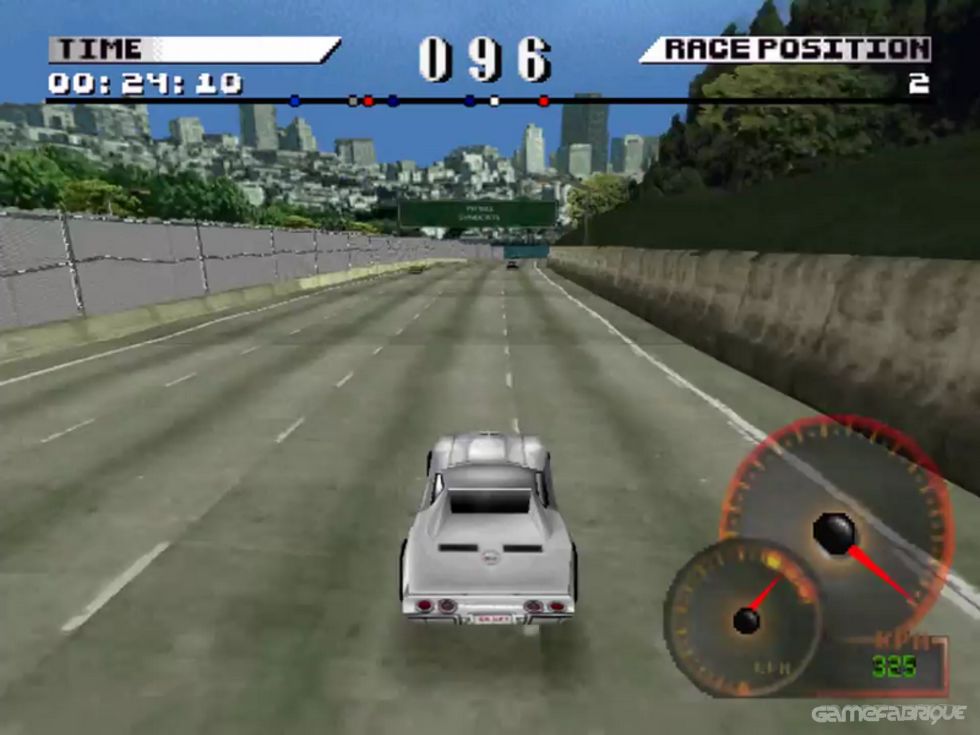 Gameplay
I am in one of my get-straight-to-the-point type of moods. With that in mind, let me get to the point of TD4. It is hard. No, let me rephrase that. It is damn hard. This is one of the hardest racing games I have ever played. Now, there are two types of hard a racing game can be. The first type makes the game hard because of poor design, loose controls and crappy gameplay. The second type of hard, which is where TD4 falls, is hard because of excellent tracks, realistic controls and incredibly persistent computer-controlled opponents. This game is all of that with sugar on top. So don't come complaining to me when you get so pissed that you launch your controller at your TV, because I warned you!
There are a lot of elements that go into making a good racing game. One of the most important is the types of cars you get to race. If this is your number 1 criterion, you will be in heaven with this game. Let me fill you in on your choices. For the fans of modern day sportsters, you can race as a 1998 Dodge Viper, 1998 Chevrolet Corvette (complete with new body style), 1998 Jaguar XJ220, 1998 TVR Cerbera and a 1995 Nissan 300ZX Twin Turbo. You like muscle? Step behind the wheel of a 1966 Shelby Cobra Convertible, 1970 Chevy Chevelle SS454, 1971 Plymouth Hemi Cuda, 1969 Chevy Camaro ZL-1 or a 1969 Chevy Corvette. Some of these are stock, some have been modified. All of the cars are fast and handle differently, so it is very important to choose your vehicle wisely.
The next thing that makes a racer good is the tracks. If the tracks are short and boring, it does not matter what type of car you drive because you will quickly lose interest. TD4 has 10 tracks available. At the beginning, there are five selectable tracks. If you finish in first place, you will open a reversed track of the one you just beat. So, you have five normal tracks and five reversed tracks. Let me just say that this will be plenty to keep you busy for quite a while. The tracks are also scattered across various famous locales. You can race in San Francisco; Washington D.C.; Keswick, England; Bern, Switzerland or Kyoto, Japan. All of the tracks are very long and take up to five minutes to finish. You don't make laps. You just head for the finish line. Each track has a variety of twists, turns, straight-aways, jumps, weather and road conditions. Like I said, these tracks will keep you busy for quite some time.
One thing that I really like, even though it frustrated the hell out of me, was the realism of this game. First thing you will notice is a marked difference in the speed and handling of the cars. You can't just pick the fastest car and go out and start kicking ass. You need to judge the track before choosing your vehicle. The next thing you will notice is that all the surroundings affect your race. You can race through traffic and if you hit an oncoming car, you will be sent spinning out of control. Also, unlike most racing games, if you leave the main road area, your car will slow way down. In other racing games, you can cut corners or ride the shoulder and it will have no effect on your car. Not here. If you drift off into the grass or turn too sharply onto a sidewalk, your car makes a noticeable slowdown. This was very refreshing to see a game that actually makes you drive on the road to win.
Let's talk about the competition level. Now before I go any further, I want to preface what I am about to say with the fact that I am usually really good at racing games. Actually, after I get the feel of the game, I can usually beat it in no time. Let's just say that this is one of my strongest genres. With that in mind, I could not beat this game. Normally this is not something a game reviewer will ever admit to, but I want to give you an idea of the challenge (and frustration) you will be up against. First and foremost, the computer controlled cars are the meanest SOBs around. They seem to really enjoy bumping your car and sending you in a spinning frenzy. The worst part about that is that once you lose control, you will almost never regain any lead or catch the current leader. It does not matter which car you are using, because they will hunt you down no matter what. The crappy thing is that no matter how hard you try to bump them back, you will either end up spinning yourself out or just minimally altering the course of the other vehicle. The best thing to hope for is that the computer-controlled cars start taking each other out so you can whip by.
There was one thing that really pissed me off about this game. It was not really fair. First, like I mentioned above, it is just plain hard. To make things worse, it seemed like the same car would always win. So, me being the smart guy that I am, decided to pick that car that kept winning every race because it was obviously superior. Well, it really did not work out that way. I could not control the stupid thing. I would crash into walls, smash into barriers and usually just plain suck. Even if I tried to drive conservatively, it did not matter because you could not keep up with the other cars. This really bothers me. I hate it when the computer can do no wrong, but if you try to drive the car, it is impossible. I followed the car in a good-handling car through some serious twists and turns. The computer-controlled car went through them at top speed without even leaving a skid mark. I tried the same thing in the same car and I was all over the road. That is not fair and it really made me mad.
The other thing that was annoying about this game was that during the gameplay, the game would act like it was skipping. There would be a split-second hesitation and then things would continue on. It did not seem to be triggered by anything, but it may have been caused by the detail in the backgrounds or something. Regardless, it was annoying and should not have happened.
Graphics
Out of all of the racing games on the market, TD4 has the most realistic graphics of the bunch. It is so cool racing in the different cars because they all look like the real life vehicle. Unlike other racing games that use real vehicles (I will withhold naming the games, but if you have a need for speed, I recommend checking out this game instead), it seems great effort has been put into making these cars look as realistic as possible. The tracks and backgrounds are all well done, but it was a bit distracting when you were in the tunnels because the lights were shining in your eyes and sometimes it was difficult to see the track. Also, the skipping problem could be attributed to the graphics in some way. I would rather the backgrounds be less detailed than have my game interrupted by hesitations and pauses.
Bottom Line
TD4 is a challenging yet fun game. I did enjoy the realistic approach that it took over the exaggerated arcade style that is so popular these days. The car selections are a blast, and if you are a fan of any of these cars, you will really enjoy racing as your favorite. I only wish that they made the game a bit easier or at least let you adjust the difficulty level to suit your abilities. One little suggestion: you should play this game with an analog controller or steering wheel. Trust me, it will make things much easier.
The first title to give the true feel of how it is to drive cars most of us only dream of owning is scheduled for a release on the PS this year. Test Drive 4 features multiple cars (including the Viper GTS shown in these pictures) as well as beautifully designed levels which you can try to get a glimpse of as you race through the countryside. Other options include simple features like selection between automatic and manual transmission for players with different preferences as well as different viewpoints that range from behind-the-car to right-in-the-driver's-seat.
Test Drive 4 takes the best of the classic cars-the '69 Camaro, '70 Chevelle, '67 Shelby Cobra and a '71 Plymouth Baracuda-and matches 'em aqainst modern day heaters, includinq the '97 Corvette and '98 Dodge Viper. Providing the testing grounds are six extremely long road courses located in San Francisco, the Italian Alps and the German Autobahn, to name a few.
Reminiscent of Need for Speed, the courses are littered with police cars and motorists travelling in the opposite direction. You have to avoid them as well as the racing competitors. The rest of the time, power-sliding through corners and keeping your car on the road will provide the brunt of the challenge.
Most of the older cars will sway and fish-tail around the corners just as they would in actual life. Conversely, the modern cars stick to the road like glue and offer a totally different driving experience.
People say:
6
In a sea of me-too racing games on the PlayStation, leave it to Accolade to bring something different to the table. With Test Drive 4, Accolade's angle is to clash today's modern supercars with the legendary American muscle cars of the late '60s and early '70s. The best part is, this melding of muscle works fairly well as a game. Although I do question some of the performance figures of the cars (a '69 Camaro ZLi that goes 205 mph?), the cars are pretty evenly balanced in the game. This is the game Need for Speed II should have been. The cars are detailed enough to be immediately recognizable and in a game with licensed cars, that's important. I am a bit bummed out about the gameplay. It's decent at best. The cars do control well but it's basic stuff. No refined powerslides like in Rage Racer and it's too easy to flip your car over. Even worse, the computer-controlled cars are jerks. Every time I would gain an advantage in momentum, they would ram me until I bit it big time. The inclusion of police cars and oncoming cars spices up the action a bit and the 1/4-mile drag strip was a nice touch. Graphically, Test Drive 4 is better than average but that's it. The textures are clean and the locales have a diverse look. Plus, everything scales at a fairly fast pace, but I've seen better on the PS and so have you.
5
I have no complaints about TO 4's graphics or control. It's just that this game's a little on the dull side--a surprise, considering how much fun I had with the previous installments in the series. The five courses (which reverse in some game modes) just roll on and on, and some stretches of track nearly put me to sleep. Still it's fun to dodge traffic and cops, and there are some cool jumps. A Head-to-Head Two-player Mode would have helped.
7
The mix of cars in the latest installment of Test Drive is puzzling and intriguing. You can race state-of-the-art supercars versus the old muscle cars of the '6os in this game. The idea is very cool, but unfortunately, the game becomes boring very quickly. There are plenty of different options and modes of play, but no matter which I tried, the action didn't draw me in. This game has all the extra depth, but doesn't concentrate enough on gameplay.
7
Test Drive 4 is a solid racer with some minor problems. The courses are designed really well, the graphics are nice (minus the random unsightly pop-up) and the engine sounds and music fit the game well. The problem is it seems like if you crash just once during a race--not even a really bad crash--you're guaranteed at least fourth place or worse. That just seems unfair. It's a good game, but may not endure the test of time.
Recovering from its tire-shredding wipeout with Test Drive: Off-Road, Accolade's back on track with Test Drive 4, an extremely promising road racer that has the potential to become the game that Need for Speed II should've been. Drivers choose from five exotic speedsters and five 70s muscle cars, then dodge cops and slow-moving traffic while blasting through six point-to-point courses (not circuits) modeled after real-life locations like San Francisco and Kyoto.
Even at this early stage, TD4 sports the kind of sweet handling that'll glue race fans to the wheel--especially those disappointed by Need for Speed II. The game's mouth-wateringly slick cars and courses only add to TD4's allure. If Accolade corrects the trouble spots in this unfinished version, including the draw-in problems, TD4 could rule the roads.
Overview
Beauty vs. beast, old vs. new, brute force vs. sheer finesse. These describe the idea behind Test Drive 4. Race all your old classic muscle cars and your favorite new cars. 12 tracks are included, including a few weather effects such as rain and snow. Looking at the box, you can tell one thing: they probably didn't work directly with these cars, as had been the case with the Need for Speed series from EA Sports. How can you tell, you ask? The Viper GTS and Shelby Cobra on the cover are plastic models! I'm a big fan of both cars and it's a joke to think that the ones on the box even might be real.
So, with that on my mind, I set to work. The next thing I see is that is wants 220 megs of my hard drive! If you have a 3Dfx card, it will want 260. Hmmm ... well, I have a Matrox Mystique that I bought about a month before 3Dfx became the industry standard, and this game does not support any other 3D accelerators other than the 3Dfx. Hello! There are still plenty of us who don't have 3Dfx cards. There are some game makers like LucasArts who know this and develop games for all of us to play, not just 3Dfx users.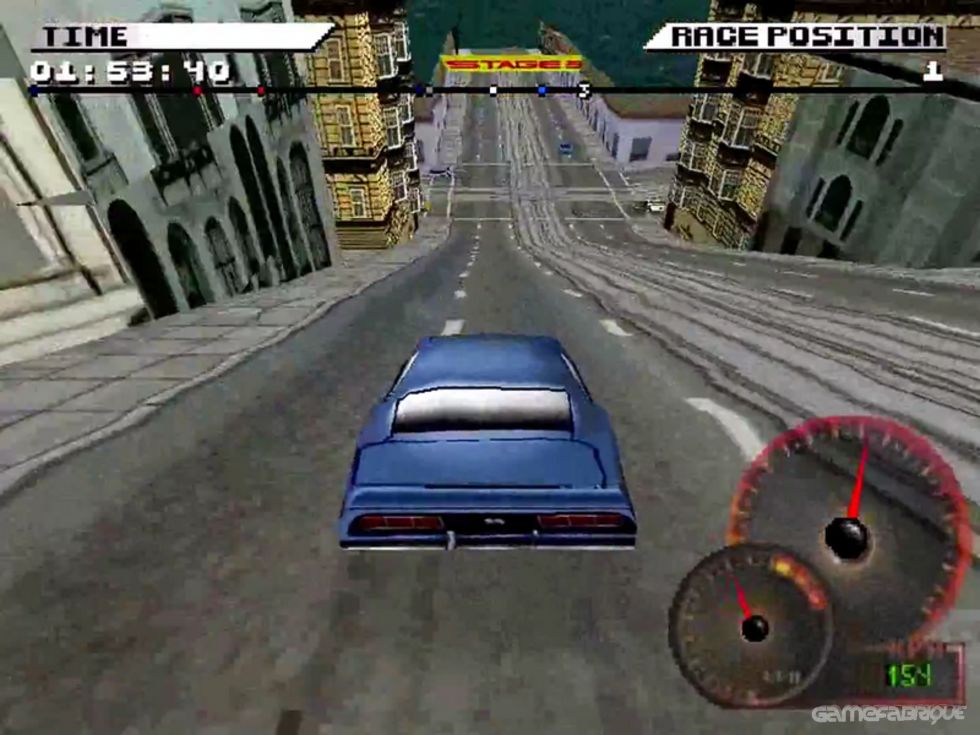 Gameplay
First of all, there is absolutely no customization to the controls. I like to use my joystick's X axis for steering, trigger for acceleration, and a thumb button for braking. Not possible with TD4. Your choices are: Gravis pad, keyboard, joystick, etc. The joystick's controls are set for using the X axis for steering and Y for accelerate and brake. Basically, you have to hold the stick forward to accelerate, which I find really annoying. So, stuck with the keyboard arrow keys, I started my first race. Let me tell you that the very touchy steering in the game and the forced use of arrow keys to steer are a lethal combination when you start going top speed in your car; spin-outs and crashes are common and irritating.
The cars in TD4 are pretty nice, but some don't even belong in the game. The 300ZX is too slow to compete with other cars along with the 'cuda. It's one of those games where there is a one-best-car, and no other close competition. In most racing games the cars are pretty well matched-up, some turn better than others but aren't as fast, etc, but not in TD4. Basically you always just pick the best (fastest) car and you always race against 6 cars at a time, and the fastest car almost always wins (once you get the arrow key controls down). That's it.
As for the tracks, they do have a new feature that I've not seen in many racing games -- weather. To tell you the truth, though, it's just lines for rain and white dots for snow. It doesn't really do much for me, or for the game. Not that I expected anything more. There are 6 tracks in all, but you can get another 6 unlocked through competition or a cheat code. The other 6 aren't that great; in fact, they're not even new tracks, but just going the other direction on the previous tracks. Another complaint, the lane markers were not very visible, which causes head-on accidents if you're not sure where you are.
And the police in the game are a joke! In the first Need for Speed they chased you down and gave you a ticket, and the only thing that kept them from catching you was your driving; if you messed up, you were caught. Here, the police are much faster than you and they don't give you tickets! All you have to do is come to a full and complete stop. Hey, I want an incentive to run from the copper, like being arrested after a certain amount of tickets.
Graphics
For all the hard drive space it takes up, the graphics weren't that good. On high resolution it looked as good as other racing games that used half the hard drive space. It also didn't run as well as they did on high resolution. I often ran the game on low-res because it was so much smoother. The rear lights on the cars were red-glare dots, and I had lots of trouble determining why they didn't just do what most producers do and make the brake lights a brighter red. Inside the car, which is where I like to drive in games, there was no roof. Not all these cars are convertible or roofless, but the cockpit views portray this in all of the cars. Centering is a little whacked-out too. Your "sitting position" in the car is not behind the wheel but in the center of the car. This felt so odd to me that I got in crashes as a result.
Audio
Probably the worst part of the game, the sound effects were, in a word, awful. The crashes were not screeching and tearing metal, but more like the sound of someone hitting a metal trash can with a baseball bat. The music, which was said to be a "hot soundtrack" on the box, was at best okay.
System Requirements
Required: Windows 95, Pentium 90, 16 MB RAM, 2X CD-ROM drive
Recommended: Pentium 166 with 3Dfx
Reviewed on: Pentium 133, 32 MB RAM, 6X CD-ROM drive, Matrox Mystique
Bottom Line
This game clearly looks as if it was not entirely finished when it was released; had it been a chicken dinner, I would have salmonella poisoning. The audio wasn't worked out well, the graphics card support was laughably small (with the exception of the 3Dfx), and the gameplay was lacking. The requirements printed on the box are also somewhat misleading; a Pentium 133 should be the lowest usable processor speed without a 3Dfx card, not a P-90. This game represents what the industry might be coming to as more developers rush programs out to the market seemingly before they are even finished. Games that run, play, look, and entertain better are out there for avid racing fans like me, and thus Test Drive 4 rates only a 63.