HardBall 3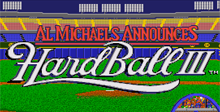 Click the "Install Game" button to initiate the free file download and get compact download launcher. Locate the executable file in your local folder and begin the launcher to install your desired game.
Sport Accolade's Hardball III is the best game in the Hardball series yet. The game is loaded with stats and options, but its graphics reduce this to an above-average baseball game.
Give Me Options
Hardball III is loaded with so many options that some players may be intimidated. You can alter everything from your players' stats to their team logos. No Major League teams are included here, but all your favorite Major League players are present and accounted for, along with their 1993 stats and game performances true to those numbers. The controls are easy to use in Hardball III, and no previous Hardball experience is required.
ProTip: Take lots of batting practice lo improve your hitting skills. To make your day at the park easier, learn to pull a pitch, bunt, and go with a pitch.
A Colorful Game
Unfortunately, Hardball Ill's graphics are merely average. While the images are definitely colorful, they lack detail. In addition, the character movement is choppy, so that the pitcher and batter sprites lack fluid motions when pitching and batting. On the plus side, digitized pix of your favorite players grace the game, but even these enhancements are somewhat pixilated.
Hardball Ill's sounds help the game out of its low-tech rut. Clear digitized speech adds an extra level of realism to the game, but the music can become annoying. At least there's an option to turn it off.
Not a Bad Team
Although Hardball III has a good combination of options, stats, atmosphere, and sounds, you can't help but feel disappointed by the graphics. The choppy players will frustrate you if you've played smooth, graphically superior baseball games like World Series Base- ball and RBI Baseball'94.
Download HardBall 3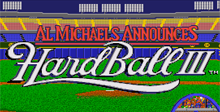 System requirements:
PC compatible
Operating systems: Windows 10/Windows 8/Windows 7/2000/Vista/WinXP
Game modes: Single game mode
Player controls:
Up, Down, Left, Right - Arrow keys
Start - Enter (Pause, Menu select, Skip intro, Inventory)
"A" Gamepad button - Ctrl (usually Jump or Change weapon)
"B" button - Space (Jump, Fire, Menu select)
"C" button - Left Shift (Item select)
Use the F12 key to toggle mouse capture / release when using the mouse as a controller.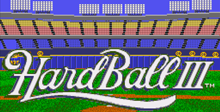 System requirements:
PC compatible
Operating systems: Windows 10/Windows 8/Windows 7/2000/Vista/WinXP
Pentium II (or equivalent) 266MHz (500MHz recommended), RAM: 64MB (128MB recommended), DirectX v8.0a or later must be installed
Game Reviews
The "personality" hook in A1 Michaels Announces HardBall III is obviously the nonstop, play-by-play commentary by Emmy Award-winning sportscaster, A1 Michaels. Michaels' voice stars, but it won't upstage this game's nifty baseball features.
Frankenstein Baseball
HardBall III bends over backwards to enable you to play baseball the way you like it. In this one- or two-player game, you can choose to play one Exhibition Game, play a 162-game season, play for the Division crown, challenge for the League Championship, or go for the World Championship.
ProTip: Each team's roster is accompanied by the players' stats, which are divided into 25 categories. Read the stats carefully to create winning lineups.
The game uses all of the rules of professional baseball, but not the pro players and teams. Players do not play according to real-life pro stats, either. However, the game's editing features go a long way toward enabling you to recreate the professional teams and players. You get all 26 Major League ballparks, and the game's default teams represent all 26 pro cities. You can change team names, players' names, and uniform numbers. You can even change uniform colors and redesign the team logo.
Once you hit the ball, timing is the key to a successful play. To run the bases, press the directional pad toward the next base you want to reach.
To back up the cosmetic changes, you can adjust each player's playing capabilities. You can alter running speed, adjust arm strength, determine throwing arm, and set up the batting stance (left-handed, right-handed, or switch hitting). Moreover, you can alter five stats that govern a fielder's on-field actions -- batting average, home runs hit, RBIs, stolen bases, and errors per season. Adjustable pitcher's statistics include Earned Run Average, Wins, Losses, Saves, Speed. Stamina, and Accuracy.
On the field, your team makes the plays! You can make fielders dive or leap to make catches. If they miss, you can switch control to the next closest player. Fielders can also hit for power, or just make contact. This game also offers a special "team effort" option, which makes your teammates automatically back you up during a play.
On offense, batters can swing through seven Swing Areas, such as High & Inside and Low & Outside. You can also groove your stroke with the great Batting Practice option, where the game throws you the pitch you want to practice hitting.
The graphics in HardBall III swing from outstanding to just average. You pitch and bat from a behind-the-batter view. The batter's swing is the smoothest and sweetest of any video baseball game around. On the other hand, the high-stepping, arm-pumping running style of the fielders is clownish. Nice graphic extras include an Instant Replay feature, which enables you to put together a Highlights reel from each game, plus gives extreme close-up views of close plays at any base.
Keep an eye on your pitcher's endurance, since he will eventually get tired and need to be replaced.
So Real It Hurts
As with most sports simulations, the more you know about real-life baseball, the better you'll be at HardBall III. However, this game's great editing features also challenge you to put your stats where your mouth is! HardBall plays hardball.
Step up to the plate, baseball fans! HardBall III is on its way from Accolade, and it's grand slamming its way onto the Genesis. If you've been waiting for a realistic conversion of America's oldest pastime, your park prayers may be answered!
Baseball Bounty
HardBall III is a one- or two-player multiple-perspective baseball game. You can choose your views from a behind-the-pitcher shot, a behind-the-batter shot, or combinations of the two (pitcher shot while you're pitching, batter shot while you're batting). You can also choose to have a close-up view of the action. You can even edit any of the 28 teams from the color of their caps and jerseys, to changing their star players, to actually redesigning their logos. However, since this game is not endorsed by the Major Leagues, you'll have to suffer with names like the Kansas City Kings.
In HardBall III, you'll have the opportunity to be the main man -- the coach. Change infield and outfield formations, substitute players, and rearrange the batting order. Want more options? How about the ability to rest and rotate pitchers, pick stadiums (over 25 to choose from), and even see highlights from games you've already played. There are so many options; you'll need to get hands-on experience to understand them all.
Now Pitching... Al Michaels?
That's right. As all the PC players of HardBall in know by now, A1 Michaels is the pitch man. He lends his linguistic license to this version of Hardball. Unlike the SportsTalk series released for the Genesis (Joe Montana SportsTalk Football and SportsTalk Baseball) where whole phrases were digitized, only single words will be digitized here. When a batter goes 0 and 4, HardBall III will let you know with merciless digitized speech. Every throw, every stat, every comment will be electronically reproduced for realistic announcing action.
Field A Dream
HardBall HI looks loaded with options and realistic game play. This baseball game could knock the horsehide to tatters and make previous baseball games seem like foul balls. The wait for great baseball video action could be almost over.
Batter up for a great game with the boys of summer in HardBall 3! Al Michaels announces this all-new heavy-hitter from Accolade. Customize your game by choosing the batting lineup and even your team's colors. The Home Run Derby Competition really tests your skill while in the batting practice mode. A unique two-perspective feature allows you to practice from either the pitcher's or the batter's point of view.
People say:
4.0
The latest version of Accolade's Hard Ball series still plays like a PC game, but this time you get some refined play-by-play by our man Al. The manner in which the words are pieced together is better than the Sega voice games, but it's still eclectic and without a solid game to support the effect it fails.
6.0
Accolade has really pulled out all the stops in this cart. I like the 162 game season, the instant replay feature and the realistic player movements. The play by play commentary is novel at first but wasn't really needed after a few games. While too heavy on the stats for me, some players will like this feature.
4.0
I do not like the way this cart looks or plays. The graphics are washed out and jthe sounds are nothing to shout about. The game play is still awkward and there isn't much control over your team in the outfield. The stats are a nice addition but they don't add enough to the game play to keep this cart from striking out.
3.0
I really don't understand this great infatuation with stats in baseball games. I've seen games that can give you a life history about one particular player, but not deliver a good solid game. HardBall 3 is not a baseball game, it's stat therapy! I jcouldn't stand the graphics, sounds, or lack of control. I can only call it sad.
Al Michaels, the famous sportscaster, is featured in this all-new baseball game from Accolade. Complete with digitized voices, you'll hear Al make all the great play-by-play calls in this cart.
Along with the general play of the game, there are options in the game that let you configure almost every aspect of the game from the batting lineup to the team colors. This game can be made to your personal preferences. Don't forget to check out the batting practice mode. You can change this mode to test your skill in a home run derby competition!
Hardball 3 is a multiplatform baseball game. This revision features 256 colour VGA graphics, and announcer Al Michaels provides running commentary while you play. This version is supposed to be a simplified version of the Hardball series found on the personal computers of the time. Season stats are logged through a lengthy password.
Sega Genesis/Mega Drive Screenshots
SNES/Super Nintendo/Super Famicom Screenshots
Similar Games
Viewing games 1 to 6