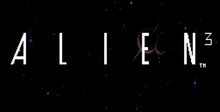 SNES Cheats
Cheat mode
Press A, B, Y, X on controller two during game play. Press A on controller one to display a cheat number in the top left corner of the screen. To increase the cheat number, press A, B, Y, X, B (or X) on controller two, The cheat number corresponds to the following effects: 1 - Invincibility; 2 - No damage; 3 - Invincibility; 4 - Unlimited weapons; 5 - Unlimited weapons and invincibility; 6 - Unlimited weapons and no damage.
Passwords for levels
Stage 2: QUESTION;
Stage 3: MASTERED;
Stage 4: MOTORWAY;
Stage 5: CABINETS;
Stage 6: SQUIRREL;
End: OVERGAME.
This trick can be done while playing the game any time you want to toggle a cheat mode. On controller 2, press these buttons in this order: A, B, Y, and X. On controller 1: A Button: Toggles invincibility B Button: Toggles damage X Button: Toggles unlimited weapons.
Pro Action Replay Code
7E15-DA0A - Infinite grenades.
Level Passwords
Here are the passwords for every stage in Alien 3. Pick the Continue Option from the menu and enter these codes:
STAGE 2: QUESTION
STAGE 3: MASTERED
STAGE 4: MOTORWAY
STAGE 5: CABINETS
STAGE 6: SQUIRREL
GAME END: OVERGAME