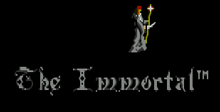 NES Cheats
Passwords for levels
Level №2- Password is x310y10006y90; Level №3- Password is tt5xx21000x10; Level №4- Password is 9t3yx31001x60; Level №5- Password is 777x843000t60; Level №6- Password is 5ss0v67000ry0; Level №7- Password is v131y770038y0.
Defeating the dragon
Use "Blink" six times.
THE IMMORTAL
Manufacturer: Electronic Arts
Version: NES
These codes for Levels 2 through 7 came in from Pedro Miller of Rio de Janeiro, Brazil, and Chris Edwards of Roanoke, Virginia. Thanks to both of you.
Codes:
Level 2: SVYYX10006Y90
Level 3: 5SST121000X10
Level 4: TT85X731001X60
Level 5: 845YV41002X60
Level 6: 650V610005Y0
Level 7: YT7Y7710038Y0