Tommy Lasorda Baseball Cheats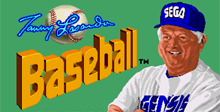 Genesis Cheats
Surat Codes
One of Tommy LaSorda Baseball's, most enchanting features is the league play that is constantly progressing as you play the game. Now a top secret agent has uncovered some of the most powerful codes that will even take you clear up to the World Series! Can you become the world champions? You play Oakland:
Game:
Seattle (2-0): URIOPQMLHNOMGPMIOGEMAU
California (5-0): RVMSSSQPKPRPHQOIRGEpk
Texas (8-0): URWQWVVSTOSUSIQQIUGEkA
Chicago (11 -O): VSVUaZZVVSWVWKRSKYHEMA
Kansas City (14-0): QNNRZXYUTRSQUHOPHWCEUA
Minnesota (17-0): URQYfegcbZXVbOTUNdGEkA
Seattle (19-0): 0LNUaacYXURQXINQIZAEUA
California (21-0): OlPXdcebaWSQZJOSKbAEYA
Texas (23-0): QNSbhjheeaVTdLRVMfCErM
Chicago (25-0): RORekjkggdYUgNSXNiDEwA
Kansas City (27-0): ROOfmlmihYViPSYNkDEkA
Minnesota (290): QNMfmmnjigXUjPRZNICEyA
Playoffs (VS. Detroit): OLDeklmihfVSiNQYlkAEMA
World Series (VS. San Fran): TQcjpqrnmkasXnSVdQuFEAE
After entering the code you'll be warped to any of the levels you select! Get the show on the road, step into the batter's box, and let the game begin!
TOMMY LASORDA BASEBALL
Manufacturer: Sega
Machine: Genesis
2 joysticks
This code will take you to the World Series with Toronto battling Oakland: NDMel kmihfVeRQTOUkAVYA